Plouffe secures Twins' doubles mark at third
Two-out hit on Wednesday against Royals was his 38th of the season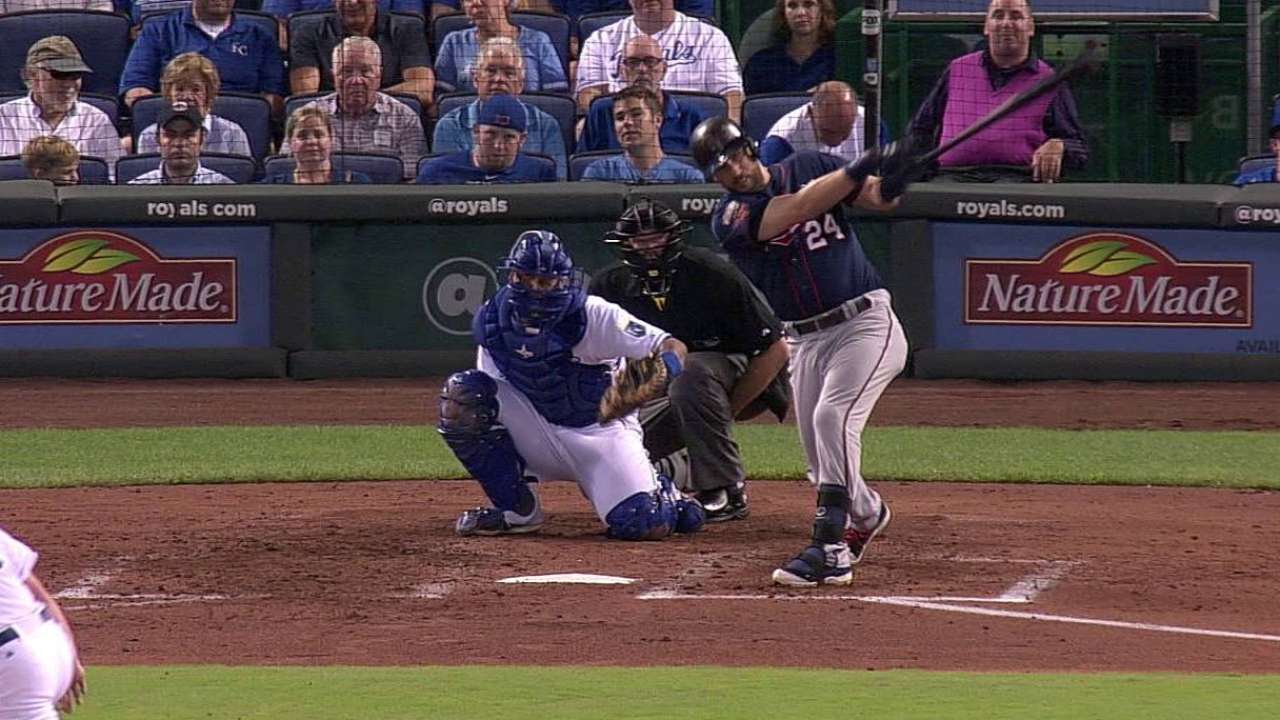 KANSAS CITY -- When Trevor Plouffe sliced a double down the left-field line on Wednesday, he moved into sole possession of the Twins' franchise record for doubles in a season by a third baseman.
Plouffe usurped Corey Koskie (37) with his 38th double of the season in the Twins' 6-1 loss at Kauffman Stadium. The two-out hit in the fifth inning also broke up a perfect game by former Twins pitcher Liam Hendriks, who retired the first 14 batters in order.
"Honestly, the way I see it is, it's an honor to be talked to next to names like Koskie and [Gary] Gaetti. To me that's what's special about it," Plouffe said.
Plouffe slugged 18, 19 and 22 doubles in 2011, '12 and '13, respectively, while averaging 435.7 plate appearances per season. He accumulated 38 doubles in 480 plate appearances entering Thursday.
"More than anything else, what I've seen, is he's just taking what they're giving him," manager Ron Gardenhire said, while also introducing a maturation component. "It's just a matter of more experience at this level, and more confidence in his own ability."
Plouffe acknowledged some changes in his approach -- staying on the ball longer, spraying pitches to all fields -- but ultimately, he has not become a doubles machine on purpose.
"You don't go up there trying to hit doubles, it just kind of happens," Plouffe said.
Jackson Alexander is an associate reporter for MLB.com. This story was not subject to the approval of Major League Baseball or its clubs.