Lyles scores lone Rockies run in loss to Giants
Righty solid for six, but Rox held to just four hits to cap low-scoring set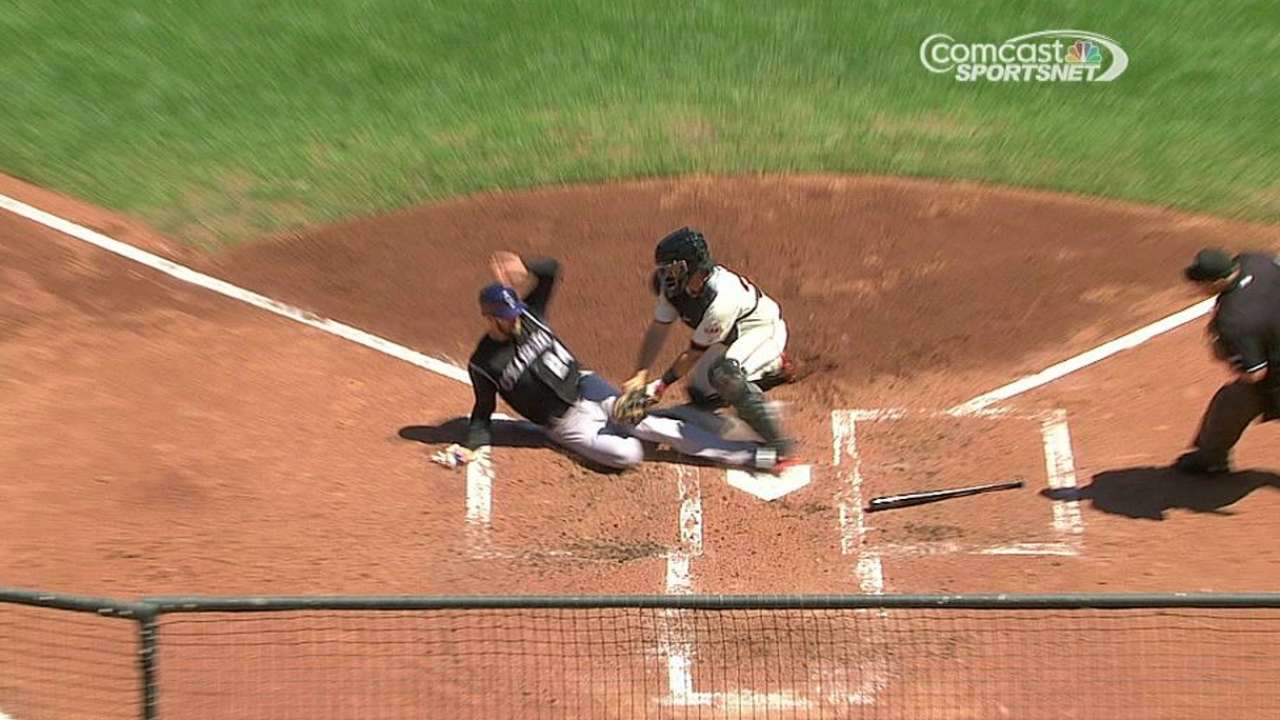 SAN FRANCISCO -- Another game at pitcher-friendly AT&T Park for the Rockies, another rough game in the batter's box for their injury-depleted lineup.
The Rockies recorded just four hits on Thursday afternoon and lost to the Giants for a third consecutive game, 4-1. In the four-game series, the Rockies totaled just six runs.
"It's always a little weird when we get together," manager Walt Weiss said. "It's always tough scoring runs when you come in here. Not only because of the park, but because of the guys they've got taking the mound over there."
Thursday's opposing pitcher was Yusmeiro Petit, who was given the starting nod after Tim Lincecum's recent struggles banished him to the bullpen. Petit had his best start of the season, as he allowed just one run on the four hits and struck out nine in six innings. He made some history in the process, too.
Petit broke a Major League record in the third inning. His strikeout of Charlie Culberson gave him 46 consecutive retired batters, which broke Mark Buehrle's all-time record.
The streak was snapped one batter later when Rox starter Jordan Lyles roped a double to left. An ensuing single by Charlie Blackmon gave the Rockies their first run of the game.
"He started me off with a cutter, and I was just looking for another over the plate, and he left it over the plate a bit," Lyles said. "I'll definitely be a trivia question down the road somewhere."
Former Giants prospect Jackson Williams recorded his first Major League hit in the fifth inning. He's not sure where he'll display the ball, but did know that familiarity with Petit -- from working with him at Triple-A Fresno while in the Giants' organization -- helped in the batter's box.
"I knew what he could throw," Williams said. "It was just a matter of hitting it."
That's precisely what Gregor Blanco did to begin the scoring in the second.
Blanco launched a 2-1 offering from Lyles atop Levi's Landing to give the Giants a 2-0 lead in the second.
"I tried throwing a cutter up and in," Lyles said. "I left it over the plate and he got it up in the air."
The Giants added their third run in the sixth, when Hunter Pence's bases-loaded sacrifice fly scored Angel Pagan. They threatened to blow the game open in the seventh, but Matt Belisle pitched out of trouble after Buster Posey flied out to right with runners on the corners and two out.
Despite the three runs, Weiss was impressed by Lyles' serviceable first career start at AT&T Park. The 23-year-old righty gave up three earned runs on four hits and three walks in six innings.
"He kept us in position to strike late and win the game, so I thought Jordan definitely did his part," Weiss said. "[The starters] have done a pretty good job of that in the second half, even though we haven't won a lot of games."
Lyles saw things a bit differently.
"Too many walks," Lyles said after being asked if he was encouraged by his ability to minimize damage. "Shouldn't have put myself in that situation to start with."
Had his lineup generated a bit more offense, his glance back at the situation may have differed, but the Rockies only batted with a runner in scoring position twice, and four runners were stranded on base.
The Rockies were unable to muster a hit in three innings against the Giants' bullpen, and they have now lost 26 of their last 30 road games.
Ryan Hood is an associate reporter for MLB.com. Follow him on Twitter @ryanhood19. This story was not subject to the approval of Major League Baseball or its clubs.