Blanco, Giants back Petit's record-setting day
Outfielder hits his first HR in SF since '12; pitcher retires 46th straight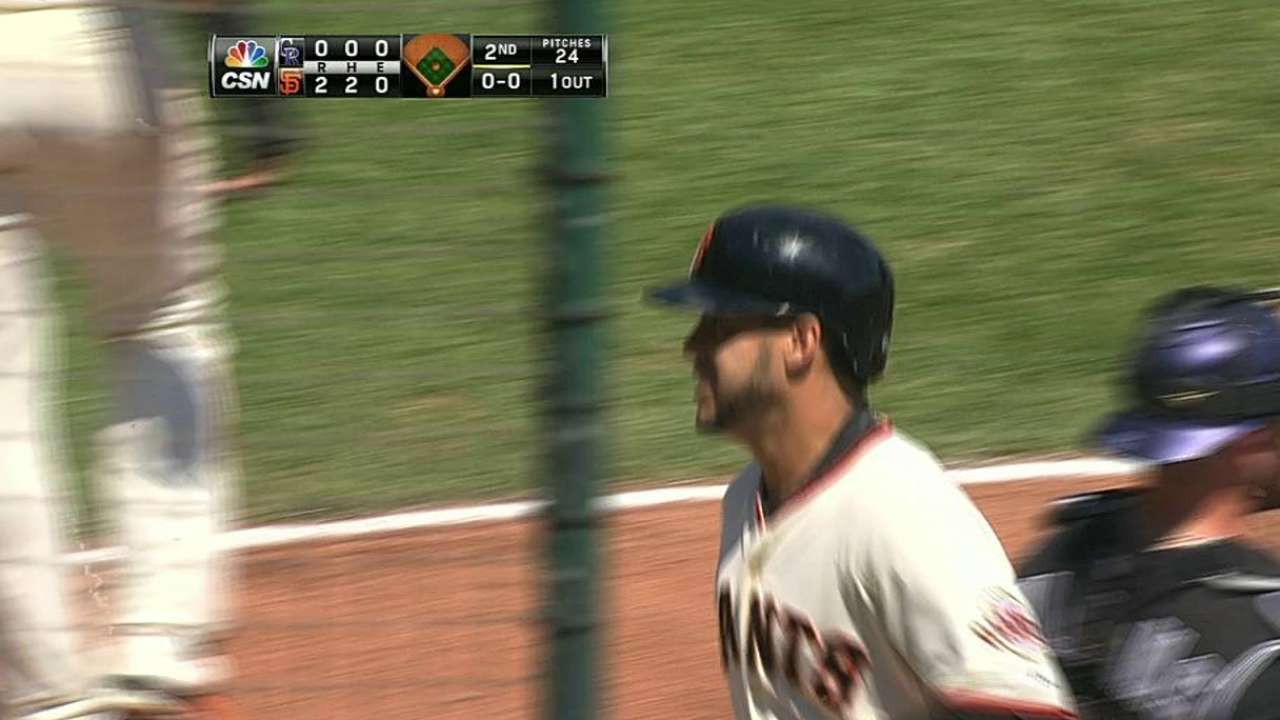 SAN FRANCISCO -- Once the Giants remembered that they were supposed to beat the Rockies, they turned this four-game series into a keepsake worth preserving.
On Tuesday, Madison Bumgarner approached a perfect game. On Wednesday, Tim Hudson notched his 2,000th strikeout and Bruce Bochy collected his 1,600th managerial victory. Yusmeiro Petit joined the milestone-makers Thursday by retiring his 46th consecutive batter to establish a Major League mark during the Giants' 4-1 triumph over Colorado at AT&T Park.
The Giants' biggest achievement, however, was a collective one. By capturing the final three games against Colorado, which owns the National League's worst record, San Francisco won a home series it should have won -- a rare occasion this summer. The Giants have posted a 13-24 record at AT&T Park since June 9, but they're 7-3 in their last 10 home dates.
San Francisco secured its second home series in a row, coupled with a two-out-of-three effort Aug. 15-17 against Philadelphia. If the Giants' improvement is genuine, it's occurring at an opportune time. They're competing with St. Louis, Atlanta and Pittsburgh for one of the league's two Wild Card spots. And they haven't given up on overtaking Los Angeles, which leads them in the NL West by 4 1/2 games.
"That's always a good sign, that they're starting to get that confidence back here at home and find ways to win," Bochy said. "This is our park [with] great fans. You can't beat what we have here. Hopefully it'll continue, and it's going to have to continue for us to get where we want."
Bochy's club is showing signs of regaining the prowess it displayed during its staggering 42-21 start. The Giants have homered in nine consecutive games, exceeded only by an 11-game streak from April 22-May 4. Thursday's power was generated by an unlikely source: left fielder Gregor Blanco, who golfed a 2-1 delivery from Rockies starter Jordan Lyles over the right-field wall for a two-run homer in the second inning.
It was Blanco's first homer at AT&T Park since June 13, 2012 -- the night that Matt Cain threw his perfect game against Houston.
"My timing is better," said Blanco, who's batting .306 (33-for-108) in his last 41 games. "I'm trying to keep the bat in front of the ball."
Other aspects of the Giants' offense could be falling into place. Leadoff batter Angel Pagan finished with his first three-hit game since his Aug. 7 return from the back injury that sidelined him for 44 games. Following Pagan's second hit, a sixth-inning single, he stole second base and scored an insurance run on Hunter Pence's sacrifice fly.
"It's so nice to have him back," Bochy said of Pagan.
Pence drove in that run from the fifth spot in the batting order, which he occupied for the first time since April 18. Joe Panik replaced Pence as the No. 2 hitter. Though a day off for Michael Morse prompted the shuffling, Bochy will consider implementing this sequence more frequently.
"I'm going to noodle this tonight," Bochy said. "But I kind of like [how] it balances out the lineup. Pence is a guy who doesn't care where he hits."
Finally, the Giants' pitching sparkled against Colorado. Starters recorded a 0.90 ERA while allowing 15 hits in 30 innings against the league's highest-scoring team. Then again, the Rockies played without three injured offensive dynamos: Troy Tulowitzki, Michael Cuddyer and Carlos Gonzalez.
San Francisco's pitchers will receive another test this weekend when the NL Central-leading Brewers visit for a three-game series. Milwaukee ranks second in the league in runs.
Chris Haft is a reporter for MLB.com. Read his blog, Haft-Baked Ideas, and follow him on Twitter at @sfgiantsbeat. This story was not subject to the approval of Major League Baseball or its clubs.