Twins strike for six in 10th inning to best KC
Schafer's two-run single caps three-hit, four-RBI night at the plate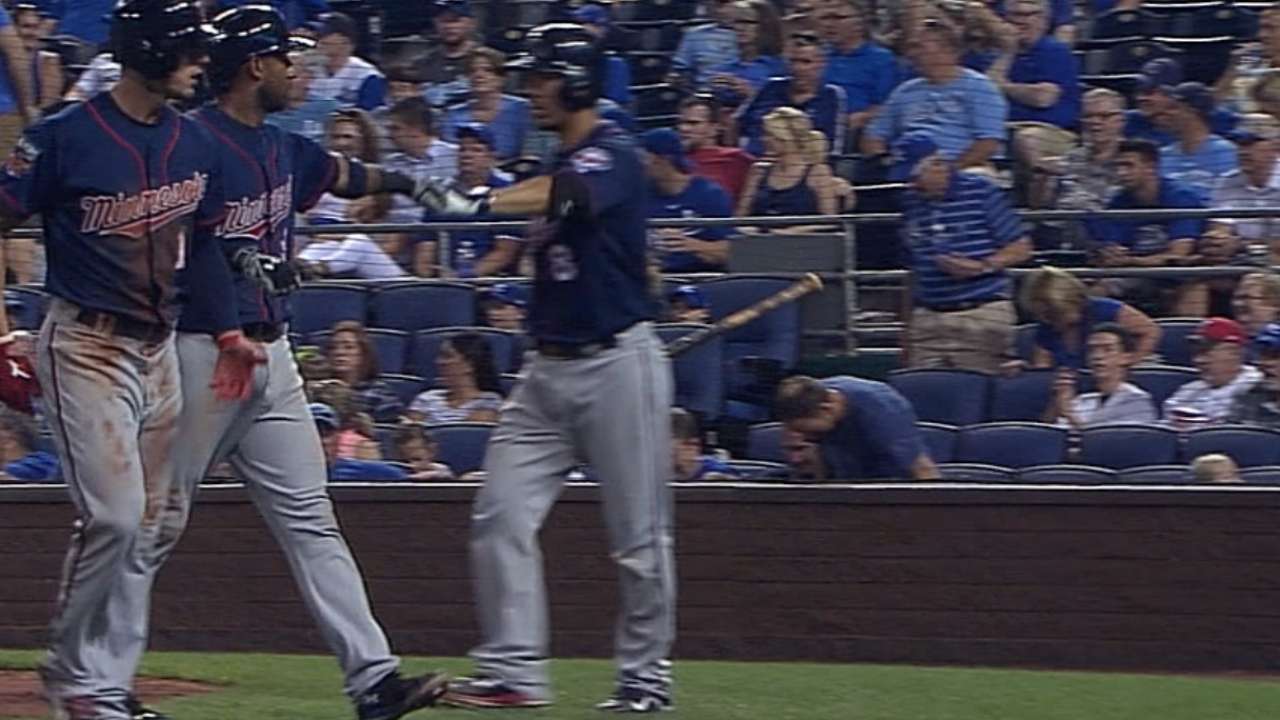 KANSAS CITY -- The message from manager Ron Gardenhire before Thursday night's game at Kauffman Stadium was clear: the bats must come alive.
His request was granted as the Twins rebounded from back-to-back one-run performances in their 11-5 extra-inning win over the Royals in the series finale.
Minnesota rode a six-run 10th to victory. Eduardo Nunez provided the go-ahead RBI single, but Jordan Schafer and Brian Dozier piled on with two-run hits, while Kurt Suzuki capped the frame with an RBI double.
"We finally had the big inning, got some big hits and kind of spread it around," Gardenhire said. "So a nice win, getting a win here after two really, really tough losses."
Schafer starred for the Twins from the nine-hole. He collected three hits, and his second career four-RBI game.
"We played them tough all series," Schafer said. "We had a couple of games before that we came out on the wrong end, but they were close games -- that's a really good team over there, first-place team. It's good to get a win on the way out of here."
Another late-inning meltdown from the Twins' bullpen allowed for the big inning. Alex Gordon was responsible for Tuesday night's 2-1 walk-off win, and he prolonged Thursday's game, as he belted a homer to right-center off Minnesota reliever Ryan Pressly for a 5-5 tie in the seventh.
But the 'pen rebounded after Gordon's home run to throw four scoreless innings. Gardenhire was hoping to be economical with his bullpen, but the game-tying jack spoiled that plan. Six different relievers combined on the effort with Anthony Swarzak notching the win.
"We've got a one-run lead, we're trying to figure out how to get through our bullpen without using everybody out there, and that lasted one hitter, and we had to end up going with everybody," Gardenhire said.
Minnesota rewarded the bullpen's effort in the 10th against Royals reliever Bruce Chen. Oswaldo Arcia began the inning by smashing a triple into the right-center gap. Back-to-back walks by Trevor Plouffe and pinch-hitter Joe Mauer brought up Nunez, who laced a single up the middle to score a pair. Nunez did not recall what the junk-throwing Chen offered him.
"Seriously? I don't know. It's so slow, the first pitch he threw to me was 83, the second one was 81," Nunez said.
Schafer dumped a two-run single into shallow left to extend the lead to 8-5, Dozier roped a two-run double and Suzuki finished the deluge with a RBI two-bagger.
The offensive outburst came as a relief for a Twins team that stayed competitive in the first two games of the series, but they tallied just two runs.
"We've played three games here, we could have won all three and we could have lost all three, and tonight was no different than the first two," Gardenhire said.
Neither team scored in the first six innings of the first two games. But they combined for four runs in the first frame of the finale.
Kennys Vargas (groundout) and Arcia (single) provided RBIs that scored Dozier and Suzuki, who reached on a single and a double, respectively, for a 2-0 Twins lead.
Kansas City answered with a pair of runs in the bottom half on RBI singles by Gordon and Salvador Perez.
Minnesota snatched the lead back in the fourth inning. This time it was Schafer and Dozier tallying RBI singles to put the Twins up, 4-2.
After shutout second and third innings from Twins starter Tommy Milone, the Royals tacked on runs in the fourth and fifth to even the score at 4.
"That's the most frustrating part is the guys are doing such a good job of putting together good at-bat and scoring runs, and just to give it up pretty much that next half-inning is very frustrating," Milone said.
Schafer put the Twins back in front with an RBI double off Jeremy Guthrie in the sixth that flirted with the right-field line.
"Really, the only pitch I didn't really love was to Schafer, the RBI double in the sixth. It was the only pitch I thought was really bad," Guthrie said.
Jackson Alexander is an associate reporter for MLB.com. This story was not subject to the approval of Major League Baseball or its clubs.