Royals' division lead dips with extra-inning loss
Gordon belts game-tying HR in 7th, but Chen labors in six-run 10th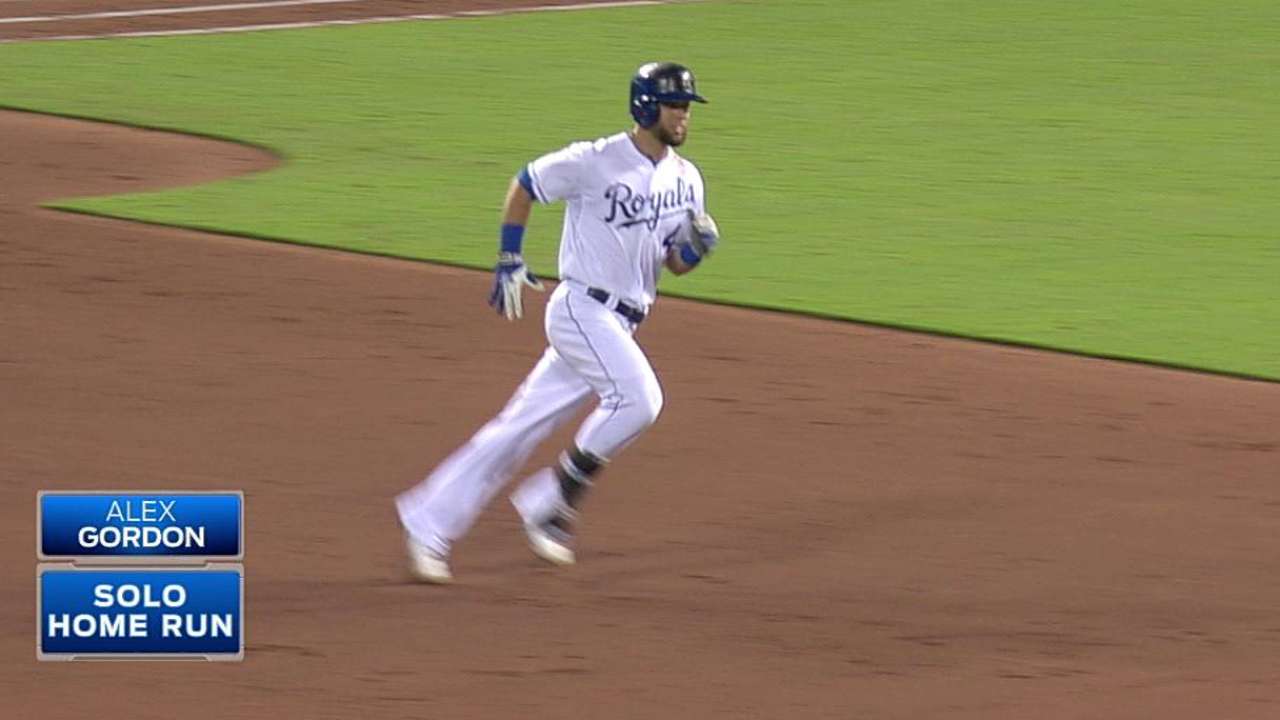 KANSAS CITY -- Sweep dreams, then a rude awakening.
The Minnesota Twins disrupted Kansas City's bid for a series sweep with a 10th-inning burst that gave them an 11-5 victory on Thursday night at Kauffman Stadium.
The loss cut the Royals' lead atop the American League Central to 1 ½ games over Detroit. The Tigers beat the Yankees, 3-2.
The Royals had taken the first two games of the series in dramatic fashion with late-inning uprisings. But it was the Twins who rose up this time.
Royals reliever Bruce Chen was tagged for all six runs in the 10th.
"He just couldn't put 'em away," manager Ned Yost said.
By the 10th inning, Yost had used four relievers and his bullpen choices other than Chen were down to one.
"The only other option I had was Scott Downs and he hadn't thrown in three weeks," Yost said. "We were looking for Scott to get an out or two against those lefties and Bruce was our length guy."
After pitching back-to-back nights and a club-high 56 times, Wade Davis was ruled out. He was to be rested.
"I was not pitching Wade tonight," Yost said.
So it was Chen entering the 5-5 tie. He began by striking out Kennys Vargas. But the inning rapidly disintegrated. Oswaldo Arcia tripled off the center-field wall and Trevor Plouffe was intentionally walked.
Joe Mauer came off the bench to pinch-hit and Chen quickly got ahead with two strikes.
"That's what you want," Chen said. "You want to get him 0-2 and then make a good pitch so he either grounds into a double play or you strike him out. I kept falling behind in the count and he got a walk, he's a very good hitter."
That loaded the bases and Eduardo Nunez singled up the middle for the run that broke the deadlock.
What sort of pitch did Chen throw him?
"Seriously? I don't know," Nunez said. "It's so slow, the first pitch he threw to me was 83, the second one was 81."
Whatever Chen threw, the hits just kept coming: Jordan Schafer's two-run looping single to left, Brian Dozier's two-run double to right, Kurt Suzuki's RBI double to left.
"I didn't make good pitches and they kept getting base hit after base hit after base hit," Chen said. "I should have been able to make better pitches so I could get out of that inning, at least with one run."
Instead there were six runs and all that remained was for Twins closer Glen Perkins to pitch a scoreless bottom of the 10th, which he did.
The score just went back and forth for most of the game.
"We couldn't break their serve," Yost said. "They scored two, we scored two. They scored two, we scored two. They scored one, we scored one."
That last one by the Royals was a big one -- a game-tying home run by Alex Gordon. He led off the seventh by sending reliever Ryan Pressly's 2-0 pitch rocketing into the right-center-field porch for a 5-5 tie.
It was Gordon's 17th home run this season and his eighth in August, the most by a Royal in this month since Chili Davis' 12 in 1997. The blast was also big in Gordon's home state -- his 119th career homer is the most ever by a Nebraska-born player, surpassing Hall of Famer Wade Boggs.
Gordon had won the series opener with a two-run blast in the ninth inning and this late-inning smash loomed as another big moment of drama.
The Royals also had some fine defensive moments. Shortstop Alcides Escobar swept in for a dazzling grab of Nunez's high bouncer in the fourth. Center fielder Lorenzo Cain crashed into the center-field wall to take extra bases away from Arcia in the seventh.
"He made a great catch," said lefty Francisley Bueno, the pitcher at the time. "That saved a run, he saved everything. Cain is really good, he plays hard every time."
Neither starting pitcher, the Royals' Jeremy Guthrie and the Twins' Tommy Milone, did particularly well.
"It wasn't one of [Guthrie's] best starts, but he got us through six innings and kept us in the game," Yost said. "When he left, we had a chance to win the game and that's what's important."
But it was the Twins who came up big after they'd crumpled in the late innings in the first two games.
"We played them tough all series," Schafer said. "We had a couple of games before that we came out on the wrong end, but they were close games -- that's a really good team over there, first-place team. It's good to get a win on the way out of here."
For the Royals, it was a rare blip on what's been a terrific month -- they're 19-7 in August and have stoked a furnace of postseason hopes. Even the hot clubs, though, are prone to the occasional blowout loss.
"Today would have been one of those great wins for us when we didn't get a great pitching performance," Guthrie said, "but the offense picked it up and it would have been a late win, and it would've been a great win. But it's a loss and we'll go on, and won't think much of it tomorrow."
Dick Kaegel is a reporter for MLB.com. This story was not subject to the approval of Major League Baseball or its clubs.