Bullpen falters as Yankees drop finale in Detroit
Kelley allows game-winning hit in ninth after Kuroda's strong effort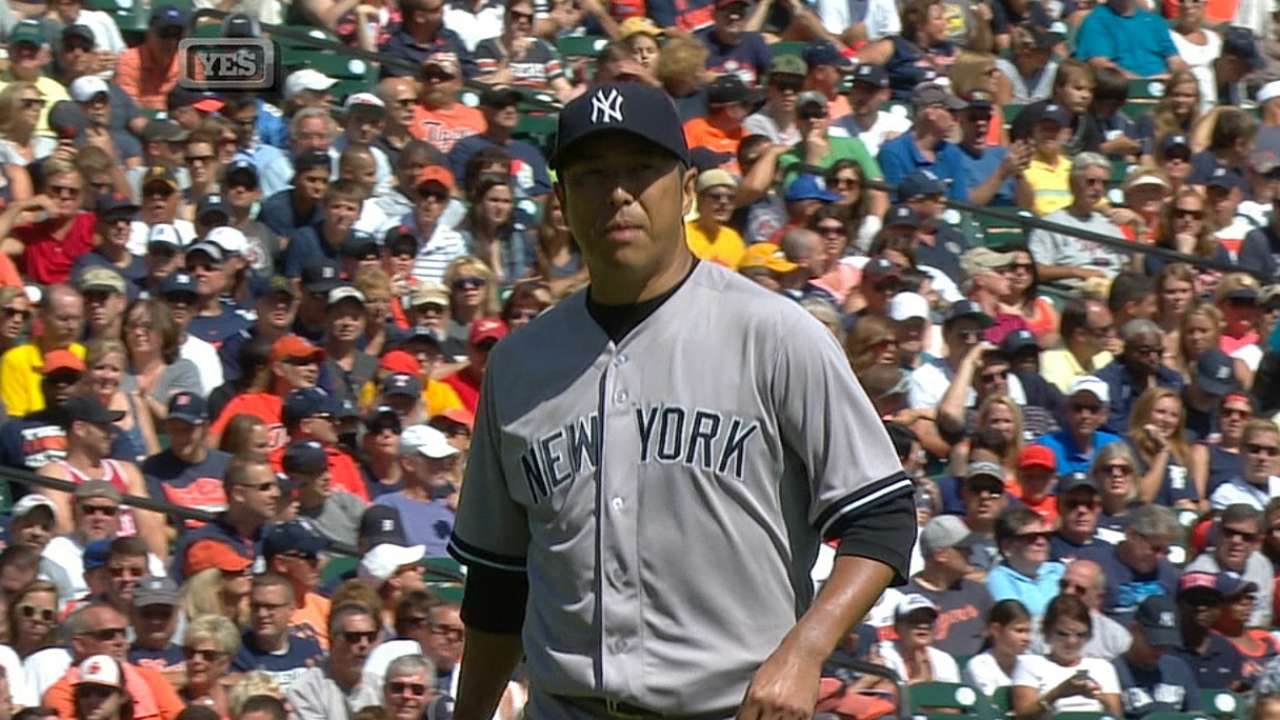 DETROIT -- The final pitch of the afternoon was a hanging slider that was destined to drive in the winning run, and Shawn Kelley immediately slammed his glove into the infield grass, allowing the terrible feeling to slump his shoulders.
If Kelley had turned around, he would have seen Ichiro Suzuki's valiant effort to track Alex Avila's deep drive through the shadows, but the tell-tale thump of ball against padded wall sealed the Yankees' 3-2 loss to the Tigers on Thursday at Comerica Park. The setback bumped the Yankees three games behind the Tigers and Mariners for the second American League Wild Card spot.
"I didn't watch. I just put my head down and walked off the field," Kelley said. "It would've been a nice surprise if he would've [caught it], but I assumed it was a homer."
Avila's hit counted only as a single, but it was enough to doom the Yankees to their second loss of the three-game series, a final head-to-head showdown with the Detroit that they viewed as crucial for their postseason hopes.
"It's definitely not what we wanted, but our guys played extremely hard this series, and we've got to go continue on to Toronto," manager Joe Girardi said.
Kelley entered after Hiroki Kuroda provided another consistent outing, holding the Tigers to two runs over seven innings. Dellin Betances pitched a scoreless eighth, but Kelley was in immediate trouble as Victor Martinez opened the ninth by doubling on a hanging breaking ball.
After a full-count walk to J.D. Martinez, Kelley rebounded to strike out both Alex Castellanos and pinch-hitter Torii Hunter, but Avila barreled the first pitch he saw to deliver a walk-off win in front of a sellout crowd of 42,647.
"It was right over my head. I ran back and the ball hit the fence," Ichiro said through an interpreter. "It's a do-or-die play. I just went to where I thought the ball was going to be."
"You're watching, but you're not really sure," Avila said. "When I hit it, I thought it had a chance to drive the run in, but Ichiro came pretty close."
After producing an eight-run inning on Wednesday against David Price, New York managed just two runs and four hits in six innings against rookie left-hander Kyle Lobstein, who was making his first Major League start and second appearance.
"From the game that I saw, we swung the bats better than we did yesterday," Girardi said. "We just hit balls at people. That's unfortunate."
Zelous Wheeler reached on a slow third-inning grounder that was thrown away by the third baseman Castellanos, setting up Jacoby Ellsbury's RBI single to knot the game at 1. The Yankees center fielder continues to swing a hot bat, hitting .462 (18-for-39) over his last 10 games.
New York punched another run through against Lobstein in the fourth inning. Martin Prado singled, advanced to third base on a Carlos Beltran double and scored on Brian McCann's groundout. Lobstein slammed the door there, walking one and striking out none.
"It's a close race and they're trying to win every game," Lobstein said. "I understood that, but at the same time, I've just got to go out there and treat it as any other day."
The Yankees are not looking for silver linings at this time of year, but at least Kuroda seems to be showing no signs of the second-half swoon that derailed his 2013 season. The right-hander wrapped up his August with a 3.22 ERA in five starts.
"The biggest thing that I concentrate on a day I pitch, I want to make sure that the team wins," Kuroda said through an interpreter. "Because that did not happen, it was not a good day for me."
Avila knocked in Castellanos with a second-inning sac fly and after the Yankees scored single runs in the third and fourth to take the lead, the Tigers tied the game in the fifth as Don Kelly walked, advanced on a wild pitch and came home to score on Rajai Davis' single to right field.
The Yankees threatened to retake the lead in the ninth, but were silenced by two former Bombers. Mark Teixeira worked a two-out walk against Joba Chamberlain before the Tigers called on Phil Coke, who surrendered a single to Beltran that placed runners at the corners.
McCann got a meaty fastball and launched a deep drive down the right-field line that had Coke arcing his neck at the back of the mound, but the ball sailed a few rows foul.
"I did [think it was a homer]. It just kept going," McCann said. "I don't know if the wind took it or what. It would have been nice if it stayed fair, but it didn't."
Coke came back to gas McCann with two 95-mph fastballs for the strikeout.
"We just have to battle," McCann said. "Kuroda pitched an unbelievable game, again. We hit a lot of balls hard today. The ball was hanging up in the gaps; I thought we had three or four doubles that got caught. That's just the way it goes. We'll move on and get ready for Toronto."
Bryan Hoch is a reporter for MLB.com. Follow him on Twitter @bryanhoch and read his MLBlog, Bombers Beat. This story was not subject to the approval of Major League Baseball or its clubs.