Danks in form on mound, but White Sox fall to Tribe
Lefty allows two runs, whiffs five over six; Abreu collects 97th RBI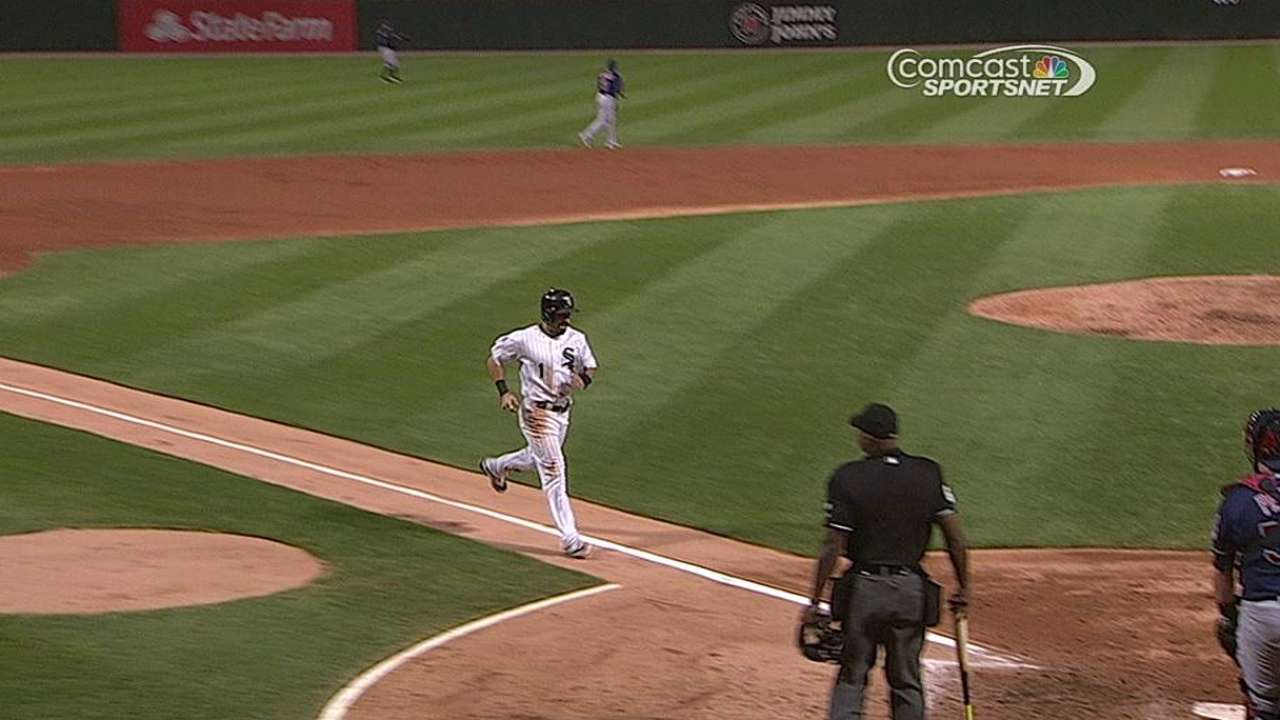 CHICAGO -- The White Sox endured their eighth loss in nine games after a hopeful comeback in Thursday's 3-2, series-clinching loss to the Indians at U.S. Cellular Field.
Chicago recorded six singles and had five hitless innings, with four consecutive strikeouts to end the game -- including a final swing by Dayan Viciedo that sent his bat sailing into the dugout.
Avisail Garcia twice struck out to end an inning with runners in scoring position, including in the eighth with the tying run on third and go-ahead run on first.
"Baseball is hard," said Garcia, who is 8-for-36 (.222) with 13 strikeouts since returning from the 60-day disabled list on Aug. 16. "Everything is kind of happening. You've just got to keep working, be positive. Tomorrow is the next day."
The South Siders became the latest victim of Indians starter Carlos Carrasco, who allowed one earned run on four hits, with a walk and seven strikeouts, in 6 2/3 innings.
Carrasco improved to 3-0 with a 0.74 ERA and .129 average against in four starts since returning to the rotation on Aug. 10. He was relegated to the bullpen in April after a 6.95 ERA through his first five starts.
"He continues to do it," Indians manager Terry Francona said. "He came out and established his fastball. He held [the velocity], especially when he saw the end coming. He reached back for more. He has a good touch on his breaking ball and his changeup."
White Sox starter John Danks matched Carrasco early, and finished with two earned runs, two walks and five strikeouts in six innings. The lefty entered Thursday's game 1-2 with a 7.98 ERA and .340 average against in the second half.
"I'd like to go deeper in the game, but I kept us in the ballgame," Danks said. "That's the number one rule in my job description, I guess. We'll call it a success. It's not as good as I'd like, but at the end of the day, we didn't win."
Jose Abreu accounted for the White Sox one run against Carrasco, a third-inning single to left that brought home Adam Eaton, who singled, swiped second and reached third on an error.
Of Abreu's 97 RBIs this season, Eaton has accounted for 23 -- the most on the team beside Abreu himself by virtue of 33 homers, tied for second in the Majors.
"You can't expand the plate too much with Abreu. He can reach just about anything," Francona said. "That's been a thorn in our side and probably the rest of the league, too."
Ronald Belisario allowed the Tribe's final tally in the seventh -- an RBI single by Michael Brantley -- to raise his ERA to 6.05. Daniel Webb and Maikel Cleto tossed the final 2 1/3 innings with one hit and three strikeouts between them.
The White Sox defense stranded 10 runners, and played formidably other than one of two Michael Bourn triples manifested through a misplayed ball by Alejandro De Aza, who later robbed Zach Walters of an extra-base hit in the second.
"Defensively, besides the one in the first that scooted by [De Aza], we played fairly well," manager Robin Ventura said. "Alexei [Ramirez] has had a couple of good nights, even defensively [Carlos] Sanchez, same thing. You have to be able to do that if you're even going to stay close, especially when you have a pitcher doing what [Carrasco] is doing."
On Friday, the White Sox open a four-game series against the Tigers that will feature a doubleheader on Saturday.
Chicago took two convincing games in Detroit to end July the last time these teams met, and sat three games under .500 with an outside shot at the second American League Wild Card.
Since, the White Sox have gone 7-17, endured two of their worst losses and have won just one series in eight tries.
"It's never easy to be near the bottom of the division," Danks said. "It's a little disappointing the way that we've felt at the beginning of the season, first half, and just not get the wins. But guys are playing hard. It's not from a lack of effort or a lack of care. It's just we're not winning, not playing well enough. We're going to play every game to win it for 162, and we wish it was more."
Daniel Kramer is an associate reporter for MLB.com. This story was not subject to the approval of Major League Baseball or its clubs.