On fantasy waiver wire, stick to reliable options
Proven performers, hot-starting youngsters provide late-season boost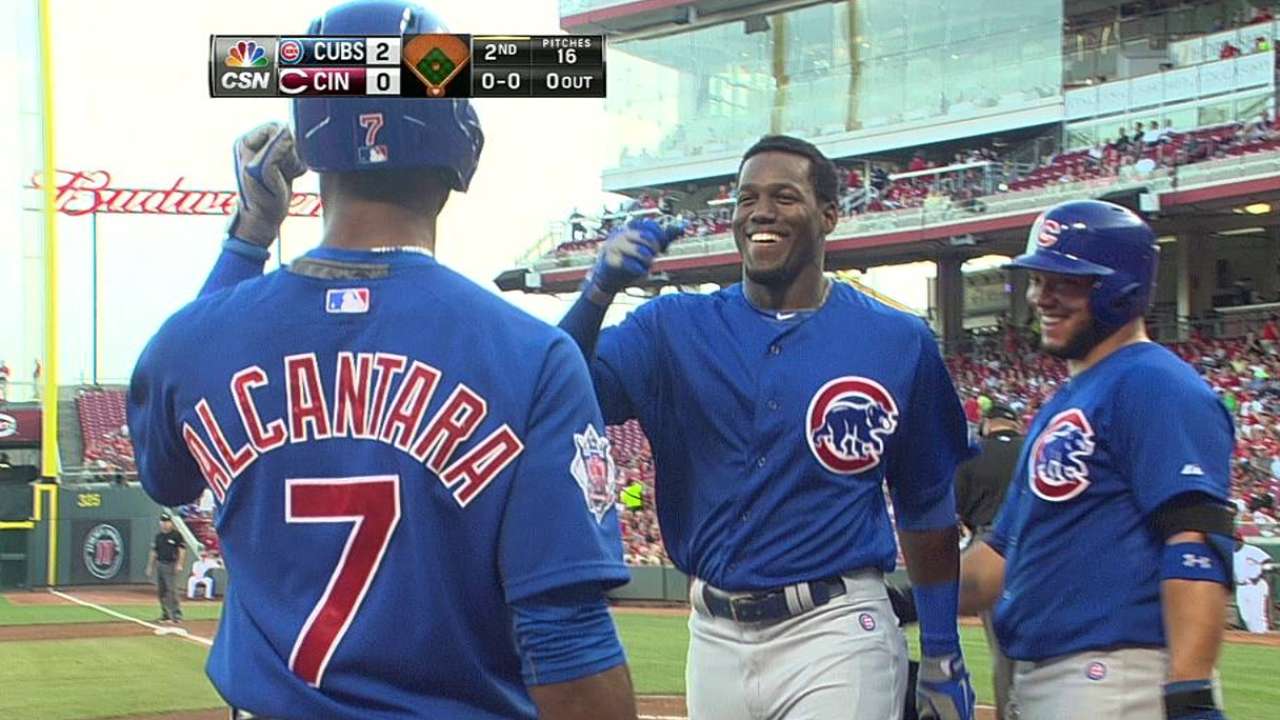 While some fantasy owners are anticipating the arrival of Minor Leaguers beginning Monday, smart owners will scour their waiver wire for safer options who can help right away. This is not the time of the season for speculative additions. Instead, owners should be focused on adding reliable producers who will back up their star assets during the final weeks of the season.
Catcher, Russell Martin (Pirates): Fantasy owners who have been burned by high-profile backstops should turn to Martin for the stretch run. The 31-year-old is hitting .295, and even though he has slugged just seven homers, he has shown notable power in recent seasons. Martin's steady production has value for the final month of the season.
First baseman, Steve Pearce (Orioles): Pearce has been inconsistent this season, but he is heating up right now, with four homers and a steal during a 10-game hitting streak. The 31-year-old has taken over the two-hole in a talented lineup, which should allow him to score plenty of runs in September.
Second baseman, Arismendy Alcantara (Cubs): While fantasy owners get excited about the Cubs' newer arrivals, Alcantara may provide more fantasy value in September. The 22-year-old has gotten past his initial Major League jitters, and he is showing signs of figuring things out, with two homers and a pair of steals in his past four games.
Shortstop, Brock Holt (Red Sox): Holt has notched seven hits and scored eight runs over his past five games, but fantasy owners already knew that the 26-year-old was a source of batting average and runs scored. The reason Holt is on this list is that after going roughly seven weeks without a steal, he has swiped four bases in his past seven games.
Third baseman, Trevor Plouffe (Twins): The 28-year-old is a streaky slugger, but he is hot right now, with two homers and 10 RBIs in his past nine games. There is a lack of exciting waiver-wire options at the hot corner, so owners in search of a spark can hope that Plouffe will stay hot for another week or two.
Outfielder, Jorge Soler (Cubs): Soler certainly got the attention of fantasy owners when he went deep in his first Major League plate appearance. The 22-year-old hit .340 with 15 homers in 200 Minor League at-bats this season, so he clearly has the skills to hit the ground running with the Cubs.
Outfielder, Adam Eaton (White Sox): The White Sox leadoff hitter is back after spending barely more than the minimum time on the DL with an oblique injury. Eaton lacks power, but he should provide a helpful batting average, plenty of runs and a few steals during September.
Outfielder, Leonys Martin (Rangers): Martin has swiped 22 bases, but overall he has been a pretty weak mixed-league option this season due to a lack of production in the other three counting categories. Leadoff hitter Shin-Soo Choo is on the DL for the rest of the season, which should give Martin a chance to work out of the top spot often down the stretch. If he can parlay that promotion to more run scoring, he could be more of a mixed-league factor.
Starter, Wade Miley (D-backs): The lefty has been a reliable source of K's this season, and he has allowed just seven runs across his past four outings. Miley will work on the road twice next week, but he should enjoy spacious confines when he faces the Padres and Dodgers.
Starter, Carlos Carrasco (Indians): The 27-year-old has had a rocky Major League career, but an extended stint in the bullpen seems to have set him up for more success in his return to the rotation. Carrasco has allowed just one run across three starts this month, and this is the perfect time to add him to mixed-league lineups, as he will work twice at home next week.
Starter, Roberto Hernandez (Dodgers): The 33-year-old owns a weak strikeout rate, but he has had some success since joining the Dodgers, with just nine earned runs allowed in four starts. Hernandez will work twice in his pitcher-friendly home park next week, and if he gets past the Nationals, he could have plenty of success against a D-backs lineup that is missing its best hitter in Paul Goldschmidt.
Starter, Shane Greene (Yankees): Greene has gone 4-1 with roughly a strikeout per inning in his first 10 MLB games, including nine starts. He will pitch at home against the Red Sox and Royals next week, and he could be in line for plenty of success if he can keep the ball in the yard.
Starter, Jason Hammel (A's): After an extended break, Hammel tossed seven innings of one-run ball last time out. He is scheduled to work at home twice next week against the Mariners and Astros, which will give him a chance to reclaim the confidence of fantasy owners.
Starter, Jeremy Hellickson (Rays): Hellickson did not make his 2014 debut until July, but he has rewarded fantasy owners for their patience by producing a 2.61 ERA and a 1.08 WHIP in seven starts. He will work twice in his pitcher-friendly home park next week.
Reliever, Eric O'Flaherty (A's): O'Flaherty's name was not the first one that popped into fantasy owners' heads when Sean Doolittle went on the DL, but it was the 29-year-old who got the save chance on Wednesday. The lefty has pitched just 15 1/3 innings this season, but his ratios suggest that he can do a fine job in the ninth inning until Doolittle returns in September.
Reliever, Joaquin Benoit (Padres): The 37-year-old went 11 days between outings while he dealt with a sore shoulder, but a pair of saves since Aug. 24 suggests that he is back in form. Benoit owns a 1.58 ERA and a 0.82 WHIP on the year, so he can clearly help fantasy owners in three categories down the stretch.
Fred Zinkie is a Fantasy writer for MLB.com. This story was not subject to the approval of Major League Baseball or its clubs.