Reds excel on bases, at plate to support Axelrod
Six steals spur two three-run innings; righty K's eight in five frames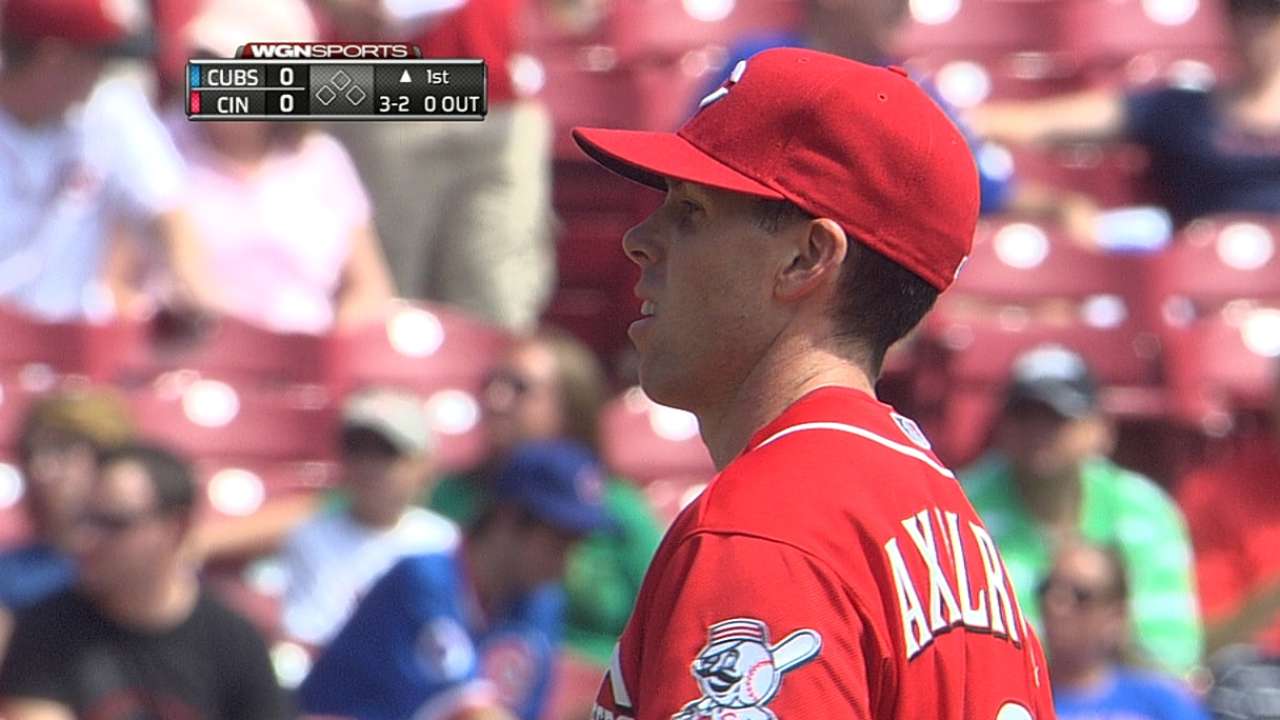 CINCINNATI -- A water main break outside Coors Field on Aug. 16 led to Dylan Axelrod being sent to the Minors after a strong start in his Reds debut the next day. But there were no such external forces in his way on Thursday afternoon.
Axelrod tossed five scoreless innings to pick up his first win in a Reds uniform, and Cincinnati stole six bases in a game for the first time in more than eight years in a 7-2 victory over the Cubs at Great American Ball Park. The Reds took two games out of three from Chicago, scoring at least seven runs in back-to-back games for the first time since Aug. 5-6 against the Indians.
The Reds purchased Axelrod's contract from the White Sox on July 17 and called him up from Triple-A Louisville to make the start against Colorado in place of the injured Homer Bailey (strained right flexor mass tendon). The game was postponed due to the water main break, and the right-hander instead pitched the nightcap of a doubleheader against the Rockies on Aug. 17, turning in six solid innings and allowing two runs while striking out seven.
But because he started one day later than originally anticipated, the Reds needed a fresh arm the next Thursday, optioning Axelrod back to Triple-A Louisville and recalling left-hander David Holmberg.
"Kind of after the game [against the Rockies], I was like, 'When's my next start?' And then I was like, 'Oh boy,' Axelrod said. "So yeah, I saw that coming."
Axelrod awaited his next chance, and it came on Thursday. He labored through the first two innings, needing 58 pitches. But Axelrod settled down nicely after that, needing 42 to get through the next three frames. He allowed two hits, walking three (one intentionally) and striking out eight to tie a career high.
Axelrod said he made an adjustment when his pitch count began climbing, which helped him the rest of the way.
"It was more just attacking the hitters. They laid off a lot of good two-strike pitches and battled and made me throw a lot of pitches," Axelrod said. "So I just wanted to start attacking more and getting early contact."
"I think there was an awful lot of offspeed stuff, which typically isn't put in play early in the count," Reds manager Bryan Price said of Axelrod's early approach. "He went more to his fastball in those last three innings and had a lot more balls in play early in the at-bat, and it kept him out there through five."
Reds hitters did their part with three-run innings in the second and fourth. In the second, Kristopher Negron led off with a walk against Cubs starter Jake Arrieta, stole second and scored on Zack Cozart's single one out later. Following an Axelrod strikeout, Billy Hamilton doubled home Cozart and scored on Todd Frazier's single to make it 3-0.
With one out in the fourth, Cozart singled again. One out later, he stole second and Hamilton walked. Frazier followed with another RBI single, then stole his second base of the game and 19th of the season. Brandon Phillips doubled home both Hamilton and Frazier to make it 6-0.
The six stolen bases by the Reds were the club's most in a game since they stole six against the Nationals on May 10, 2006. Price said there was an emphasis on running in the game plan against Arrieta.
"Arrieta, we knew, was going to be very hard to score on," Price said. "So I felt kind of like we needed to create some scoring opportunities by running. He's a little bit slower and more deliberate to the plate, and we were able to take advantage of that."
Cincinnati tacked on another run in the sixth. Cozart doubled to left-center and moved to third when center fielder Arismendy Alcantara bobbled the ball. One out later, Hamilton singled to left to add to the lead.
Cozart, who has struggled at the plate most of the season, said the hits are finally beginning to fall for him.
"I've been feeling pretty good, to be honest with you. It's been like three weeks," Cozart said. "I haven't had the results that I've wanted, but I've felt pretty good. I think it's starting to show. I'm getting more confident, attacking the ball and using the right side of the field."
The Cubs scored their two runs in the ninth on an RBI single by Jorge Soler and a sacrifice fly by Alcantara off Jumbo Diaz.
As they head out on a road trip to face the Pirates and Orioles, the Reds are looking at an 8 1/2-game deficit in the National League Central and a six-game deficit in the NL Wild Card race. That's not impossible to overcome at this stage of the season, but it's certainly an uphill climb.
"September has to be fun," Price said. "You couldn't be more of an underdog than we are right now. So forget pressure; go out, have some fun and make things difficult for these other clubs and maybe find our way back into this thing."
As the Reds approach September, it appears that Axelrod will continue to fill in for Bailey while he's out, and Price has made it clear to the right-hander that he's earned that opportunity.
"He said, 'You should have been here the whole time,'" Axelrod said. "The water main thing was a freak thing. You're where you belong.'"
Manny Randhawa is an associate reporter for MLB.com. This story was not subject to the approval of Major League Baseball or its clubs.