Offense can't find groove in Arrieta's brief outing
Dependable starter allows six runs in four innings as Cubs drop finale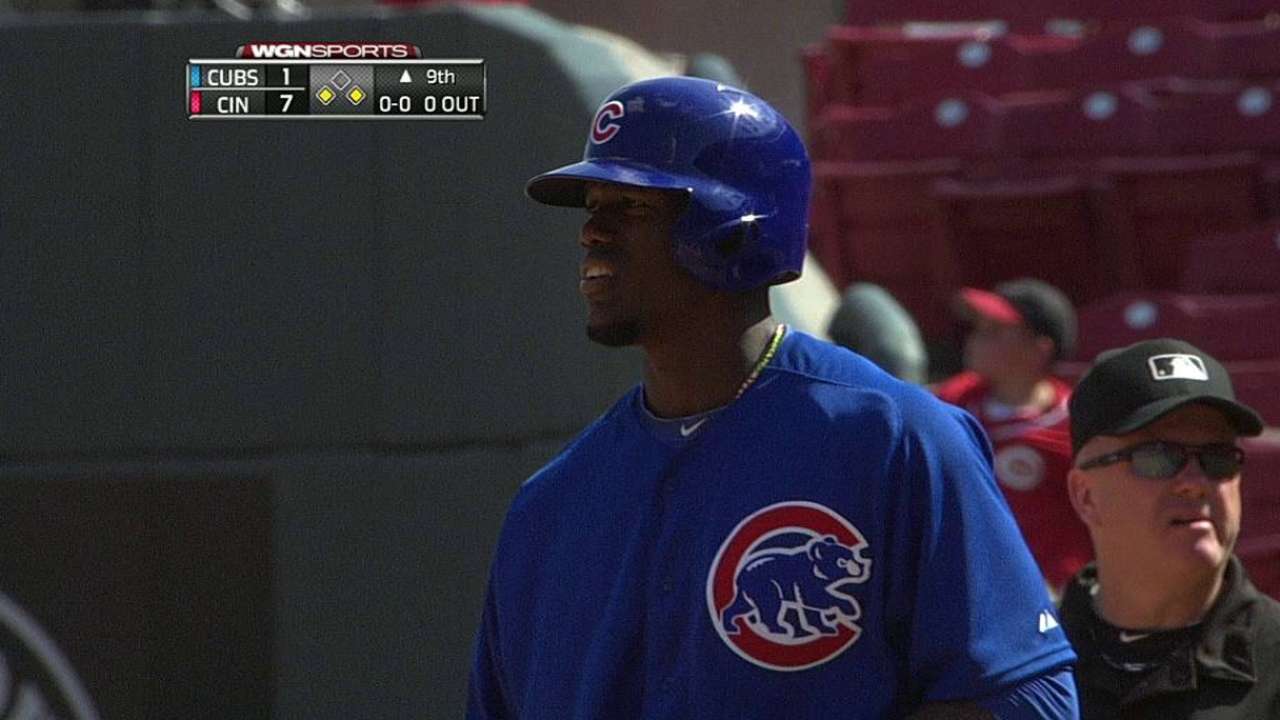 CINCINNATI -- In the bottom of the sixth inning Thursday afternoon, Cubs second baseman Javier Baez couldn't hold on to a throw from third baseman Luis Valbuena, and he was charged with an error. Earlier in the inning, the Reds had taken advantage of an error by center fielder Arismendy Alcantara to score a run.
Cubs manager Rick Renteria went to the mound for a little chat after Baez's misplay. Renteria couldn't do anything to salvage the game, which ended with the Chicago losing, 7-2, at Great American Ball Park. He did want to get the players focused on the task at hand. It's all part of the development process that will be very evident in the final month of the Cubs' season.
"[I told them], 'Hey, keep playing,'" Renteria said. "Things happen like [Baez's error]. 'Get another ground ball and let's turn a double play if we can.' They're kicking themselves. I don't need them kicking themselves when everybody is already kicking them.
"It wasn't a clean game -- I'm sure everybody is [thinking] the sky is falling, the wheels are coming off the wagon," Renteria said. "I just want to make sure [the players] understand we're still there for them and they have to keep playing the game."
Renteria has obviously picked up on Cubs fans' neurosis in his first season as manager.
The Reds did not score again that inning -- they did all the damage they needed against starter Jake Arrieta, who tied a season low with a four-inning outing. Arrieta gave up six runs for the second time this season, and he couldn't have his outing saved by any Jorge Soler heroics or even a Baez big fly.
Todd Frazier, Billy Hamilton and Brandon Phillips each drove in two runs to lift the Reds to victory and improve to 11-5 against the Cubs this season.
It was Arrieta's shortest outing since May 13, when the Cubs were still being careful with the right-hander who had reported to Spring Training with tightness in his shoulder. He threw 96 pitches over four innings, and after the game was sporting a buzz cut.
"The beard's going to stay," Arrieta said.
Arrieta is a big part of the Cubs' future, and also part of the transformation that has occurred this season. Think about this: only three players in Thursday's starting lineup were on the Opening Day roster -- Starlin Castro, Valbuena and backup catcher John Baker. There's been an infusion of youth.
"Each day is progress, regardless of the results on the field," Arrieta said. "They're moving in the right direction."
The Reds were on the move against Arrieta, totaling a season-high six stolen bases while he was on the mound.
"I was bad at controlling the running game today," Arrieta said. "That's my fault, not giving Baker any opportunity to throw those guys out. Putting them in scoring position sets them up for some of those hits."
Five of the Reds runs came with two outs, and he couldn't get the strikeout in big situations when needed.
"Arrieta, we knew, was going to be very hard to score on," Reds manager Bryan Price said. "So I felt we needed to create some scoring opportunities by running. He's a little bit slower and more deliberate to the plate, and we were able to take advantage of that."
But Arrieta couldn't keep the Reds off the bases, as they totaled six hits and four walks against him.
"He just didn't have his 'Jake-like' command today," Renteria said.
The Cubs had two hits over the first eight innings, but Castro and Valbuena both singled off Jumbo Diaz in the ninth, and Soler followed with an RBI single. Playing in his second big league game, Soler doubled to lead off the second. The right fielder, who homered in his first big league at-bat on Wednesday, was a triple shy of hitting for the cycle in his first five at-bats. He finished 2-for-4.
Renteria is in charge of keeping the mistakes to a minimum.
"The thing we're going to try to concentrate on is give the pitcher some support by defending well, and making sure the little things we have to do in terms of the game are taken care of," Renteria said. "The at-bats and the offense could come and go, and there could be hiccups. That's to be expected.
"We still have to play clean baseball and everybody is capable of doing that. If we have a rough game, we talk about it, address it in our own way, and see if guys adjust."
And that process will continue for the remaining 29 games.
Carrie Muskat is a reporter for MLB.com. She writes a blog, Muskat Ramblings, and you can follow her on Twitter @CarrieMuskat. This story was not subject to the approval of Major League Baseball or its clubs.