MLB.com Columnist
Tracy Ringolsby
Incaviglia paying dues as independent league skipper
Former slugger, who bypassed Minors as a player, now earning managerial stripes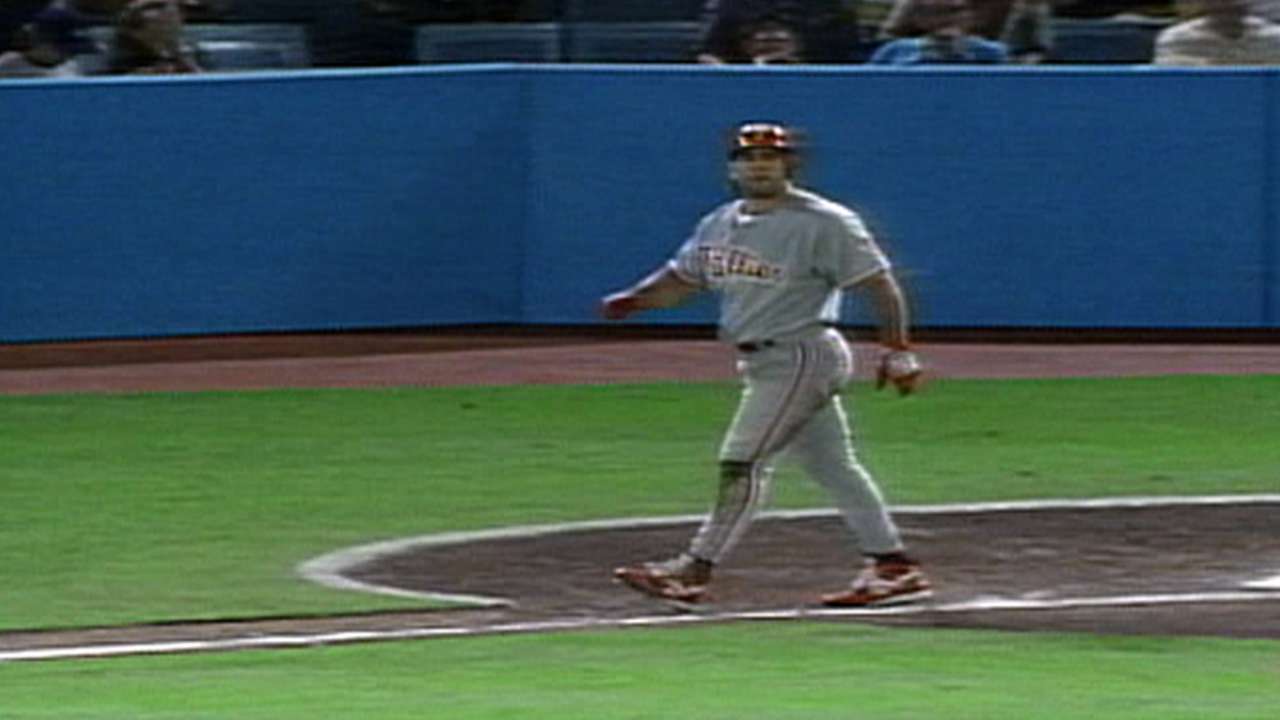 Twenty-eight years ago, Pete Incaviglia went straight from the campus of Oklahoma State University into the cleanup spot in the Rangers' Opening Day lineup. He never spent a day in instructional league. Incaviglia never rode the buses. He never caught the 5:30 a.m. connecting flights to get from one Minor League city to another.
Now look at him. Incaviglia knows all about bus rides, and meal money that can barely cover the cost of coffee, much less meals.
Incaviglia is the manager of the Laredo (Texas) Lemurs in the independent American Association. He is in his third year with the club and sixth year in the league.
And Incaviglia cherishes the experience.
"I got it backwards," said Incaviglia. "Went right to the top. Now I'm paying my dues. No complaints. I love putting on the uniform. I love being around the kids. I feel fortunate to have this chance. These kids compete. That's all you can ask."
And on Wednesday night, the Lemurs clinched an American Association playoff spot for the second time in three years, earning the Wild Card berth with five games remaining in the regular season.
"Of course," Incaviglia said when asked if there was a celebration. "It's what this game is about. I don't care what level you play. You want to win. You want to be a champion. You want to be the best. You are in this game because you like to compete."
Competing was never a problem for Incaviglia, who was the talk of Spring Training in Florida back in March 1986, when one day during batting practice, he hit a ball through the left-field fence at the Rangers' spring home in Pompano Beach, Fla.
Incaviglia was so intent on going directly to the big leagues that after Montreal made him the eighth overall Draft pick in 1985, he refused to sign without a guarantee. The Expos declined and then traded his rights to the Rangers, who signed him. That led to Major League Baseball adopting what is known as the "Incaviglia Rule," which forbids a team from trading a Draft pick until one year after he signs his first pro contract.
Incaviglia was never one to back down. This is the guy who set NCAA single-season records of 48 home runs and 143 RBIs as a junior at Oklahoma State. That year, while taking batting practice at the University of Texas, Longhorns players watched him from the bench, offering "ohs" and "ahs" with every swing Incaviglia took.
Finally Incaviglia dropped his bat, walked over to the Longhorns' dugout and challenged the Texas players "one at a time, or all at once."
Nobody took him up on it.
"Probably not the smartest thing I've done," Incaviglia said with a laugh.
Some might say the same of his career path.
Incaviglia played 12 years in the big leagues, the first five with the Rangers. He hit 206 home runs during his time with the Rangers, Tigers, Phillies, Astros, Orioles and Yankees before finally going to the Minor Leagues for the first time 1997. Incaviglia also played part of the 1995 season in Japan, and he finished his playing career with independent league teams from 2000-02.
Once he decided to retire as a player, Incaviglia initially went to work in the Tigers' Minor League system as a hitting coach at the Double-A level from 2004-06.
After spending year at home helping to raise his kids, the Dallas-Fort Worth area native took a job as manager of the Grand Prairie Air Hogs in 2008, leading them to the American Association championship in '10. After that season, the Grand Prairie ownership bought the American Association franchise in Shreveport, La., and moved it to Laredo. Incaviglia decided to make the move with them.
The players in independent baseball don't get rich. They all need offseason jobs so they can pay bills. However, they all have the dream to playing in the big leagues, and Incaviglia wants to help them achieve their dream.
Chris Martin, who was up with the Rockies this season, was signed off the 2010 Grand Prairie roster by the Red Sox after Incaviglia called a friend of his, Red Sox scout Jamie Bane, and told him, "I've got a kid for you to sign, and then after he goes to Spring Training, you can call me and thank me."
Left-hander James Paxton, a key part of the Mariners' rotation down the stretch this year, played with Martin with Grand Prairie in the opening weeks of the 2010 season before signing with Seattle, which had drafted him in the fourth round that June.
That just adds to the enjoyment Incaviglia finds in Laredo.
It's not glamorous. Those aren't five-star hotels where the Lemurs stay. They don't travel on private jets. It is baseball, though.
"I don't know what else I'd do," Incaviglia said. "I love the game. I love the challenges, on the field and off."
That's one thing about independent baseball. Incaviglia's responsibilities have extended well past the playing field in Laredo.
"We first got here and we didn't have a stadium," he said. "We built the organization from scratch. It's been fun. It is baseball at the grassroots."
It's something Incaviglia never even thought about when he came out of Oklahoma State.
It's something that, nearly three decades later, consumes his life.
Tracy Ringolsby is a columnist for MLB.com. Read his blog, Write 'em Cowboy. This story was not subject to the approval of Major League Baseball or its clubs.