MLB.com Columnist
Lyle Spencer
Singles hitters deserve just due for underrated stat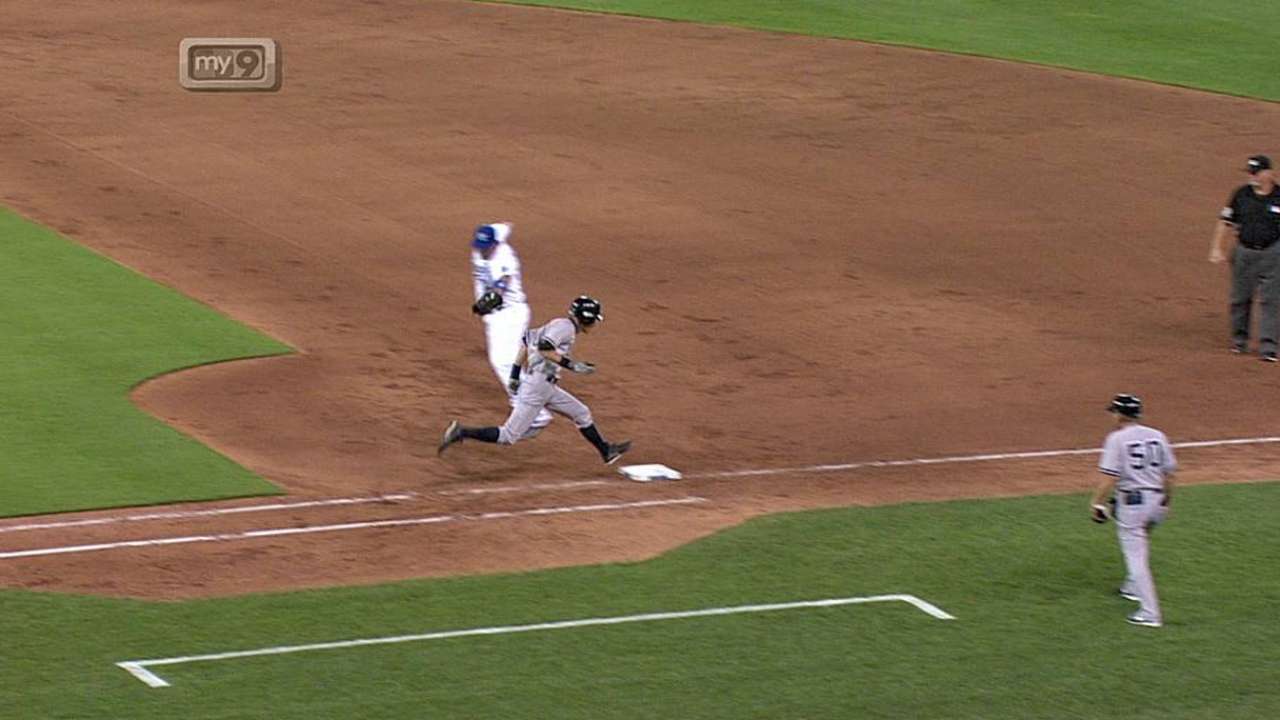 It wasn't featured on the highlight shows, so a fairly significant milestone was achieved with limited notice when the Yankees' Ichiro Suzuki passed Hank Aaron for 13th all-time in singles with No. 2,295 in Detroit on Tuesday.
That's right. Aaron stroked 2,294 singles along with his 755 home runs. Singles were valued in his day. Hammerin' Hank produced 799 more singles than Barry Bonds, the man who usurped his home run crown. Free-swinging Vladimir Guerrero also produced more singles than Bonds, along with 203 other players in history.
Three of the six greatest singles seasons in history were produced by Ichiro, who holds the record for most singles in a season with 225 in 2004. Playing for the Mariners, he broke Willie Keeler's previous mark of 206 that had stood for 105 years.
It didn't exactly make headlines outside Seattle.
Nobody has ever made a commercial about singles hitters. Fans dig the long ball. The bombs make the highlight shows, not the dinks. Singles can add up to something if you string a few together, but they're no better than walks, right?
Wrong. Actually, singles are better than walks -- much better, in some situations. Singles move runners from first to third, from second to home. They drive in runs. They unnerve the man on the mound when he puts a pitch in a good location and the hitter punches it the other way for a hit, moving baserunners.
In 1962, when he set the Dodgers' franchise record with 153 runs batted in, Tommy Davis had 167 singles among his 230 hits.
Obscured by the power of homers and the emphasis on working counts and drawing walks in today's game, singles seemingly are going out of fashion.
When Ichiro eventually follows teammate Derek Jeter into retirement, we'll be losing the only active players among the top 100 all-time in singles.
Jeter has done significant damage with extra-base hits, but his staple has been singles. He's fifth all-time with 2,579, surpassed only by hit-king Pete Rose (3,215), Ty Cobb (3,053), Eddie Collins (2,643) and Cap Anson (2,614).
Relatively recent Hall of Famers Rod Carew, Tony Gwynn, Wade Boggs and Paul Molitor made good livings slashing singles. While he was known more for his ability to draw walks, 2,190 in his career, Rickey Henderson produced only eight fewer singles. The Man of Steal love to ambush pitchers with first-pitch base hits.
Three-fourths of Jeter's hits in his career have been singles. Ichiro (81.3) has an even higher percentage. Rose's singles accounted for 75.5 percent of his record 4,256 hits. Carew (78.7) and Gwynn (75.7) were the singles masters of their generations.
After Jeter and Ichiro, among players active this season, Adrian Beltre, at 1,627, is next on the list of all-time singles hitters at No. 140. The best singles season among the game's youth brigade was turned in by the Cubs' Starlin Castro, with 152 in 2011.
A tip of the cap to some of the elite singles hitters of recent vintage:
Omar Vizquel
With 2,264 singles -- 78.7 percent of his hits -- the shortstop ranks 17th all-time, right ahead of a string of Hall of Famers: Carl Yastrzemski, Boggs, Stan Musial, Paul Waner, Henderson, Robin Yount and Frankie Frisch.
The fleet center fielder had seasons of 184 singles (2004), 168 (2003), 163 (2001) and 155 (2011). He sprayed the ball around, put it on the ground and dropped bunts, serving as a model for the likes of Dee Gordon, Billy Hamilton and, earlier, his buddy Chone Figgins.
Bobby Abreu
Of Abreu's 2,466 hits, 1,545 have been singles. If he hadn't been so incredibly disciplined, drawing 1,474 free passes, he might have made a run at 3,000 hits.
The face of the Rangers for years, Young played multiple positions and never stopped ripping line drives. He had 155 singles in 2011, 154 in '07, 152 in '04 and '05 and 148 in '03 and '06. Consistent production was his forte.
Jason Kendall
A catcher who loved to swing the bat, Kendall produced 153 singles in 2005 and 148 the following season.
In his remarkable 240-hit 2000 season, the Angels' catalyst delivered 170 singles, starting and extending numerous rallies.
A versatile middle infielder who gave value to back-to-back World Series champions in St. Louis (2011) and San Francisco (2012), Theriot produced 154 singles among 178 hits in 2008 for the Cubs.
Known more for his glove than his bat across 16 distinguished seasons, Polanco had 152 singles among his 200 hits for the 2007 Tigers.
He produced 88 extra-base hits in his 2007 NL Most Valuable Player season for the Phillies, but J-Roll has pumped out 1,494 singles among 2,296 hits.
A free swinger in his youth who altered his stroke and began slashing line drives to the opposite field in 2011, Hunter has 1,454 career singles. "I'll take a single anytime," Hunter said. "Singles might not be sexy, but they win games."
Lyle Spencer is a reporter for MLB.com. This story was not subject to the approval of Major League Baseball or its clubs.