Funnyman O'Brien joins 'Express Written Consent'
Comedy writer brings laughs to booth while taking in recent Dodgers game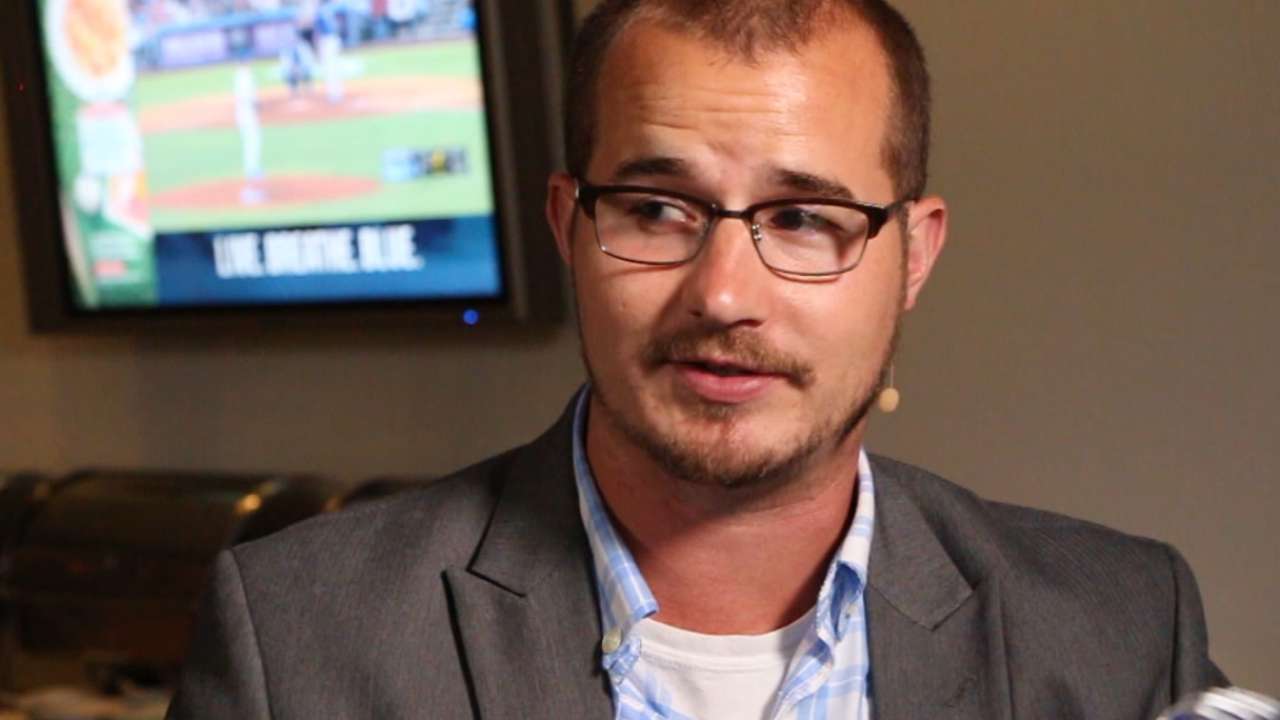 At first glance, Dan O'Brien comes off as soft-spoken and somewhat understated. But dig a little deeper, and you'll find someone with a sharp mind, a wicked sense of humor and a brazenness that enables him to take chances and go places few would attempt. That's why he's perfect for the job he has as creative director and head writer at Cracked.com, a humor website that generates -- and this isn't a typo -- 300 million page views per month. It's the most visited humor site in the world, surpassing, by a healthy amount, The Onion and Funny or Die, among others.
O'Brien, who has been writing for Cracked.com since 2007, dropped by the "Express Written Consent" booth for a quick chat with MLB.com host Jeremy Brisiel during a recent game at Dodger Stadium. It was a perfect setting for an anything-goes type of conversation, which is, of course, the premise of EWC. It fits O'Brien perfectly, considering a chat with him can run in a dozen different directions.
The juiciest is the very famous run-in he had with the authorities -- as in the FBI and Secret Service -- a while back after something he wrote didn't go over very well in those circles.
O'Brien didn't identify the exact crux of the conflict, but let's just say that his love for writing satire and his passion for presidential history don't always jibe. One particular posting set off alarm bells with the very people in charge of protecting the country's top leaders, and while most of the readers got the joke, the feds didn't find it so funny.
"Just Google Dan O'Brien and Secret Service," J.B. suggested to the audience.
In a nutshell, O'Brien wrote a satire piece for Cracked.com that was up on the site for five months without incident. Then, one day, he received an email from the "top top top of our company," O'Brien recalled.
"We don't know who Dan O'Brien is," the email read. "But the Secret Service called us and they want to talk to him based on this article."
The piece in question was taken down. "It's the only one of my articles that can be considered light-heartedly treasonous," O'Brien barbed.
O'Brien was asked to come to their downtown Los Angeles offices, "to assure them I'm not a terrorist."
The request was made over the phone, by a guy who came off as casual and unalarmed.
"He was like, 'Hey, I've got a sense of humor, too. I understand. I know it's satire. It's jokes.'" O'Brien recalled.
The two gentlemen waiting for him in the downtown office, however, were big, scary and angry. They read the article out loud, line by line, asking, "Why did you write this?"
"I thought it would be funny," O'Brien said.
They then asked him, "Are you a terrorist?" O'Brien, attempting to add a little levity to the situation, answered, "No. Ask my mom."
And so, they did, asking for Mom O'Brien's phone number. "They called my mom, and she corroborated that story," he said.
O'Brien looks back on the absurdity of the situation now and can laugh. He even told them at the time that this encounter was probably going to be written about, for chuckles and page views.
O'Brien wrote that article in question during a time that he was doing research for a book he was writing. The title? "How to Fight Presidents." That may explain a few things, no?
O'Brien has been fascinated by presidential history his entire adult life. Presidents, he contends, are very interesting, very crazy and very exciting. He had gathered so much trivia over time that he decided to find a home for it in the form of a book.
The premise: with the help of time travel, you can go back and go face-to-face with any president of your choosing. You pretend you did something to make that president mad. The book offers stories that might help you fight him.
Yes, really.
For the record, O'Brien thinks he could take James Madison.
"He was a scrapper, but he was also 5-foot-4," the slightly built O'Brien said. "I am not taller than a lot of people, but I am taller than James Madison. He was a weak and sickly child."
The biggest weenie of them all, however, would have to be Millard Fillmore, the 13th president of the United States and, according to O'Brien, "just absolutely worthless."
"There's nothing good or redeemable," O'Brien said. "No one will ever hate Millard Fillmore as much as I do. I'm going to win that one."
Taking risks is something O'Brien views as simply part of the job. But fame -- or infamy -- does come with a price. To this day, getting through airport security is a challenge. It's all thanks to O'Brien's not-so-pleasant meeting with the feds.
"I would say three out of five times, I get stopped and pulled aside," O'Brien said. "I'm clearly on a list somewhere."
That's a significant inconvenience, to be sure. But it made for great fodder during this episode of EWC. We may just have to invite O'Brien back. Very soon.
Alyson Footer is a national correspondent for MLB.com. Follow her on Twitter @alysonfooter. This story was not subject to the approval of Major League Baseball or its clubs.