Santiago sets tone as Trout, Halos finish Fish
Hurler allows just one run; slugger hits 30th; Beckham also homers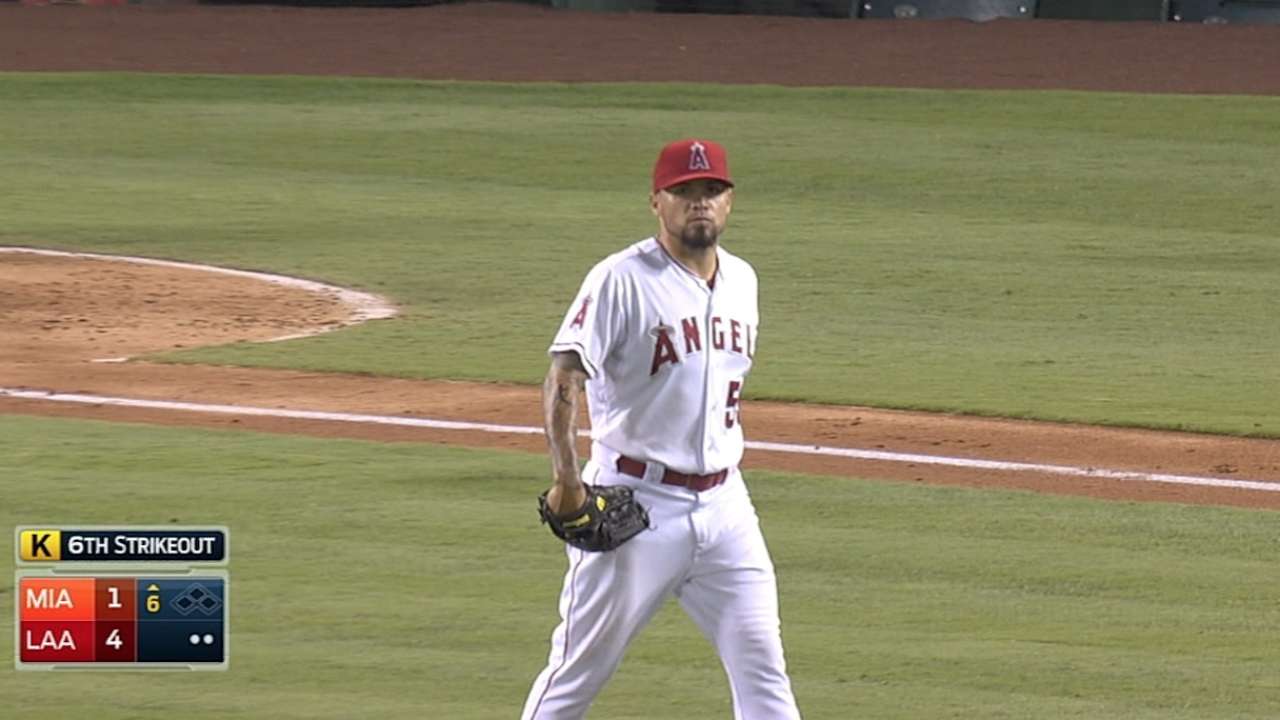 ANAHEIM -- The Angels still don't know what they're going to do about Saturday's start, because that was Garrett Richards' spot and now there isn't anybody readily available to take his place. Their general manager, Jerry Dipoto, will continue to scour the waiver wire in hopes of pulling off what looks like a long-shot deal for a veteran starter. Their manager, Mike Scioscia, will pore through internal options in hopes of somehow piecing it together the next five times that turn comes around.
The Angels can take some solace, at least, that it's the only spot in the rotation they really have to worry about right now.
Nos. 3 and 4 are in fine shape.
Matt Shoemaker continued his brilliance with seven scoreless innings on Tuesday night, and Hector Santiago followed it up with just one run allowed in 5 2/3 innings in a 6-1 win on Wednesday night, leading the Angels to back-to-back victories over the Marlins to maintain a one-game lead over the A's heading into the critical four-game series with Oakland that starts at Angel Stadium on Thursday night.
Back in mid-May, Santiago was still winless and Shoemaker was called up from Triple-A to replace him, a desperation move from a club searching for options in the back end of its rotation. Since the start of July, the two have combined to go 12-2 with a 2.36 ERA, giving up two earned runs or fewer in 13 of their 17 starts.
For a first-place Angels team that has lost Richards (left knee surgery) and Tyler Skaggs (Tommy John surgery) since then, that's a comforting stat.
Or, perhaps, something else.
"I don't know if comforting is the right word; I think it's essential," Scioscia said after his club surpassed last year's win total with 30 games left.
"When you have some guys that are important to you and are out of your rotation, there certainly is a premium on the other guys at least doing what they're capable of doing. They don't have to be superhuman, but they really need to do what they can do. And if they don't, it's going to be magnified. What Matty has done, what Hector has done, is as important as anything we've talked about."
Mike Trout hit his 30th home run of the season in the seventh, Gordon Beckham hit his first with his new team in the fourth and the Angels separated themselves with a three-run third inning, getting an RBI single from Trout, an RBI groundout from Albert Pujols and an RBI double from Josh Hamilton, who was mere inches away from his first home run at Angel Stadium this season.
But it was Santiago who set the tone, once again.
The 26-year-old left-hander allowed only three hits, walked two, struck out six -- including five in a row at one point -- and was taken out with two on and two out in the sixth, only because his pitch count was at 93.
Santiago has allowed just four runs (three earned) in his last 22 2/3 innings, a four-start stretch that included just this one win. Since being taken out of the rotation the first time in early May, his ERA has gone from 5.19 to 3.28.
Did he ever think it would drop that far?
"Definitely not," Santiago said laughing.
The key, many will tell you, was taking a deep breath.
"In Spring Training and at the start of the season, he was trying to throw the ball 106 mph with every pitch," Scioscia said. "As the season started to go the wrong way, I think he tried to throw the ball 107 mph."
Santiago, acquired in the three-team trade that sent Mark Trumbo to the D-backs in December, admitted as much, saying: "Every time I went out, I put more and more pressure on myself. I just kept putting added pressure on myself, like I have to prove myself here. I'm the new guy, I have to earn my spot, I have to earn my spot."
It all changed on June 10, when Santiago was called back up from Triple-A to temporarily fill in for Skaggs against the A's.
"That start, I was like, 'All right, I have one day,'" Santiago said. "I went out there, threw six scoreless against Oakland and was like, 'OK, that's how I have to take every start.'"
Santiago stopped thinking in the context of a 30-start season, and stopped putting added pressure on himself. He kept his focus on the very next pitch, and somewhere along the way, Scioscia said, "he became more of a pitcher."
Santiago tossed 13 of 20 first-pitch strikes on Wednesday, earned his first win at Angel Stadium and finished the month of August with a 1.92 ERA -- all because he finally learned to settle down.
"Hector's got good stuff," said Beckham, Santiago's longtime teammate in Chicago. "He goes out there and he competes and definitely wants to do good. Sometimes he just gets a little excited and wants to do too much. Sometimes he just has to learn when to pull the reins back. When he does that and goes out and just handles what he's supposed to handle, he usually does what you see tonight."
Alden Gonzalez is a reporter for MLB.com. Read his blog, Gonzo and "The Show", and follow him on Twitter @Alden_Gonzalez. This story was not subject to the approval of Major League Baseball or its clubs.