Rare Hech homer not enough to pick up Alvarez
Marlins shut down after dinger; righty allows two HRs on rough night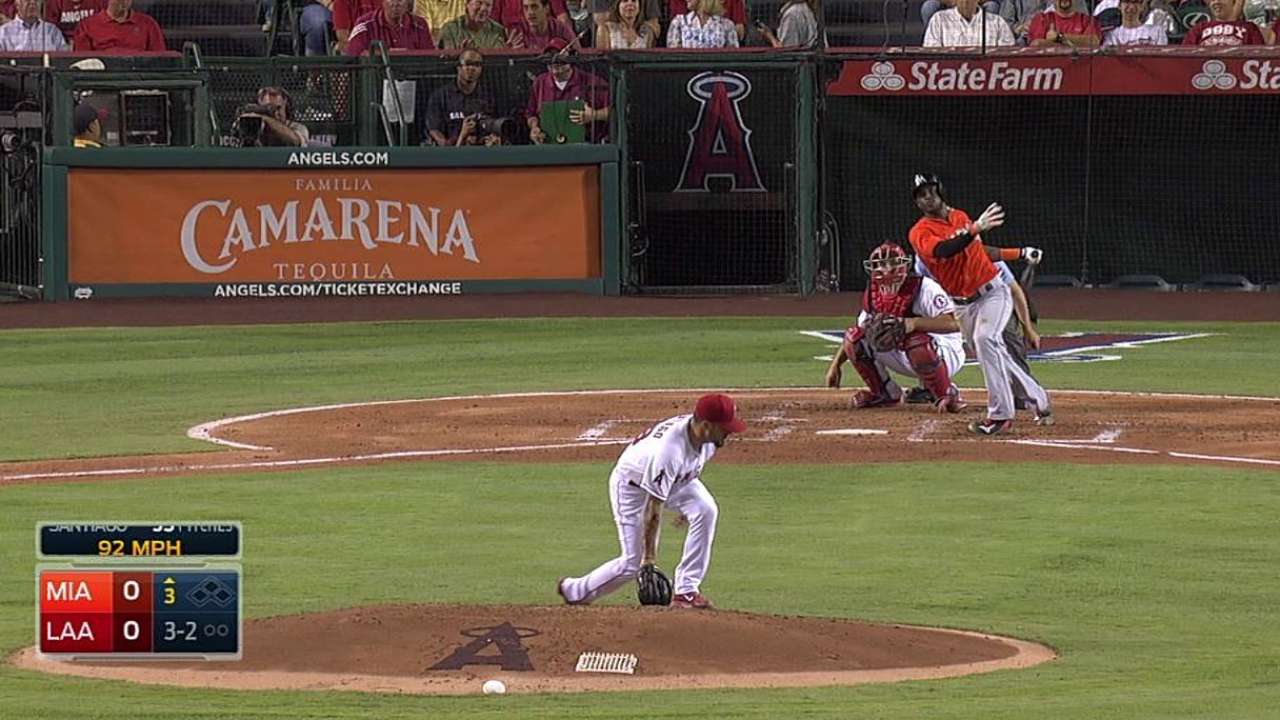 ANAHEIM -- In his 117th game and 431st at-bat, Adeiny Hechavarria connected on his first home run of the season Wednesday night. Naturally, the Miami shortstop was met by the mandatory "silent treatment" in the dugout.
Unfortunately for the Marlins, their offense remained silent the rest of the night.
Hector Santiago yielded one run in 5 2/3 innings and Mike Trout belted a homer and drove in two runs to lift the Angels to a 6-1 win over the Marlins.
For a brief moment, it appeared Hechavarria's home run was the beginning of what could have been a promising night for Miami.
"I thought that would kind of be the spark for us, but then we come back and give up three," manager Mike Redmond said. "It seems like we don't respond really well, and we get down and have to climb back from a big number. That seems to put a lot more pressure on our offense, for whatever reason."
The quick-strike Angels were able to get to Henderson Alvarez for three runs in the third inning, and Miami was in trouble the rest of the way. Gordon Beckham also homered.
"Tough lineup," Alvarez said. "This is a lineup you've got to go hitter by hitter and make your pitches. All you can do is go out there and do the best you can. Unfortunately today, the results didn't come out."
Alvarez (10-6) had a string of four straight victories come to an end, and Miami ended up dropping two of three in the series after winning, 7-1, on Monday. The right-hander was lifted after giving up a home run to Trout in the seventh inning.
The five earned runs are the most Alvarez has given up since being tagged for six at the Mets on July 11.
Now 65-67, the Marlins are 2-4 on the road trip, which moves on to Atlanta for three games beginning Friday.
"The season is not over," third baseman Casey McGehee said. "We still have a long way to go. I think the off-day is coming at a good time for us. It's a tough road trip. Hopefully we can keep above water before we go home and see what happens."
Santiago scattered three hits and struck out six before exiting after 93 pitches.
For Alvarez, the home run has victimized him in each of his last two starts. And the Miami right-hander entered the night having three straight shutouts against an Interleague opponent.
In his previous start, a 13-5 win at Colorado, Alvarez also was taken deep twice. For the season, Alvarez has allowed 12 homers. A year ago, in 102 2/3 innings, he gave up just two.
"Just pitches up in the zone that I left up," Alvarez said.
The Angels grinded out eight hits and never allowed Miami to get back into the game.
"They're a pretty good team," McGehee said. "The first night, it was nice to get off to a good start. They pitched really well. They've got a lineup that I feel like is a pretty veteran lineup that grinds out at-bats really good. They work counts. They put a lot of pressure on us, and we weren't able to hang in there."
Hechavarria's home run drought finally came to an end. With the count full in the third inning, he took Santiago deep to center. Upon returning to the dugout, Hechavarria found all of his teammates atop the steps or sitting next to the rail.
It also was Hechavarria's first homer since Sept. 4, 2013, against the Cubs at Wrigley Field, a span of 141 games and 516 at-bats between blasts.
After Hechavarria's homer, Santiago settled, striking out five straight and retiring eight in a row.
Miami's one-run lead was short-lived as the Angels responded with three runs in the third inning. Trout had an RBI single, while Albert Pujols drove in a run on a groundout and Josh Hamilton doubled in a run high off the wall in right.
"We definitely were tested here," Redmond said. "We came out the first night and pitched really well and hit really well. We just weren't able to do that the last two nights."
Joe Frisaro is a reporter for MLB.com. He writes a blog, called The Fish Pond. Follow him on Twitter @JoeFrisaro. This story was not subject to the approval of Major League Baseball or its clubs.