Rockies rally in ninth, then lose on walk-off
Morneau's double ties it, but Nicasio gives up homer to SF's Posey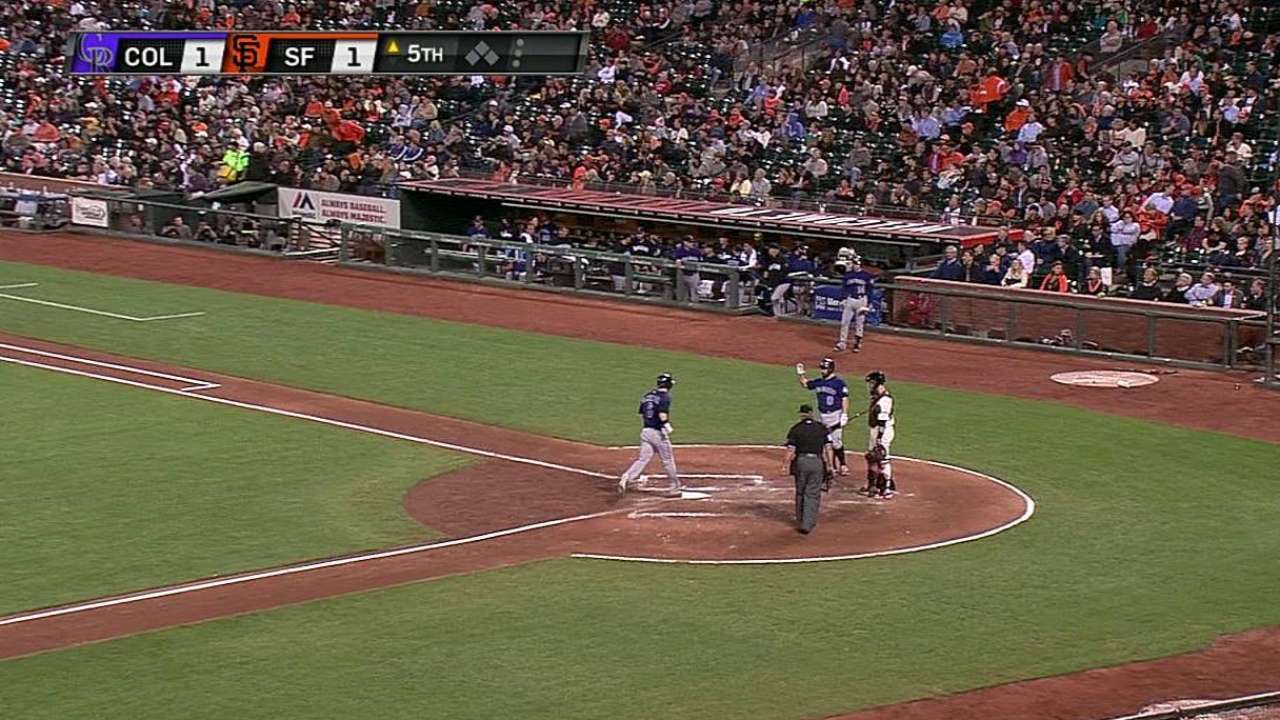 SAN FRANCISCO -- Entering play Wednesday, the Rockies were 3-67 when trailing after eight innings, with each victory coming against the Giants. They flirted with tacking on a fourth, but came up short.
The Rockies tied the game with a run off closer Santiago Casilla in the ninth, but a two-run blast into AT&T Park's left-field bleachers a half-inning later by Buster Posey off Juan Nicasio sent the Rockies to a 4-2 loss in walk-off fashion.
"He's locked in," manager Walt Weiss said of Posey, who also hit the go-ahead RBI single in the seventh and hit a pair of home runs on Tuesday night. "He's been a great hitter for a long time, and when he gets locked in, it's tough to get him out."
Through three games of this four-game set, Posey has tallied seven RBIs. The Rockies have scored just five runs.
"We can't figure out a way to get him out, but the way we were fighting and keeping the game close is where we need to be," Corey Dickerson said. "We just need to get a few more clutch hits."
This story could've been written much differently if they'd gotten one in the first.
The Rockies had a golden opportunity to put their one-hit showing on Tuesday night behind them in the first after Charlie Blackmon reached first on a throwing error by Michael Morse. He advanced to second one batter later on an errant pickoff attempt, but was stranded on the basepaths.
A night after being one-hit by Madison Bumgarner, the Rockies recorded just five and were 0-for-5 with runners in scoring position.
The offensive struggles wasted a fine outing from Franklin Morales. The Giants hit the ball hard early, and baserunners weren't hard to come by, but minimal damage was inflicted on Morales. He allowed just one run on seven hits and struck out six in six innings.
[The only run against Morales came in the fourth inning. Matt Duffy hit a one-out double and advanced to third after a single by Joe Panik, which gave the Giants runners on the corners for a third consecutive inning. The third time proved to be the charm as a perfectly executed safety squeeze by Gregor Blanco scored Duffy to give the Giants' a 1-0 lead.
"I felt like Franky [Morales] bent a little bit, but pitched out of trouble and did a great job going six innings and putting us in position to win," Weiss said. "It was a good game, but we ran into a real hot hitter there at the end."
Added Morales: "I tried to make my pitches and today was one of the days where I controlled myself and put everything together."
The same can be said about his counterpart, Tim Hudson, whose lone blemish in eight innings was a hanging sinker to Dickerson in the fifth that was blasted into McCovey Cove. The solo home run was the Rockies' first hit and the 100th to land in McCovey Cove -- the 34th by an opponent.
The Rockies went to the bullpen in the seventh. Nick Masset walked Angel Pagan, who advanced to second after Masset's errant pickoff attempt. After Masset walked Hunter Pence, Brooks Brown came in to face Posey, who produced a go-ahead RBI single.
Colorado got the run back in the ninth. Casilla plunked Drew Stubbs with his first pitch; Stubbs proceeded to score the tying run one batter later on a double by Justin Morneau. That simply set the stage for Posey's game-winner.
Ryan Hood is an associate reporter for MLB.com. Follow him on Twitter @ryanhood19. This story was not subject to the approval of Major League Baseball or its clubs.