Mets come up short to drop Wheeler's solid effort
Tejada's defensive miscue costly as Braves get run-saving play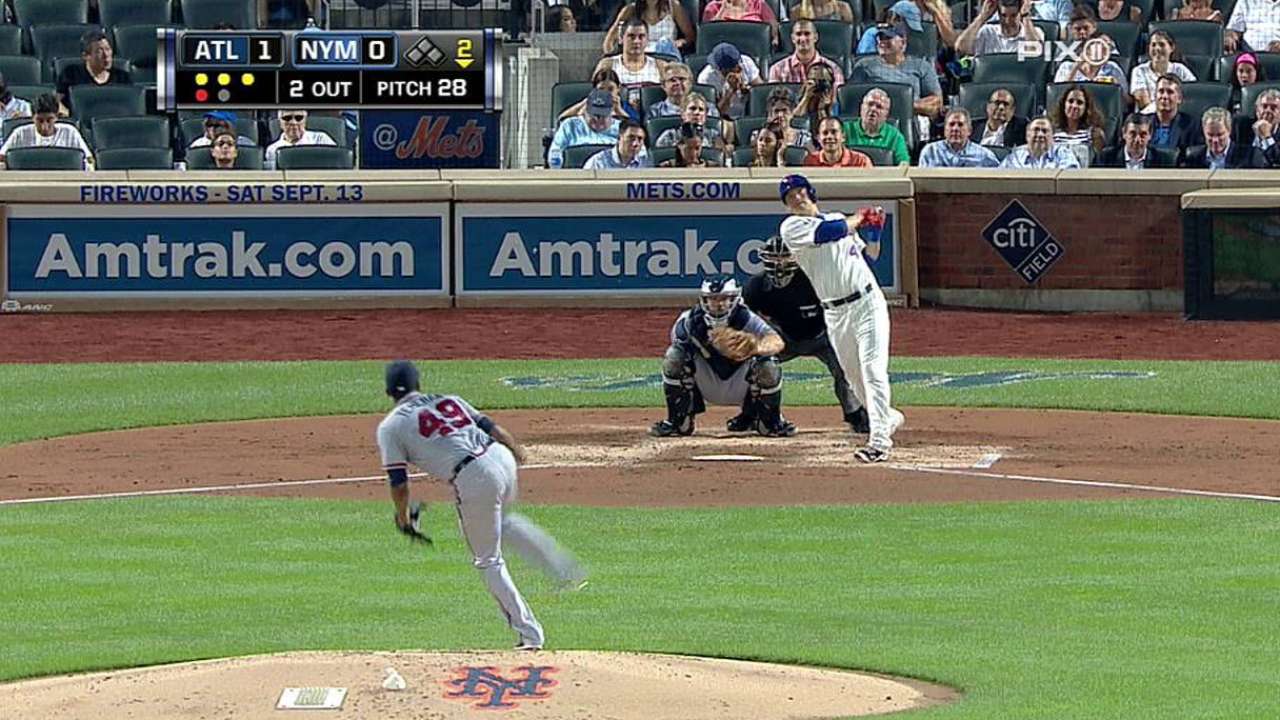 NEW YORK -- Since the dawn of last offseason, if not further back than that, the Mets have struggled to make sense of their shortstop situation. As they spent the winter flirting with free agent Stephen Drew and a slew of trade candidates, they never fully committed to Ruben Tejada. Time and again, they gave Wilmer Flores a look. Lately, prospect Matt Reynolds has become the hot topic.
Now nearly five full months into the season, answers remain unapparent. But the Mets received a stark look at the position's value during Wednesday's 3-2 loss to the Braves, which saw Tejada's fielding error cost them the game and Andrelton Simmons' spectacular defensive play save it for the Braves.
"It's that old cliche, that old adage, but it speaks volumes -- 'If your defense is strong up the middle, you've got a chance to win,'" Mets manager Terry Collins said. "[Simmons] is really good. He makes a big difference."
It was Tejada's boot of a routine ground ball in the third inning that allowed the Braves to score their third (and ultimately decisive) run off Zack Wheeler, who still delivered his 10th quality start in his last 11 tries. And it was Simmons' spectacular range and jump-throw that prevented Travis d'Arnaud from tying the game with an RBI single in the eighth. With a man on third base and two outs, d'Arnaud hit a ground ball into the hole between shortstop and third base, where Simmons gloved it and leaped, firing to first as his momentum carried him in the opposite direction.
"It reminded me of [Derek] Jeter," Wheeler said.
Estimating that Simmons had already robbed him of "four or five" hits this year, d'Arnaud claims he did not bother to watch.
"I've seen him do it time and again," the catcher -- read: victim -- said. "He's one of the best shortstops in the game and he showed why today."
Circumstance was not so kind to Tejada, whose playing time -- drastically reduced of late -- has picked up due to injuries to starting infielders David Wright and Daniel Murphy. That placed Tejada at short in the third inning, when Evan Gattis rolled a soft grounder toward him with a man on third base and two outs -- the same game situation Simmons faced five innings later.
Tejada, however, came away with an opposite result. His inability to field the ball cleanly allowed Freddie Freeman to score, giving the Braves a two-run lead that they did not relinquish.
"It made a difference in this game today," Tejada said. "Sometimes a play like that early in the game makes a big difference."
For Wheeler, it was the difference between a no-decision and a loss. After allowing a leadoff homer to Jason Heyward on a sinker near the outside corner of the strike zone, Wheeler certainly pitched well enough to earn his seventh straight victory. But the Braves rallied off him in the third inning on a one-out infield squibber and a Freeman double, before Justin Upton plated a run on a groundout and Tejada flubbed Gattis' ball.
Wheeler did not allow anything more after that, striking out seven over seven innings. But the damage had been done. Fully recovered from the 11-hit, five-run drubbing the Mets handed him during their last meeting in July, Braves starter Teheran allowed nothing more than Flores' solo homer in the second. He retired eight straight after that and 14 of the next 15, cruising into the seventh with a two-run lead.
The Mets did eventually carve into Atlanta's bullpen, rallying in the seventh and scoring a stray run in the eighth. But after the Mets put their first two men on base off Braves closer Craig Kimbrel in the ninth inning, Flores bunted to move both runners into scoring position. Tejada then swung at the first pitch he saw, grounding a 99-mph fastball off the inside corner into a rally-killing fielder's choice, and the Mets went quietly from there.
Afterward, they shuffled back into their clubhouse, where televisions were already replaying Simmons' highlight over and over again.
"I was really excited," Simmons said. "It was a big situation and a big game, I felt. I'm just glad I contributed."
Collins recalled watching the play from his familiar dugout perch, disbelieving it for a moment, then wondering if he should consider challenging it. A quick glance at the replay told him all he needed to know.
"I knew he was out," Collins remembered thinking. "All I'm doing [at that point] is delaying the game."
Anthony DiComo is a reporter for MLB.com. Follow him on Twitter @AnthonyDicomo. This story was not subject to the approval of Major League Baseball or its clubs.