Sweep at hands of Phillies cools down Nats
Fister loses back-to-back games for the first time this season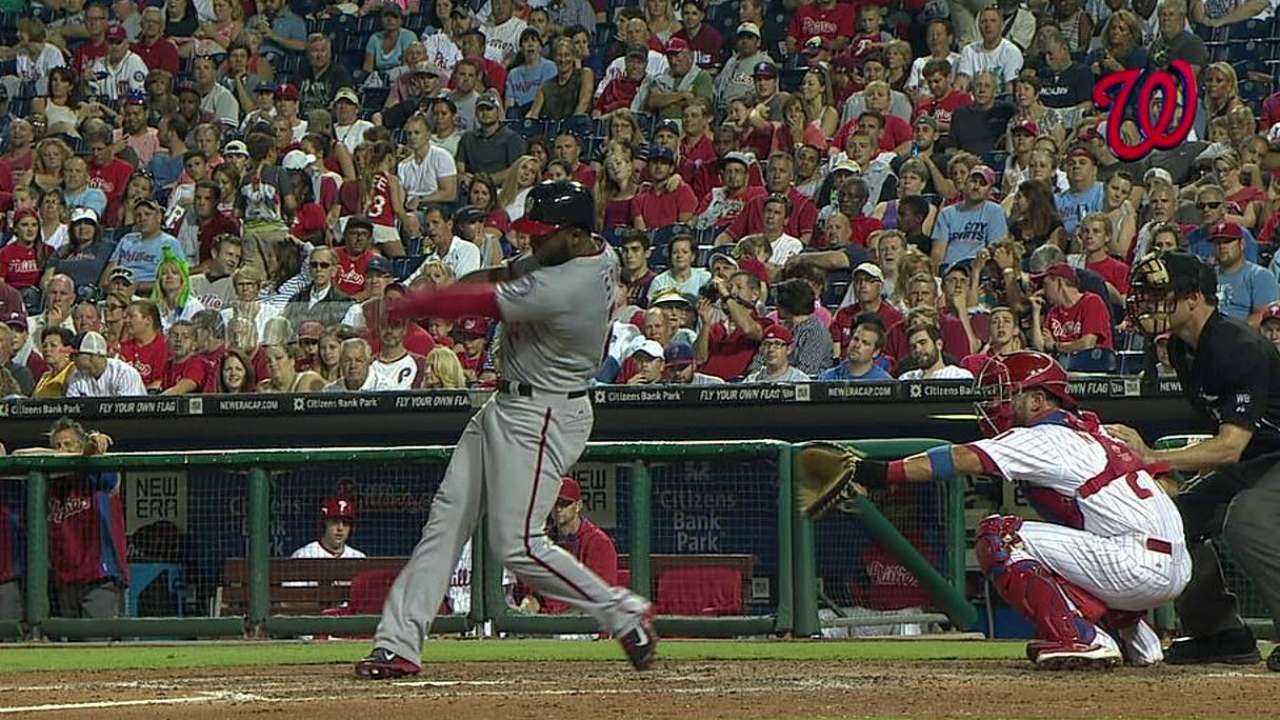 PHILADELPHIA -- All it took to pop the bubble of baseball's hottest team was a trip to Philly.
The first-place Nationals entered a three-game series with the last-place Phillies having won 12 of their last 13, but after Wednesday night's 8-4 loss at Citizens Bank Park put the finishing touches on Philadelphia's sweep, the Nationals were left scratching their heads.
To make matters worse for the Nats, the Braves survived a late threat by the Mets on Wednesday to win, 3-2, moving them to within 6 1/2 games of first in the National League East.
The same philosophy that pervaded the clubhouse following each of the wins during the Nationals' 12-1 stretch was once again present following Wednesday night's loss.
"It's the same approach that we'll always take," manager Matt Williams said. "Today's over with. Nothing we can do about it now other than look forward to the next one."
"Win or lose, you gotta turn the page," center fielder Denard Span said. "Have short-term memory. You can't get too high or too low."
"You have to have amnesia," starter Doug Fister said. "You have to forget about it. You have to move on."
Players on the current Nationals roster entered Wednesday night with a .298 batting average against Phillies starter Kyle Kendrick. They also had a .378 on-base percentage, 14 homers, 39 RBIs and a 40/34 strikeout-to-walk ratio in 289 combined at-bats against the right-hander. Toss in Kendrick's first-inning woes this season (10.00 ERA), and the Nats were chomping at the bit to hack their way to a win.
Things went according to plan in the top of the first. Span singled to lead off the game and Anthony Rendon brought him home on his 32nd double of the season. Rendon scored three batters later on an Ian Desmond single.
But the Phillies answered in the bottom half of the inning. Jimmy Rollins homered to halve the lead, and a blunder in the outfield translated into the tying run.
Span charged a softly hit liner by Ryan Howard but realized he wasn't going to get to it and pulled up. He was unable to get in front of it, and the ball made it all the way to the wall, allowing Chase Utley to score from first.
The Nats built a 4-2 lead thanks to an RBI single by Jayson Werth and a second-decker solo shot by Span.
"It's been some time, probably been about three or four years since I touched a ball like that," Span said. "As soon as I hit it, I knew it was gone."
Fister had a stressful night ridden with baserunners through five, but he did well to keep the damage in check. In the sixth, however, the Phillies finally capitalized.
Domonic Brown hit an RBI double and pinch-hitter Grady Sizemore delivered the game's biggest blow -- a two-run homer -- to put the Phillies ahead 5-4.
Fister has allowed eight earned runs over his last two starts, raising his season ERA to 2.55. In each instance, he's been burned by the long ball -- the right-hander has surrendered four homers over his last two outings after allowing 11 in his first 18.
"It's just a matter of getting the ball down. That's the key to any sort of success. And it's going to be something that I really have to bear down on," Fister said.
It was the first time this season that Fister has registered consecutive losses. He surrendered five runs (four earned) on a season-high 10 hits in 5 2/3 innings.
"I let the guys down tonight with some bad pitches. That's what it comes down to," Fister said. "I didn't do my job. Starting pitcher is supposed to set the tone and be the example, and from first pitch, I didn't do that."
In the seventh, reliever Ross Detwiler's first two pitches resulted in two runs. Howard led off the inning with a single and Marlon Byrd padded Philly's cushion with a two-run homer to make it 7-4.
"I think it's going to be good for us to get an off-day tomorrow," Desmond said. "Everyone regroup and then go into the next series and forget about this one."
Erik Bacharach is an associate reporter for MLB.com. This story was not subject to the approval of Major League Baseball or its clubs.