Braves win behind Teheran, highlight-reel defense
Simmons saves run with clutch play after righty's strong outing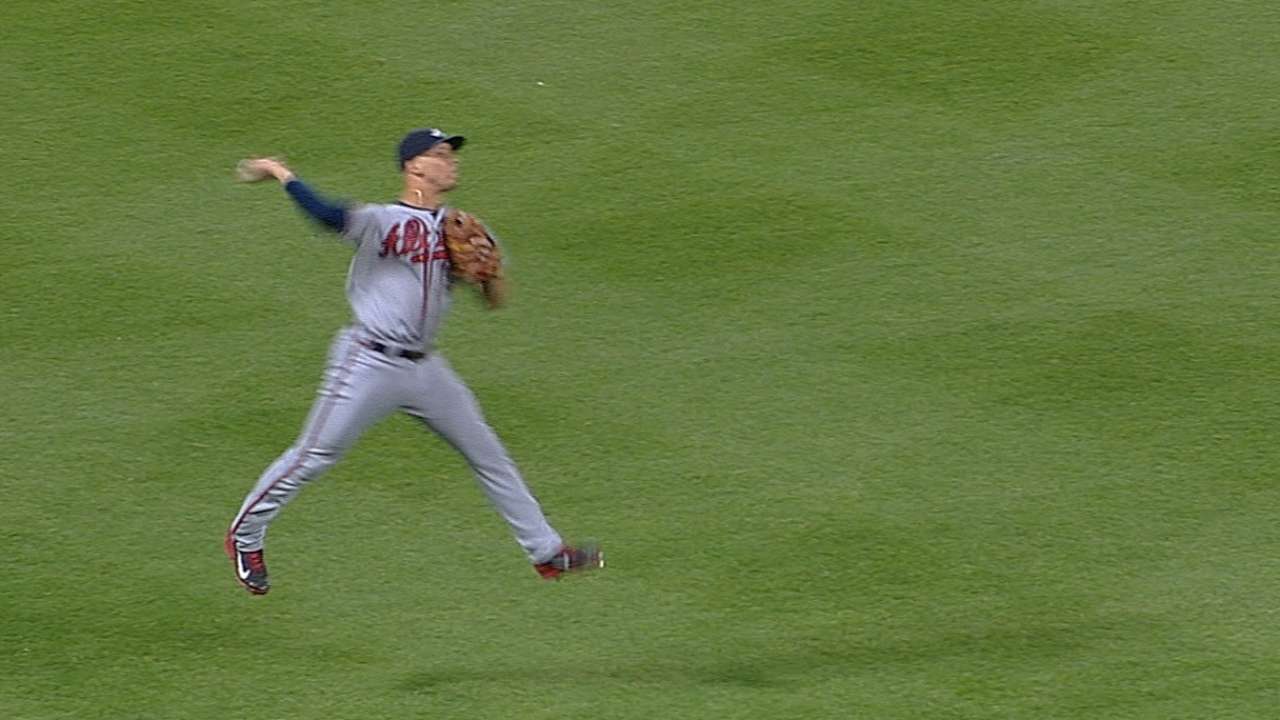 NEW YORK -- Craig Kimbrel was credited with a save that Andrelton Simmons seemingly deserved, and Julio Teheran's determined effort was backed by the small ball that the Braves played during the third inning of Wednesday night's 3-2 win over the Mets at Citi Field.
"I'm just trying to win," Simmons said. "Right now, we just need to win ballgames, however we can. We've got to grind it out right now."
Simmons displayed his determination and great athleticism with a game-saving play that likely ranks as the most clutch of the countless defensive gems he has created during his young career. The 24-year-old shortstop seemingly defied realism yet again when he robbed Travis d'Arnaud of what seemed destined to be a game-tying single with two outs in the eighth inning.
"He just continues to amaze," said Jason Heyward, who was among the many Braves who sat in the clubhouse after the game and continued to marvel at Simmons' latest defensive gem.
En route to snapping their three-game losing streak, the Braves saw Freddie Freeman further frustrate Mets pitchers with a key double that backed Teheran, who allowed just three hits over 6 1/3 innings. But the contributions of Freeman and Teheran might have gone to waste had Simmons not completed his magic.
After surrendering a Juan Lagares single that cut the Braves' lead to 1 in the eighth, right-handed reliever Jordan Walden induced a Lucas Duda double play that put Curtis Granderson on third base with two outs. d'Arnaud followed with a sharp grounder that left fielder Justin Upton seemed destined to field until Simmons ranged to his right,made a backhanded stop in the outfield grass and then ended the inning with a strong throw that beat d'Arnaud to first base in uncontested fashion.
"I thought the ball was through," Braves manager Fredi Gonzalez said. "I was thinking the game was tied, what are we going to do with Walden? Maybe take him out and bring [Anthony] Varvaro in or whatever. Then all of the sudden, he makes a tremendous play."
Teheran's effort was not completely preserved until Kimbrel wiggled out of the trouble he created by allowing the ninth inning to begin with an Eric Campbell single and Matt den Dekker walk. The Braves closer stared at trouble and escaped it when Kirk Nieuwenhuis popped out to end the game.
This stress-filled conclusion seemed to be par for the course for the Braves, who had started their three-game skid after winning for the seventh time in eight games on Friday night. They sit 6 1/2 games behind the Nationals in the National League East while staying 1 1/5 games within the second NL Wild Card spot.
"Every time I go out there it is an important game for me and my team," Teheran said. "All I try to do is do my best and I know my teammates are going to do their part."
Battling some fatigue that might have been a product of the humidity he encountered during last week's start in Cincinnati, Teheran did not have his best command. But the only blemish on his line came courtesy of the solo shot that he surrendered to Wilmer Flores with two outs in the second inning. After surrendering Flores' third career homer, Teheran retired 14 of the next 15 batters he faced.
The Braves gave Teheran all the necessary support after Freeman's opposite-field double put runners at second and third with just one out in the third inning. Justin Upton followed with an RBI groundout that scored Phil Gosselin, who had reached with a bunt single. Shortstop Ruben Tejada's inability to cleanly field Evan Gattis' two-out grounder scored Freeman with an insurance run.
Gosselin's bunt and the two grounders produced by Upton and Gattis accounted for the small ball portion of the inning. But the inning was highlighted by the double recorded by Freeman, who has batted .356 (47-for-132) against the Mets since the start of the 2013 season.
Jason Heyward got the Braves rolling when he began the game with an opposite-field home run off fellow suburban Atlanta native Zack Wheeler. This was Heyward's fourth leadoff homer of the season and the second surrendered by Wheeler, who was charged with two earned runs and four hits in seven innings.
"He's got good stuff, and tonight is the best I've seen him pitch since he's been in the big leagues," Heyward said of Wheeler. "He pounded the zone for the most part. His curveball, he was able to throw it for strikes. His changeup, he was able to throw it for strikes. He's really tough when he can do that."
Mark Bowman is a reporter for MLB.com. This story was not subject to the approval of Major League Baseball or its clubs.