Garza to throw simulated game, bypass rehab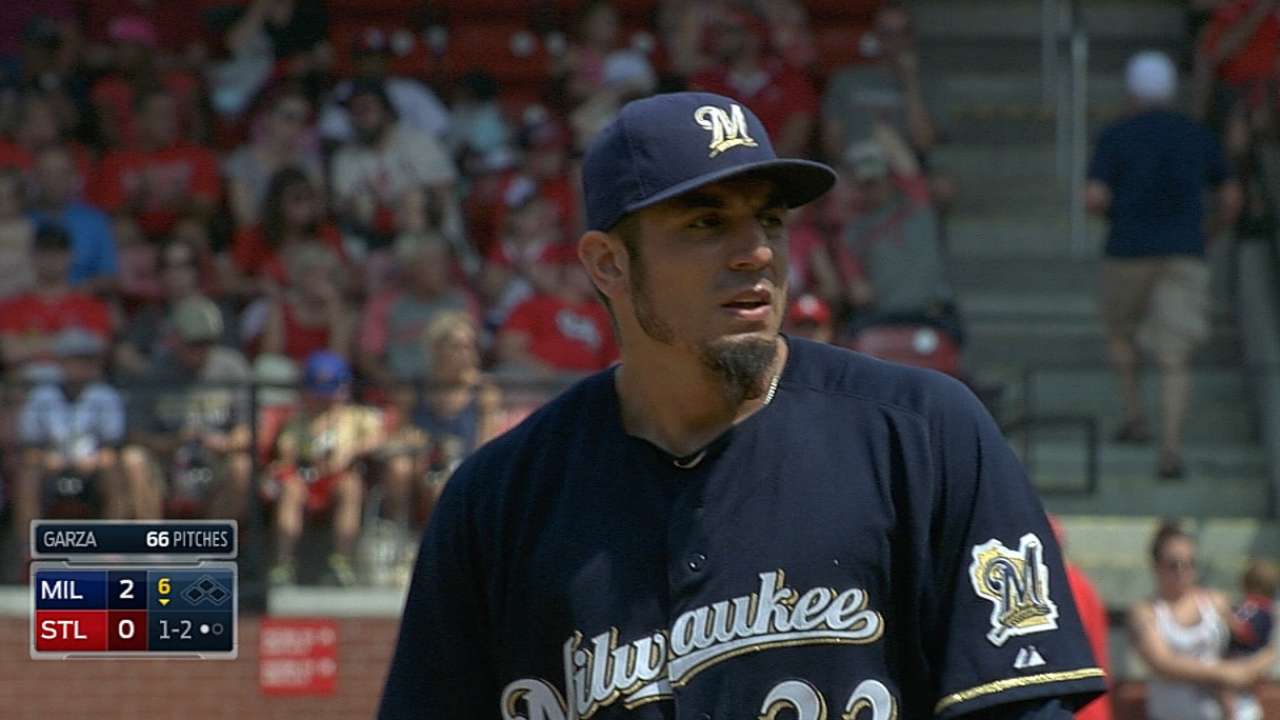 SAN DIEGO -- Bypassing a Minor League rehab assignment, Brewers right-hander Matt Garza is scheduled to pitch a simulated game on Friday in San Francisco before rejoining the big league starting rotation sometime next week.
"I won't say an exact date that we're thinking," manager Ron Roenicke said in announcing the plan, "but if [Friday] goes well, we should be able to get him back out there."
Garza, who has not pitched since he strained a left rib-cage muscle in St. Louis on Aug. 3, will throw 45-50 pitches in Friday's session. The plan for his comeback is being influenced by the Brewers' schedule, according to Roenicke. That the team is in the middle of a west-coast road trip complicated the idea of sending Garza to an affiliate, and the fact rosters expand when the calendar flips to September on Monday simplified the task of getting Garza back into game shape.
"It helps us because we're not worried about him having to pitch a game and go 5-6 innings for us," Roenicke said. "If he goes 3-4 [innings], we're fine because of what extra arms we'll have up."
Garza threw an aggressive bullpen session Tuesday and reported no significant soreness to pitching coach Rick Kranitz on Wednesday.
Assuming no setbacks, Garza could rejoin the rotation as early as next Tuesday or Wednesday in Chicago, though Roenicke was reluctant to announce any pitching plans for that series because Garza's return will impact another current starter.
Garza's return would bolster the staff if he regains the form he showed before getting hurt. He surrendered only two earned runs in 21 innings over his three most recent starts.
"Anytime you have guys on the DL, you want to get back to full strength," Roenicke said, adding, "I know the guys who have filled in have really done a great job for us. [Mike] Fiers kind of taking [Garza's] spot and Jimmy Nelson, who came in. … Those guys have done a great job for stepping in and pitching in really some big spots."
Adam McCalvy is a reporter for MLB.com. Read his blog, Brew Beat, and follow him on Twitter at @AdamMcCalvy. This story was not subject to the approval of Major League Baseball or its clubs.