Rivera delivers game-tying homer, walk-off single
Padres take series from NL Central leaders in dramatic fashion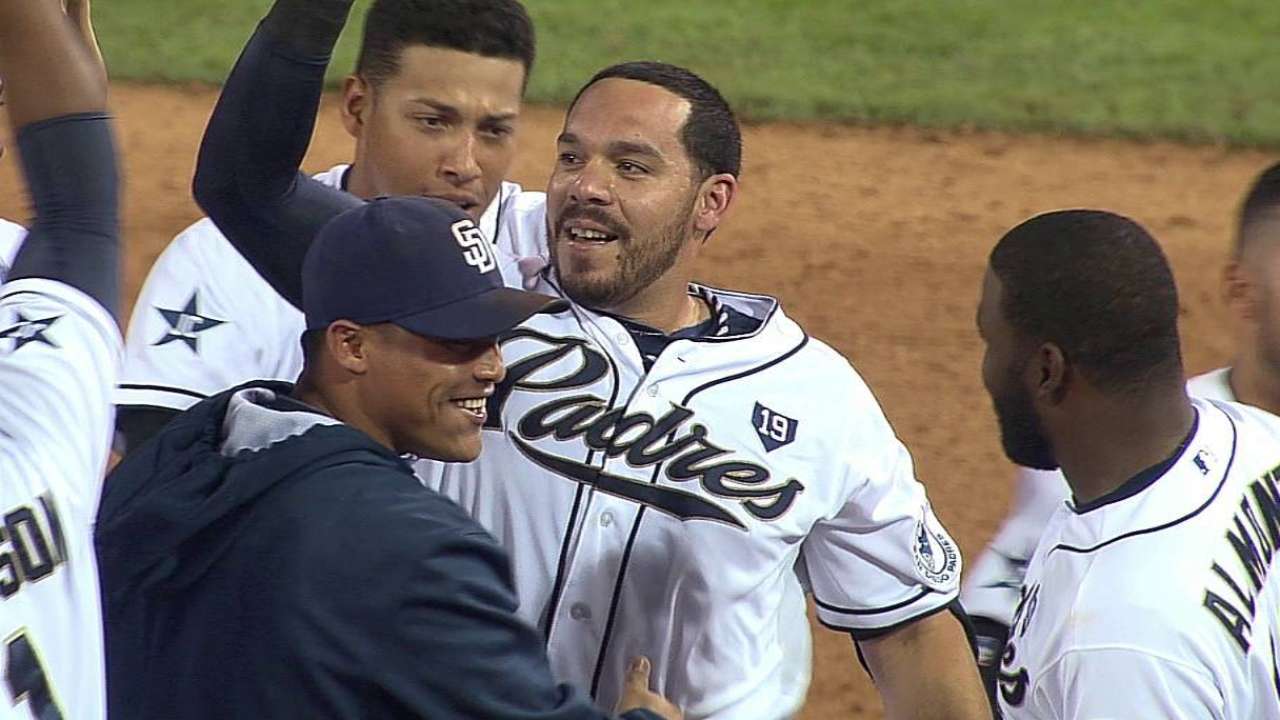 SAN DIEGO -- Wednesday night was an unusual one for Rene Rivera.
The normally rock-solid defensive catcher allowed a passed ball in the seventh that opened the door for Milwaukee to go up 2-0, but more than made it up for it with a game-tying homer in the ninth and a walk-off single in the 10th to propel the Padres to a 3-2 victory over the Brewers.
"A great night for Rene," said Padres manager Bud Black. "It's a great tribute to him, his work ethic, him doing some things unselfishly as it relates to his career and what he's had to work on."
The triumph marked the fifth straight series win at Petco Park for San Diego (62-70), which prevented the Brewers (73-60) from extending their 1 1/2-game lead in the NL Central for the second straight night.
Rivera's homer off Brewers closer Francisco Rodriguez was his first at Petco Park as a Padre (his only other longball in San Diego came back in 2005 as a member of the Mariners) and his walk-off single off Zach Duke (4-1) was his first game-ending plate appearance in the Majors.
The journeyman has endured a long professional career that's featured extensive stays in the Minors and pit stops in independent leagues, and has never been known for his bat. But his performance at the plate has come a long way since being called up by San Diego last summer.
"He was brought up [in 2013] for his defense, there's no secret about that," said teammate Jedd Gyorko. "But the [offensive] adjustments he's made, the power he's displayed, we didn't see that coming. That's been a huge difference."
Rivera's heroics saved his batterymate Odrisamer Despaigne from what would have been a tough loss, considering how well the Cuban defector pitched through seven innings, giving up six hits and two runs (one earned) with one walk and a career-high nine strikeouts.
"I think tonight was as good as he's thrown since his first game against the Giants as far as fastball stuff, fastball life, fastball location," Black said. "It's something we've really tried to impress him with the last couple starts. Tonight it was realized."
Most of Despaigne's strikeouts came against the top three batters of Milwaukee's lineup. Carlos Gomez, Jonathan Lucroy and Ryan Braun went 0-for-9 with seven strikeouts against Despaigne.
The Brewers' bottom half of the order, however, found success against Despaigne that eventually caught up to the right-hander. Gerardo Parra, Lyle Overbay and Elian Herrera -- who are all either switch-hitters or bat left-handed -- went a combined 5-for-8 against him.
In the seventh, Herrera ripped an RBI double down the right field line to score Lyle Overbay from first. The deficit increased to two when Rivera -- usually one of the most solid defensive catchers in the game -- somehow let a rather catchable ball get by him for a passed ball, opening the door for Herrera to scamper home.
"That stuff happens sometimes," Rivera said. "It was good to come back and get the homer and the walk-off in the 10th to help the team win the game."
Yovani Gallardo came into the game with a strikeout rate of 6.7 K/9 this season, but didn't register any punchouts for the first time in his career. Nevertheless, he shut out the Padres for six innings, and induced as many double plays as hits allowed (three) while walking three.
Immediately after Milwaukee broke through against Despaigne, Gallardo exited, and the Padres finally got on the board, after squandering several prime chances, with an RBI single by Jake Goebbert off Jeremy Jeffress.
When pinch-hitter Tommy Medica struck out with two on in the eighth to prolong his 0-for-17 skid, however, it seemed as though those wasted opportunities would be the story of the game.
Instead, it was all about the Padres' backup catcher -- who's playing as though he's quite determined on settling down and carving out the first true long-term role of his career in San Diego.
Will Laws is an associate reporter for MLB.com. This story was not subject to the approval of Major League Baseball or its clubs.