Crew falls in extras, misses chance to pad Central lead
Gallardo goes six scoreless, but doesn't record a strikeout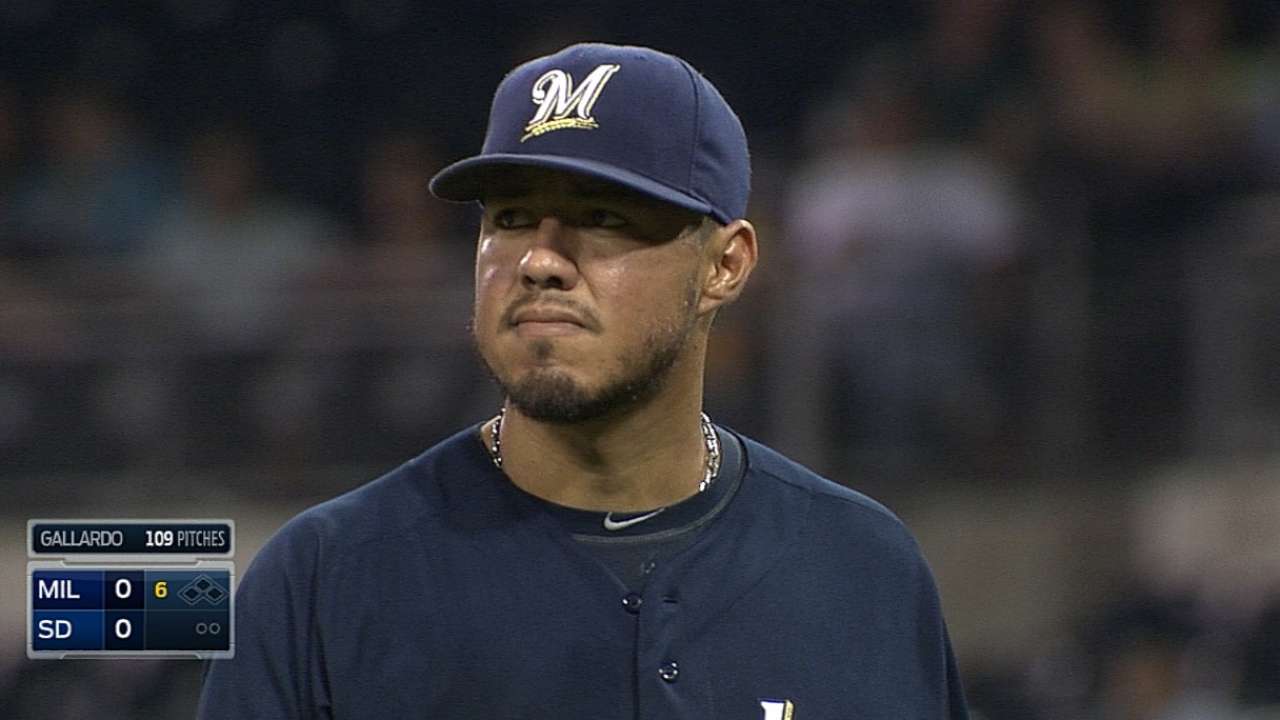 SAN DIEGO -- For the second straight night, a chance to create some distance from the rest of the division slipped past the National League Central-leading Brewers.
The significance of that did not slip past Brewers closer Francisco Rodriguez.
"This one definitely hurts," said Rodriguez, who surrendered a tying home run in the ninth inning of what became a 10-inning, 3-2 loss to the Padres. "There's no question about it. It really hurts, regardless of what happened in the other city."
The other city was Pittsburgh, where the Pirates did the Brewers a favor by beating the Cardinals for the second straight day. The Brewers were aware of that outcome hours before taking the field for their own series finale at Petco Park and nearly capitalized, only to see Padres catcher Rene Rivera lead off the ninth with the tying shot off Rodriguez and a winning single off Zach Duke with two outs in the 10th.
As a result of Rivera's muscle, Milwaukee's lead in the NL Central remained 1 1/2 games over the Cardinals.
"We're in the driver's seat right now," said Brewers starter Yovani Gallardo as the team hurriedly packed for San Francisco. "If we go out there and take care of the things we have to do, everything else is going to fall into place. We can't be watching the [teams] behind us."
Milwaukee manager Ron Roenicke spent the final inning of the game in the clubhouse after being ejected by plate umpire Mark Ripperger for protesting the strike zone in the ninth inning. Rodriguez, working with a 2-1 lead and vying to be the first NL closer to reach 40 saves, tried to shoot the outside corner with consecutive fastballs that were called Balls 1 and 2. It was a dramatic departure, Roenicke argued, from Ripperger's zone earlier in the game, and forced Rodriguez to come back inside with another fastball, which Rivera rocketed to the left-field seats.
"We go in with a one-run lead in the ninth and we feel great with Frankie, and they tie it up," a disgusted Roenicke said.
Rodriguez's 12 home runs allowed match his total from 2003, his first full season in the Major Leagues. He escaped further damage and ended the ninth inning with a strikeout, the 1,000th of his career.
Duke found trouble in the 10th inning after walking the leadoff man. With two outs, Rivera sent a winning single to center field.
"This is a good team. Those guys are battling for a division title," Padres manager Bud Black said of the Brewers. "I know their manager very well, he's very competitive. They've got some veteran players over there who understand where they are. And for us to win two out of three -- and they're a good road team, you look what they do on the road. Good game last night, good game tonight. It was good to see us bounce back these last two."
Runs were hard to come by during a series finale that was scoreless into the seventh inning, with Brewers starter Gallardo working six scoreless innings in the first zero-strikeout game of his career, and Brewers shortstop Elian Herrera keying a two-run rally with a double in the seventh.
Padres right-hander Odrisamer Despaigne set a career high with nine strikeouts over seven innings, allowing two runs (one earned) on six hits.
Gallardo, meanwhile, struck out none for the first time in his 209th Major League game, but kept San Diego off the scoreboard for six innings, despite three walks. He surrendered only three hits, and was denied in a bid to become the Brewers' all-time leader in strikeouts. At 1,202, Gallardo remains four shy of Ben Sheets' club record.
Both starting pitchers were particularly tested in the fifth inning, when each club started with runners at the corners and nobody out -- but came up empty. Gallardo needed 35 pitches for his half of that frame.
"He got by this game," Roenicke said. "He did a good job not letting them score runs, but he had no feel for his curveball. I don't know if he threw a good curveball today. He did a great job of pitching with his fastball and slider, but he didn't have all his pitches."
The zero strikeout game was particularly surprising considering Gallardo has whiffed at least six batters in more than half of his career appearances. Among pitchers who have logged at least 1,000 innings, he entered the night ranked 20th in baseball history with 8.61 strikeouts per nine innings.
The last to leave a quiet clubhouse on Wednesday was Rodriguez, who vowed to shake off his fifth blown save.
"That's a tough one, I'm not going to lie," Rodriguez said. "I'm probably not going to be able to close my eyes tonight just thinking about it. But we still have a tough series coming up [in San Francisco]. We have to be sure to be ready Friday."
Adam McCalvy is a reporter for MLB.com. Read his blog, Brew Beat, and follow him on Twitter at @AdamMcCalvy. This story was not subject to the approval of Major League Baseball or its clubs.