Kershaw finds vintage form for 16th victory
After rough takeoff, Dodgers ace sticks landing vs. D-backs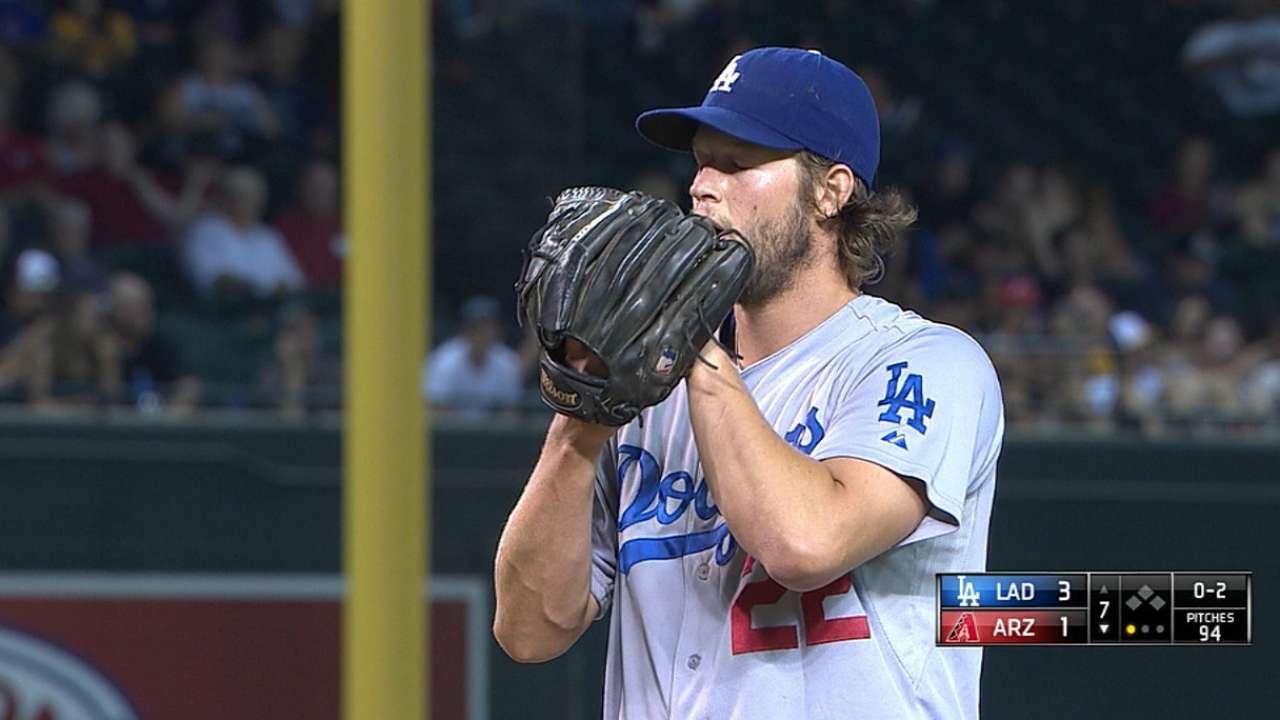 PHOENIX -- Until Wednesday night, Clayton Kershaw's best Chase Field performance in years had been in the swimming pool, not on the mound.
With an 89-43 mark everywhere else but only a 3-6 ledger on the D-backs' turf, Kershaw spent the first four-plus innings dodging bullets. Then the National League Cy Young/MVP version of Kershaw kicked in and pitched the Dodgers to a 3-1 win that gave his team the two-game set and raised his record on the season to 16-3, most wins in MLB.
Kenley Jansen recorded his 100th career save, Matt Kemp doubled in two runs and Scott Van Slyke homered before leaving with a mild right ankle sprain that looked worse when he was hurt in left field while allowing the only run (unearned) to score off Kershaw with a throwing error.
Otherwise, Kershaw spent the early evening stranding D-backs in scoring position and the late innings striking them out. He allowed the leadoff batter to reach base in four of the first five innings, but struck out 10, including six in a stretch of nine batters. Kershaw has three consecutive starts with at least 10 strikeouts. The only other Los Angeles Dodger to do that was Sandy Koufax.
"It was a bad start, really," Kershaw said. "There were guys on base the whole night, I had to work out of jams. Fortunately, I got through eight innings."
He has a 1.73 ERA, is 9-1 on the road and 9-1 against NL West opponents. This one was a rebound from his worst start of the year on May 17, when he was charged with seven runs in 1 2/3 innings during his last visit to the Valley of the Sun.
"He threw the ball good at the end," said Arizona manager Kirk Gibson. "He had a couple 10-pitch innings. He's got good stuff. When we beat him here, he was leaving his slider up. [Tonight] he was burying his slider."
Until Wednesday night, the best thing to happen to Kershaw at Chase Field in recent years was last season's division-clinching pool party.
"I don't know if that last start had any lasting effect," he said. "This is a completely different [Arizona] team. But the game plan worked out OK."
In the third inning, Kershaw pitched out of his first bases-loaded jam of the season.
"It's a pretty shocking stat. But not really with him," said Van Slyke.
Manager Don Mattingly said what impressed him most about Kershaw immediately following that May 17 debacle was that you couldn't tell it happened.
"His preparation for his next start was the same, his demeanor didn't change," said Mattingly.
Pitching coach Rick Honeycutt wrote the whole thing off to rustiness.
"People forget that he goes through Spring Training, gets hurt in Australia and gets shut down for five weeks," Honeycutt said. "That [May 17] was only his third start back. It's like Spring Training again and you might just have a bad start at any point of Spring Training. I'm not saying he wasn't good enough to make that start, but he really wasn't him yet.
"Soon after that you saw the arm speed and arm slot more consistent. In that game, he still wasn't where he needed to be. So, in my mind, it was just a bad inning."
Dee Gordon led off the third inning with his 16th bunt single and 45th infield hit, both of which lead MLB. He stole second for an MLB-leading 58, seventh on the all-time L.A. single-season list behind current first-base coach Davey Lopes. While Gordon distracted Arizona starter Wade Miley, he walked Puig.
Kemp sent one into the right-center-field gap to turn the play into a relay race, with Gordon and Puig flying around the bases. Kemp, though, was thrown out trying for third on the two-run double. One out later, Van Slyke did his usual damage to a Miley pitch, lofting his 10th home run just over the left-field fence. He is 7-for-11 with four homers and three doubles against Miley this year, but it was his first homer in five weeks.
Arizona scored in the fourth on the play that cost the Dodgers' lineup Van Slyke. After Alfredo Marte's leadoff double down the third-base line, Jordan Pacheco hit a sinking liner that center fielder Puig attempted to catch with a dive, but the ball deflected off his glove into the direction of left fielder Van Slyke.
As Van Slyke picked up the ball with his bare hand and planted his right foot, his right ankle turned badly and he collapsed onto the turf. While still down, Van Slyke flipped the ball wildly into the infield as Marte scored and Pacheco took second, where he was stranded as Kershaw retired Tuffy Gosewisch, Didi Gregorius and Miley.
Ken Gurnick is a reporter for MLB.com. This story was not subject to the approval of Major League Baseball or its clubs.