Altuve's efforts not enough after Qualls struggles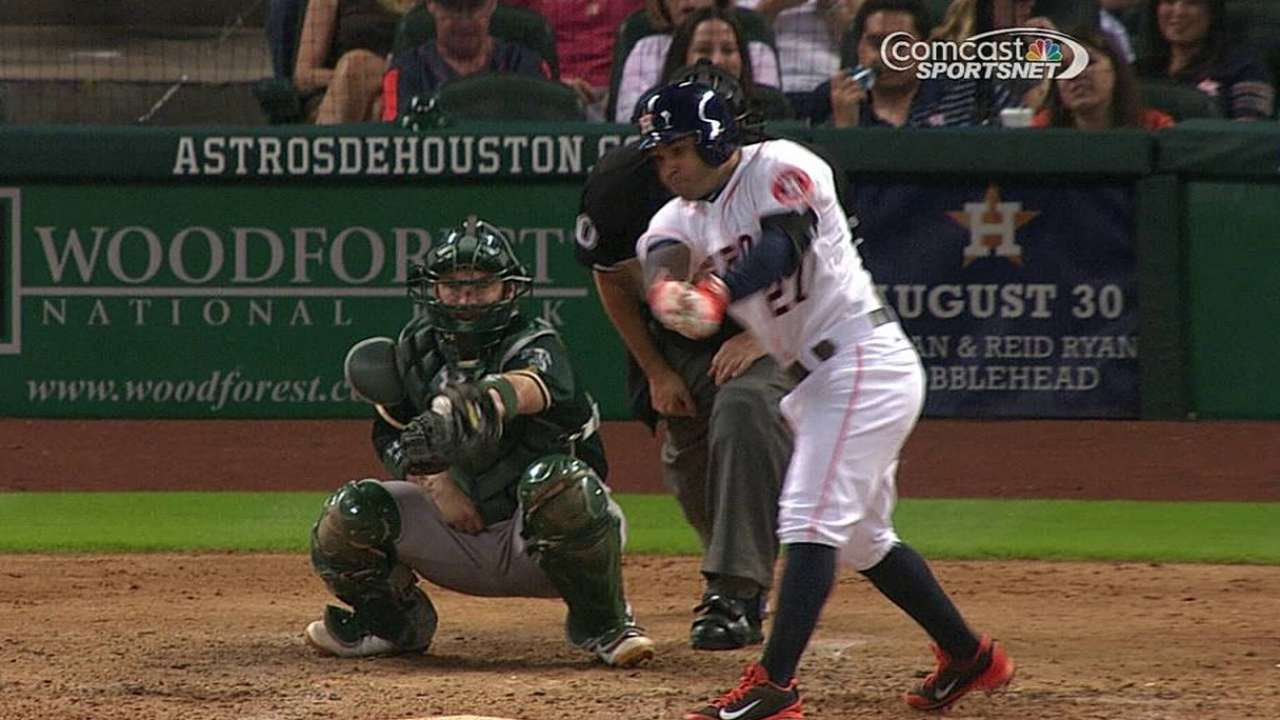 HOUSTON -- The fact that 11 of the 18 earned runs he's given up this season have come against the A's has closer Chad Qualls searching for any kind of common thread.
"I really just can't put my finger on it," Qualls said.
Qualls certainly isn't alone when it comes to dealing with late-game misery against the never-say-die A's, who scored three times in the ninth inning -- a rally capped by a two-run homer by Sam Fuld -- to beat the Astros, 5-4, on Wednesday night at Minute Maid Park.
The A's have a Major League-best 12 wins this season when trailing after seven innings and seven wins when behind after eight. Wednesday also marked their 21st final-at-bat win, which is tied for the most in the Majors.
Qualls has seen a few of those this season, suffering his fourth blown save -- and third against the A's -- by allowing three runs and four hits in two-thirds of an inning. In four innings against Oakland this season, he's allowed 11 earned runs and 14 hits.
"I don't think I've ever had an opponent as rough as the A's," he said. "I think I've given up 11 runs to them all season. I feel like I've been throwing the ball well all year, and it seems like whenever the A's come to town, they either have my number or something. You look back on it, and I thought I threw the ball pretty well, and the scoreboard doesn't dictate that at all."
He has a point. With the Astros holding a one-run lead starting the ninth, he gave up a jam-shot single to Jonny Gomes and watched pinch-runner Craig Gentry steal second base in a play that was so close that manager Bo Porter challenged the call.
Eric Sogard hit a bloop single to left one out later to tie the score, and Fuld hit a fly ball with two outs that barely cleared the right-field fence to score Coco Crisp for a two-run homer.
"I gave up two pretty weak hits that end up tying the game, and Fuld hits one in the second row," Qualls said. "So it's just … I don't know."
The A's have scored 55 runs in 10 games in Houston this season, with 25 of those runs coming in the ninth inning.
"I was actually trying to be aggressive and drive a ball, stray a little bit from my normal approach just knowing that, with Coco's speed, I felt confident a ball in the gap could score him, or even just a ball down the line," Fuld said. "Any extra-base hit would score him, so I thought I'd be aggressive and felt comfortable early in the count, having seen Qualls last night."
The Astros scored twice in the seventh to take a one-run lead, with Robbie Grossman and Jose Altuve coming through with clutch two-out singles on 3-2 pitches. Grossman's bloop hit to right off Fernando Abad scored Matt Dominguez, and Altuve shot a single up the middle to score Carlos Corporan and put the Astros ahead.
Abad had stranded all 26 runners he had inherited this season prior to Grossman's hit.
Those were the only clutch hits of the game for the Astros, who went 2-for-11 with runners in scoring position. They stranded the bases loaded with one out in the eighth.
"Obviously, some tack-on runs would have been really good there," Porter said. "It would have given Chad a little bit more cushion. We were not able to come through in that situation."
Grossman led off the bottom of the ninth with a single and was promptly erased on a double play off the bat of Altuve, who nearly beat the play at first. Porter, who lost his right to challenge on the Gentry stolen base earlier in the inning, asked the umpires to review it, and a crew review upheld the call.
"They turned it quick," said Altuve, who now has 181 hits and 49 steals after swiping two bases.
Chris Carter followed with a homer to right field to cut the lead to one run, but Dexter Fowler lined out to end the game.
Carter tied a franchise record with his 12th homer in the month of August, giving him 33 for the season. He has homered five times in his last six games against his former club after coming to the Astros in a February 2013 trade that included pitcher Brad Peacock.
Peacock survived a 30-pitch first inning in which he gave up a hit and a walk, hit a batter and threw a wild pitch by getting Derek Norris to strike out swinging to strand the bases loaded. He got in a groove, though, striking out five of six batters he faced in the third and fourth.
"I think it's more like settling the nerves," said Peacock, who showed no signs of the forearm discomfort that prematurely ended his start on Friday in Cleveland. "I don't know what it is. For the most part, I got through it, and I felt good."
Brian McTaggart is reporter for MLB.com and writes an MLBlog, Tag's Lines. Follow @brianmctaggart on Twitter. This story was not subject to the approval of Major League Baseball or its clubs.