A's rally late to keep AL West lead in sight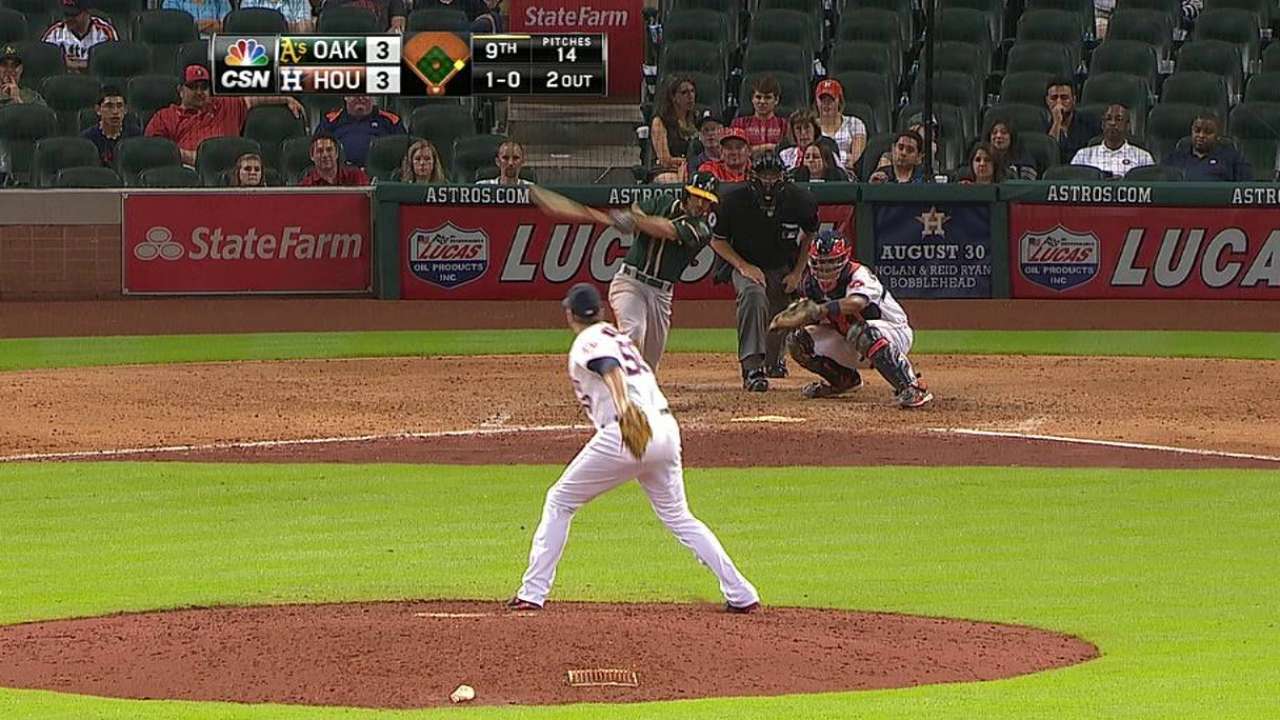 HOUSTON -- The A's slipped out of Houston late Wednesday with a series win in hand, though knowing they have to play much better in the days ahead if they want any chance at regaining the division lead.
Perhaps this one gives them the momentum to do just that.
The A's 5-4 win over the Astros at Minute Maid Park wasn't their prettiest, but it kept them a game behind the Angels going into a four-game series in Anaheim beginning Thursday.
"An ugly win is as good as any kind of win, I guess," said Sam Fuld, who won the game on a go-ahead, two-run homer in the ninth. "It certainly wasn't our best baseball game, but shoot, we can't be picky at this point. Sometimes that's the sort of win that can kind of get you going, knowing we can do it without playing our best. Hopefully, we can build on it a bit and play better this weekend."
"We didn't play to our capability, but look at the positive things," added Jonny Gomes. "We did absolutely everything it took. We're going to need to pick each other up, and that's what we did tonight."
The A's were down a run entering the ninth inning, but Gomes revived his club with a leadoff single. Pinch-runner Craig Gentry quickly stole second base, and Eric Sogard provided the game-tying hit with a soft single to center off Chad Qualls. Coco Crisp then reached on a force, setting the stage for Fuld's homer.
It was just the third homer of the season for Fuld and easily his biggest, preventing the A's from departing Houston with their second series loss to the Astros in the last month.
"I was actually trying to be aggressive and drive a ball, stray a little bit from my normal approach. … With Coco's speed, I felt confident a ball in the gap could score him, or even just a ball down the line," Fuld said. "Any extra-base hit would score him, so I thought I'd be aggressive and felt comfortable early in the count, having seen Qualls last night."
The A's have scored 55 runs in 10 games at Houston this season, 25 of which have come in the ninth inning. Qualls has given up 11 total to the A's -- and just seven to everyone else.
"I really just can't put my finger on it," said Qualls. "I don't think I've ever had an opponent as rough as the A's."
Eric O'Flaherty surrendered a two-out solo homer to Chris Carter in the ninth but preserved the lead for his first career save, securing the A's fifth win in their last seven games.
Still, they're just 6-10 over their last 16. In that time their offense has been sporadic, as evidenced again by a six-hit showing before the ninth inning came around, with seven runners stranded.
Their defense wasn't much better, and their bullpen faltered for a second straight night following an impressive showing from lefty Drew Pomeranz, who allowed only an unearned run and three hits in his return to the rotation, walking one and fanning seven over 5 1/3 innings.
Pomeranz would have likely been given the chance to finish the inning if not for a one-out error by Sogard on a routine grounder off the bat of Jose Altuve that preceded a Carter single, leading manager Bob Melvin to turn to Ryan Cook. Altuve stole third base, and Cook's ensuing wild pitch allowed the Astros to tie the score at 1.
Crisp quickly gave the A's back their lead with a solo shot in the seventh off lefty Kevin Chapman, his ninth of the season.
But in the seventh, Cook boarded two of his first three batters, one of whom ultimately scored on Robbie Grossman's two-out bloop single off lefty Fernando Abad. Altuve's ground-ball base hit up the middle sent home what was temporarily the go-ahead run.
Fuld's was permanent.
"You want some momentum going in [to Anaheim]," said Melvin. "To be able to come back and fight like that makes for a better flight."
"It's huge," said Sogard. "Obviously, we had already gotten the run to tie it up, but we knew we weren't done that inning. We continue to battle any time we know we still have outs left.
"Obviously, you don't want to go into Houston and lose the series, so it's a big win for us, and hopefully, we can keep that momentum going heading into Anaheim."
Jane Lee is a reporter for MLB.com. Read her blog, Major Lee-ague, and follow her on Twitter @JaneMLB. This story was not subject to the approval of Major League Baseball or its clubs.