Royals' six-run 8th stretches AL Central lead
Dyson's bunt sparks frame, while Aoki delivers go-ahead RBI single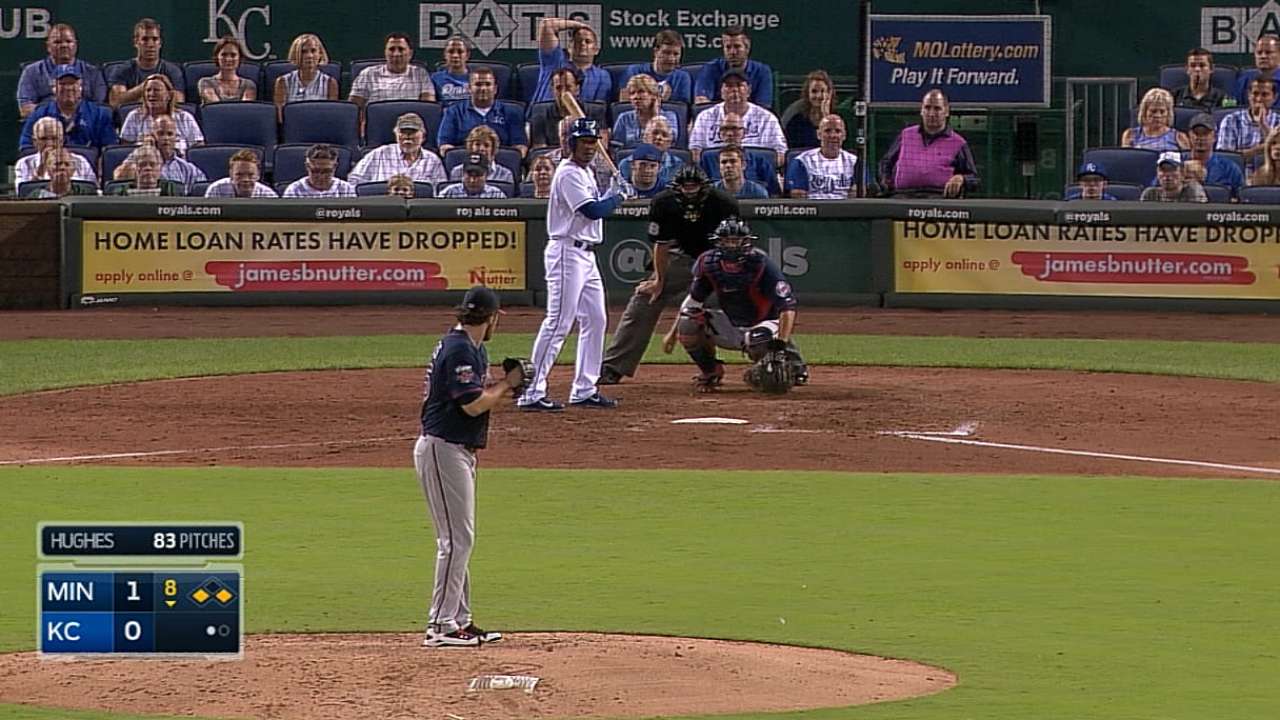 KANSAS CITY -- Late lightning again. This time with a roll of thunder.
The first-place Royals rallied for six runs in the eighth inning to pull out another heart-pumping victory, 6-1, over the Minnesota Twins on Wednesday night with 17,668 fans rocking Kauffman Stadium.
Now the Royals are 2 1/2 games ahead of losing Detroit in the American League Central. They're 26-8 since July 22 and having a blast.
"We know we're on a mission," center fielder Jarrod Dyson said.
Twins right-hander Phil Hughes had shut out the Royals for seven innings before they broke loose for seven hits and six runs. Dyson bunted home the first run, Nori Aoki singled in the second and Billy Butler and Salvador Perez each had two-run blows.
Right-hander Liam Hendriks, in his first Kansas City start standing in for Yordano Ventura, held the Twins to one run on four hits in seven innings.
"What more can you ask?" manager Ned Yost said. "He was on the attack with everything he had, banging strikes, just a phenomenal job for a spot start."
Winning pitcher Wade Davis worked yet another perfect inning -- for 24 2/3 consecutive scoreless innings. Closer Greg Holland worked the ninth, striking out the side.
"That's a team over there that finds a way and battles," Hughes said, "and there's something to be said for that."
Hendriks, a former Twin, matched zeros with Hughes for six innings. In the seventh, the Twins went up, 1-0, on Kennys Vargas' single and Oswaldo Arcia's booming double to deep right-center.
Hughes seemed to have the Royals in lockdown. How could they break out?
"You have to grind it out when you're facing Phil Hughes, who's having a phenomenal year -- he's second in the American League in wins," Yost said. "You look up every inning and it looks like the pitch count is going down instead of going up. I'm thinking, 'Man, how can we get rid of this guy?' "
The answer came in the eighth inning.
Raul Ibanez looped a single into right field and pinch-runner Lorenzo Cain swiped second base. Hitting a slow bouncer to second baseman Brian Dozier deep in the right-field shift, Mike Moustakas dove into first base and beat the throw.
"If you have my speed, maybe diving is the better option. I was safe," Moustakas said.
Christian Colon popped out, but Dyson put down a bunt that got Cain home ahead of first baseman Joe Mauer's quick throw.
"It was a safety squeeze," Yost said. "Dice does it extremely well and he executed it perfectly."
Third-base coach Mike Jirschele had Cain on high alert for the strategy.
"I bunted on my own," Dyson said. "I was just trying to get it down the first-base line and I had a great feeling that he was coming with a two-seam in or something in to get me to roll over and try to get a double play out of it. So I took my chances and laid down a bunt, and it worked out for us."
Aoki lined a single just over shortstop Eduardo Escobar's glove and, Moustakas, after a moment's hesitation, fled for home and didn't draw a throw. Dyson was thrown out at third on the play, but the Royals were ahead, 2-1.
Alcides Escobar followed with a broken-bat infield single, Aoki moving to third, and Hughes' outing was over.
"It doesn't matter when you get him, as long as you get him," Dyson said.
Left-hander Brian Duensing took over and walked Alex Gordon to load the bases. The Twins switched to right-hander Casey Fien and Butler dunked a two-run single into right field.
The Royals weren't through. Salvador Perez ripped a triple into left-center field for two more runs. It was Perez' first triple this year.
"The bullpen came in and had a hard time," Twins manager Ron Gardenhire said. "Casey was overthrowing the ball, it looked like he was trying to throw 100 miles an hour and a couple of big hits [against] him, and there you have it."
By now, the house was booming with a joyful racket.
"I thought it was electric," Yost said. "I looked around and everybody was standing and having a blast. I loved it."
Cain popped out to end the inning, but the damage had been extensive. And the Royals were 16 games over .500.
"The feeling inside the locker room is a lot different than it was earlier in the year," Yost said. "They felt like they could be a good team. I think they feel now that they know they're a good team."
And having a great time.
"Right now, we're just living on a high," Dyson said, "playing the game of baseball like we're 5 years old."
Dick Kaegel is a reporter for MLB.com. This story was not subject to the approval of Major League Baseball or its clubs.