Hughes denied 15th win with Royals' late rally
Righty labors in decisive six-run 8th after seven scoreless frames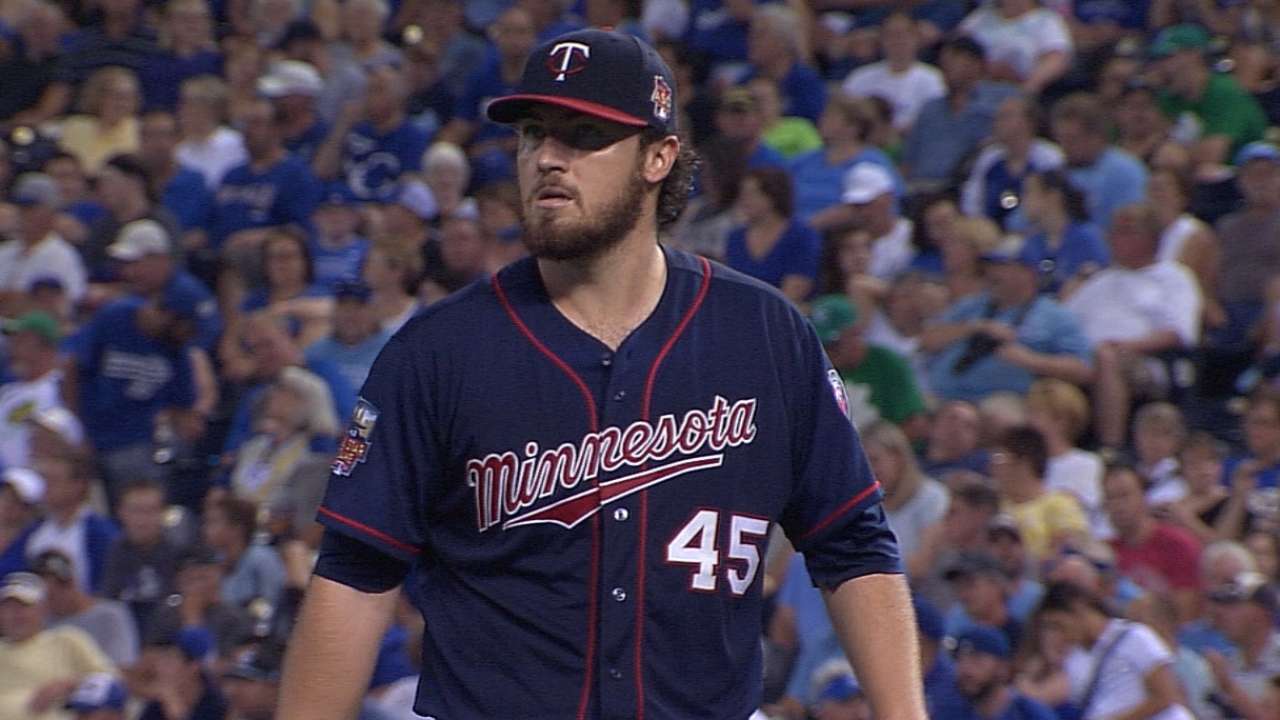 KANSAS CITY -- Twins manager Ron Gardenhire shook his head, tossed his chewed gum into the dirt below the top of the steps where he was perched, then ambled into the back of the dimly-lit visiting dugout.
It was an appropriate response for the completion of an immensely maddening six-run eighth inning that gave the Royals a 6-1 win on Wednesday night at Kauffman Stadium.
"Unfortunately for us, it's just one of those frustrating innings, frustrating games that we're not going to be able to get back," said Twins starter Phil Hughes, who took the brunt of the misfortune by allowing five hits in the eighth.
The frame began with so much promise, as Hughes took the mound after seven scoreless innings and with Minnesota up 1-0. He had allowed just two singles, walked zero and used 70 pitches to that point. The right-hander looked destined for his fifth straight start allowing one or zero runs.
"I think regardless of how the inning transpires, it's the same level of disappointment," Hughes said. "Trying to go out there and protect a one-run lead going into the eighth, knowing my pitch count's in good shape to probably finish the thing off -- that part's frustrating, regardless of how they do it."
Raul Ibanez blooped a single into center, breaking a streak of 18 straight batters Hughes had faced without allowing a hit. Pinch-runner Lorenzo Cain swiped second base, a key play that forced the Twins' infield out of double-play depth and into the shift for Mike Moustakas. The Royals' third baseman beat it with a weak single to second base, something that frustrated Gardenhire after the game.
"We talked about it, we've got to move in there, we've got to shorten it up a little bit ... that's two times where it's happened to us where we just need to shorten up and get an out there," Gardenhire said.
Two batters later, Jarrod Dyson laid down a perfect bunt to score Cain. Nori Aoki put the Royals ahead, 2-1, when he slapped a single over the outstretched glove of Eduardo Escobar. A final well-placed single by Alcides Escobar spelled the end for Hughes, as left-hander Brian Duensing replaced him.
Duensing walked Alex Gordon, bringing on Casey Fien, who surrendered the final four runs -- a two-run single by Billy Butler and a two-run triple by Salvador Perez.
"The bullpen came in and had a hard time," Gardenhire said. "Casey was overthrowing the ball, it looked like he was trying to throw 100 miles an hour and a couple of big hits [against] him, and there you have it."
The first seven innings played out precisely as they did in the Twins' 2-1 loss on Tuesday: both pitchers shutting down the opposition in the first six frames, then Minnesota breaking through with an RBI hit in the seventh.
It was Joe Mauer on Tuesday, providing the go-ahead single. Oswaldo Arcia stepped up on Wednesday with an RBI double in the right-center gap off Royals starter Liam Hendriks to score Kennys Vargas for a 1-0 lead.
Hendriks, who was with the Twins from 2011-13, logged seven solid innings in a no-decision. Coincidentally, it was the offseason acquisition of Hughes in 2013 that forced Minnesota to cut ties with Hendriks.
"I was designated for Phil Hughes," Hendriks said. "When [general manager] Terry Ryan called me on the phone, he said it was a numbers thing and we would love to have you back if you clear [waivers] and everything like that. But we just signed Phil Hughes and we need a roster spot. It's really funny how it works out."
Hughes allowed zero walks with four strikeouts. The last time he issued more than one walk in a game was June 1, 16 starts ago. He made it three straight starts without issuing a free pass on Wednesday.
"[The loss] doesn't take away from what Phil Hughes did, he threw the ball great," Gardenhire said. "We have scored two runs in two games here and that's not going to win very many games."
Jackson Alexander is an associate reporter for MLB.com. This story was not subject to the approval of Major League Baseball or its clubs.