O's bats can't figure out Smyly
Davis' solo homer one of two hits Baltimore musters vs. left-hander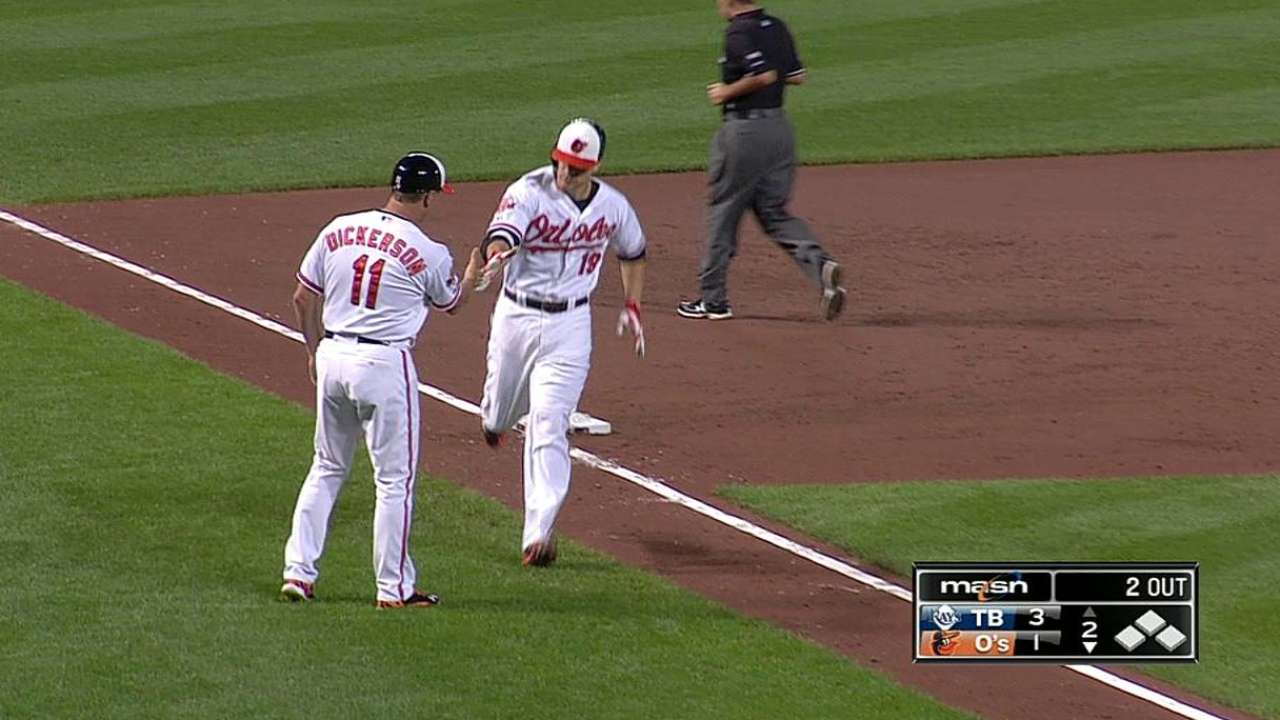 BALTIMORE -- Every once in a while, Orioles manager Buck Showalter will pick out a pitcher his team is set to face in the next few days and talk him up for a couple days. On Wednesday, the manager joked that he does it for as many people as he can so he looks smart when they perform.
His trick worked again. With the Rays coming to town, Showalter mentioned Drew Smyly, the 25-year-old left-hander Tampa Bay acquired in the trade that sent David Price to the Tigers, and on Wednesday he shut down the Orioles in a 3-1 Rays win in front of 20,762.
"I talked to y'all about him before," Showalter said. "That's why you give up guys like David Price."
The only blemish preventing Smyly from a second straight scoreless start was a solo homer by Chris Davis in the second inning. The pitcher retired the next 12 batters he faced after that homer and allowed just one more hit during his six-strikeout night.
Smyly is now 3-1 with a 1.50 ERA in six games since joining the Rays at the non-waiver Trade Deadline.
"This is probably one of the better stretches I've had as a starter," Smyly said. "Really, since the All-Star break, I felt like I've kind of turned the page."
The loss brings an end to Baltimore's four-game winning streak at Oriole Park at Camden Yards and, coupled with the Yankees' 8-4 win against the Tigers, cuts the O's lead in the American League East to six games.
By the end of the first inning, Kevin Gausman and the defense behind him already put Baltimore in a hole too deep to recover from against Smyly. A one-out double by Ben Zobrist and a wild pitch by Gausman put the rookie pitcher in trouble early, and Jonathan Schoop's ill-fated decision to throw home on a grounder to second played a role in both runs in the inning.
Zobrist slid by Caleb Joseph's tag for the first run and Matt Joyce, who reached on the fielder's choice, scored on Wil Myers' single three batters later. The Rays tacked on an unearned run in the second inning. Smyly had more than enough support.
"Obviously, I know who he is and I know his numbers," said Gausman, whose four innings matched the shortest start of his career. "I knew it was going to be a pitchers' duel and I wish it would have been, but I just kind of struggled early on. They had some hits fall in some good spots and they also hit the ball pretty hard right at some guys."
The O's mustered only two hits and one walk against Smyly and had a runner in scoring position for a grand total of one batter. After Steve Pearce singled in the sixth inning to extend his hitting streak to 10 games, he stole second. One pitch later, Adam Jones whiffed at a slider for his second strikeout of the game.
As Smyly was hurling a gem in Baltimore, the man he was traded for pitched a dud in Detroit. Price gave up eight runs in the third inning of the loss to New York, allowing nine straight hits to start the frame before being pulled. In six games with Tampa Bay, Smyly has allowed six runs in total.
"David Price is one of the best in the game," shortstop J.J. Hardy said. "It's nice we don't have to see him all the time. Smyly's a great pitcher. It doesn't get much easier."
Showalter had seen enough of Smyly in the lefty's young career to know what he was capable of -- he entered the day 5-0 with a 1.33 ERA against the AL East -- and he delivered.
Brad Boxberger made it through the eighth unscathed, and Jake McGee notched his 15th save to deny the thought of an Orioles rally.
This game, though, was all about Smyly. A flat offensive effort by the O's like the ones that plagued their weekend against the Cubs certainly contributed, but it came down to Smyly's four strong pitches, his unique delivery and a continued run of success against the O's and the AL East.
"That's it," Showalter said. "They were going to be tough tonight. Runs were going to be at a premium."
David Wilson is an associate reporter for MLB.com. This story was not subject to the approval of Major League Baseball or its clubs.