Smyly stays hot, cools down Orioles
Lefty fans six, allows three baserunners in seven strong innings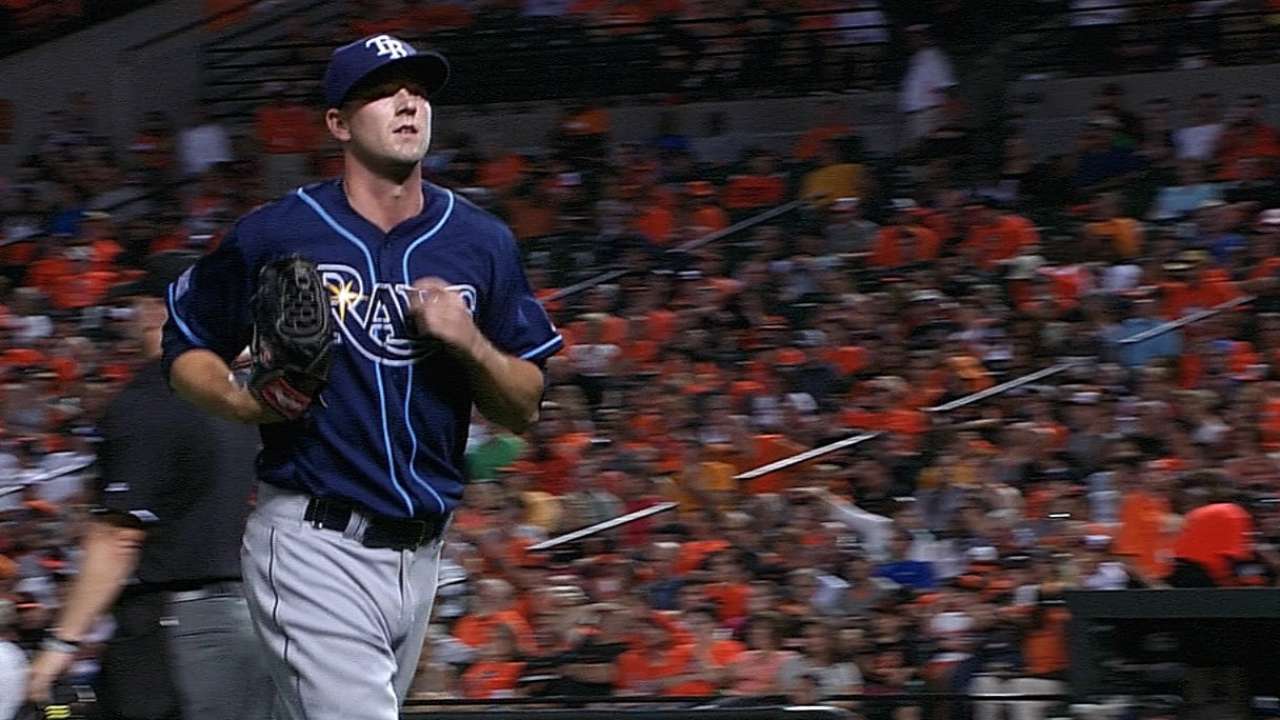 BALTIMORE -- A healthy dose of Drew Smyly helped the Rays overcome some early mistakes Wednesday night in a 3-1 win over the Orioles at Oriole Park at Camden Yards.
The Rays moved to within 11 games of the American League East-leading Orioles with 29 games remaining on their schedule while improving to 3-3 on the current road trip.
Smyly allowed one run on two hits in seven innings to pick up his ninth win of the season, improving to 3-1 in five starts since coming to the Rays in the trade that sent David Price to the Tigers.
"From the side, it's just fun to watch," Rays manager Joe Maddon said. "He's got total command of what he's doing. He's utilizing all of his pitches. ... What can I say, man? He's been outstanding."
Smyly effectively kept the Orioles off balance, striking out six and walking one. He has allowed just six runs in 36 innings with the Rays, good for a 1.50 ERA with his new squad.
"This is probably one of the better stretches I've had as a starter," Smyly said. "Really, since the All-Star break, I felt like I've kind of turned the page. I've done pretty well from my previous starts. But that's what you look for, you try to get on a good roll, a good rhythm, and keep carrying it over."
And the Rays needed all the help they could get from Smyly given their recent run of mistakes that has stymied their offense.
The Rays scored twice in the first, but they were unable to maximize the situation, mimicking Tuesday night's debacle when they had three runners thrown out at home during a 4-2 loss. On Wednesday night, it appeared to be more of the same when Evan Longoria made a mental mistake on the bases in the first.
Matt Joyce already had driven in the Rays' first run when he hit into a fielder's choice. Ben Zobrist scored from third on the play by beating second baseman Jonathan Schoop's throw to the plate. Longoria followed with a single to left before James Loney singled to right.
Orioles right fielder Nick Markakis quickly retrieved Loney's hit, prompting Rays third-base coach Tom Foley to hold Joyce at third. Unfortunately for the Rays, Longoria did not see that Joyce had not tried to score. That left Joyce and Longoria at third base. Subsequently, Longoria was tagged out. So rather than having the bases loaded with one out, the Rays had runners at first and third with two outs.
"We could have done more damage," Maddon said. "We got enough when Longo ran him off the base right there. It was just a gaffe, where you just don't run with your head up. The ball was hit hard, there was no way Matt was going to score there."
Wil Myers came through with an RBI single to right off Kevin Gausman to give the Rays a 2-0 lead, but the Rays might have had a bigger inning if not for Longoria's mistake.
"Believe me, based on how everything was lining up, we've been through that," Maddon said. "A bunch of hits and only one run. So I thought [Myers' hit] was rather large to get the second run right there."
Zobrist had a sacrifice fly in the second, staking Smyly to a 3-0 lead.
The Orioles got one back in the second when Chris Davis connected for his 23rd home run of the season, a shot to right-center field.
The Rays tried to get something going in the fourth when Yunel Escobar singled to lead off the inning. But true to form for the recent Rays, Escobar got doubled off first when Ryan Hanigan lined out to shortstop J.J. Hardy.
But the mistakes didn't matter, because Smyly was that good. After Davis' home run, Smyly retired the next 12 hitters he faced until he gave up a two-out single to Steve Pearce in the sixth.
"Right from the beginning we got on a little roll," Smyly said. "[Hanigan] and I were working well. I've been in a good rhythm, throwing a lot of strikes recently. So it's a good thing."
Given the number of innings Smyly has pitched this season and what the Rays project for him to pitch, 87 pitches and seven innings were enough.
Jake and The Box -- Jake McGee and Brad Boxberger -- finished out the game with Boxberger shutting down the Orioles in the eighth before McGee pitched the ninth to preserve the win and earn his 15th save of the season.
Comparisons between Price and Smyly are going to be made over the coming years. Price allowed eight earned runs in two innings against the Yankees on Wednesday night, so clearly, the night belonged to Smyly, who is off to quite a start with the Rays.
"Baseball takes and gives," Smyly said. "You have to be ready for whatever comes the next five days. But it's really encouraging to get off to a good start. They knew what they were getting beforehand, but it's still nice to show them what you're capable of doing right off the bat."
Orioles manager Buck Showalter added: "Detroit knew what they were giving up and Tampa knew what they were giving up. Certainly the future looks bright for him and Tampa having him in the rotation, but we'll see what baseball longevity has to say. He obviously has a chance to be a good one. Already is.
Bill Chastain is a reporter for MLB.com. This story was not subject to the approval of Major League Baseball or its clubs.