Price roughed up as Tigers miss chance in standings
Lefty knocked out in third; Detroit can't gain on Seattle in WC race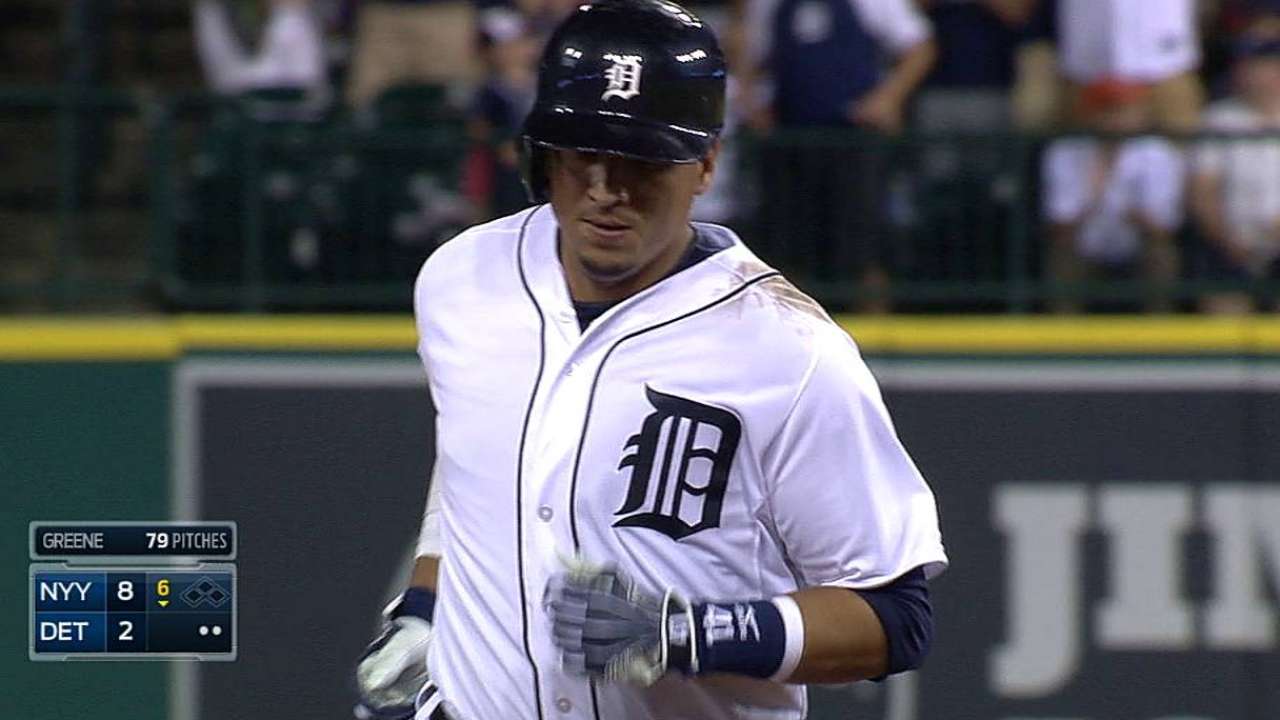 DETROIT -- David Price had to figure he'd had his fill of historic bad luck last week, when he became the first pitcher in the last century to throw a one-hitter with neither an earned run nor a walk and still lose.
Then came the third inning Wednesday night.
"I've had bad games before -- not that bad," Price said after an eight-run third in an 8-4 loss to the Yankees. "That's probably the worst game I've ever had in my life."
For a game, it was his worst. For an inning, it was arguably the worst for a Major League pitcher in a quarter century.
The same pitcher who allowed one hit all afternoon against Tampa Bay last week allowed nine consecutive hits in one inning without recording an out. The same Tigers bullpen that had to spring to action in the second inning for Minor League fill-ins Robbie Ray and Buck Farmer had to go to work for a former American League Cy Young Award winner with nobody out in the third.
As a result, the same Tigers team that had seemingly left its pitching struggles behind in Minnesota had another episode. And a Tigers squad that seemed to be regaining momentum in the playoff chase lost ground to the Royals, now 2 1/2 games up after their second straight comeback win.
Detroit also missed a chance to pass up the Mariners for the second AL Wild Card spot. Seattle lost to Texas earlier in the day.
The way the evening unfolded, they weren't exactly in the mood for scoreboard watching.
"We can't really control that," Torii Hunter said. "All we can do is control what we can control, and that's playing on a day-to-day basis."
The Tigers had put back-to-back blowout losses behind them by winning three in a row behind the veteran portion of their rotation -- Justin Verlander, Max Scherzer and Rick Porcello. They allowed 32 runs over two games started by Ray and Farmer.
Statistically, those games were worse than Wednesday. Timing-wise, though, Wednesday's debacle might have hurt more, coming in a game the Tigers were counting on their pitcher.
Price took the mound looking to carry over his pitching from last Thursday's 1-0 loss to the Rays, in which he retired his old team's final 23 batters after a first-inning error and RBI triple but didn't get one run of support. His bullpen session before Wednesday's game, he said, was the best since joining the Tigers four weeks ago.
He overcame a leadoff single and struck out the side in the opening inning, then back-to-back singles leading off the second to escape runners at the corners with an inning-ending double play.
Then Jacoby Ellsbury reached again to lead off the third, and the first out never came.
"It's tough to get that many hits, even if the guys hit the balls on the screws," Ellsbury said. "Fortunately, we got some good swings on balls and some balls fell for us."
Or, as Price put it: "Didn't get enough outs. Just didn't have it."
None of the hits left the park, but the early line drives were well struck, from Derek Jeter's opposite-field double into the corner to Mark Teixeira's liner into the same spot, the only extra-base hits in the bunch. Carlos Beltran's drive to right one-hopped off the fence quickly enough that he was held to a single. Four of the other six singles were ground balls, including three in a row at the bottom of the lineup.
"You feel like he's going to get an out," manager Brad Ausmus said. "He's at the bottom of the order, you feel like he's going to get the next guy and he gets a double play and he gets rolling. I did feel like that, but it just reached a point where he was running out of steam, and even the balls that weren't hit well were finding holes. It just seemed like things weren't going his way at the time."
The Yankees swung at 13 of Price's 25 pitches in the inning, missed none, and fouled off just four. And Price, who had allowed nine hits in a game in just 20 of his previous 174 Major League starts, never found the out he needed to catch his breath.
One hit after another, Ausmus waited, if mainly to save the bullpen with Kyle Lobstein set to make his first Major League start Thursday afternoon. Once Francisco Cervelli singled in Brian McCann for a 6-0 lead, Ausmus trudged out to the mound and took the ball. Back-to-back sacrifice flies off Blaine Hardy completed the scoring against Price.
Price became the first Major League pitcher in 25 years to give up nine consecutive hits in a game, according to STATS. Then-Astro Bob Forsch allowed nine straight to the Reds on Aug. 3, 1989.
Price's two-plus innings marked the second-shortest start of his career, surpassing only the 1 1/3 innings he lasted against the Rangers on July 4, 2009. His 12 hits allowed tied his career high.
Add the two categories together, and Price became just the fourth pitcher since 1914 to allow 12 hits in two innings or less. One of the hurlers on that list is another Tiger roughed up by the Yankees. George Uhle gave up 12 hits over two innings on June 14, 1929.
Victor Martinez's career-high 26th home run, a sixth-inning solo shot, was part of the Tigers' effort to slug their way back into it. However, it was one of just two runs allowed over seven innings by Yankees starter Shane Greene, whose second win over Tigers this month stood in stark contrast to the 1-0 win he posted against them Aug. 7.
Jason Beck is a reporter for MLB.com. Read Beck's Blog and follow him on Twitter @beckjason. This story was not subject to the approval of Major League Baseball or its clubs.