Soler goes deep, aids late rally that falls short
Prospect homers in first AB after Valbuena's blast; Baez adds big bat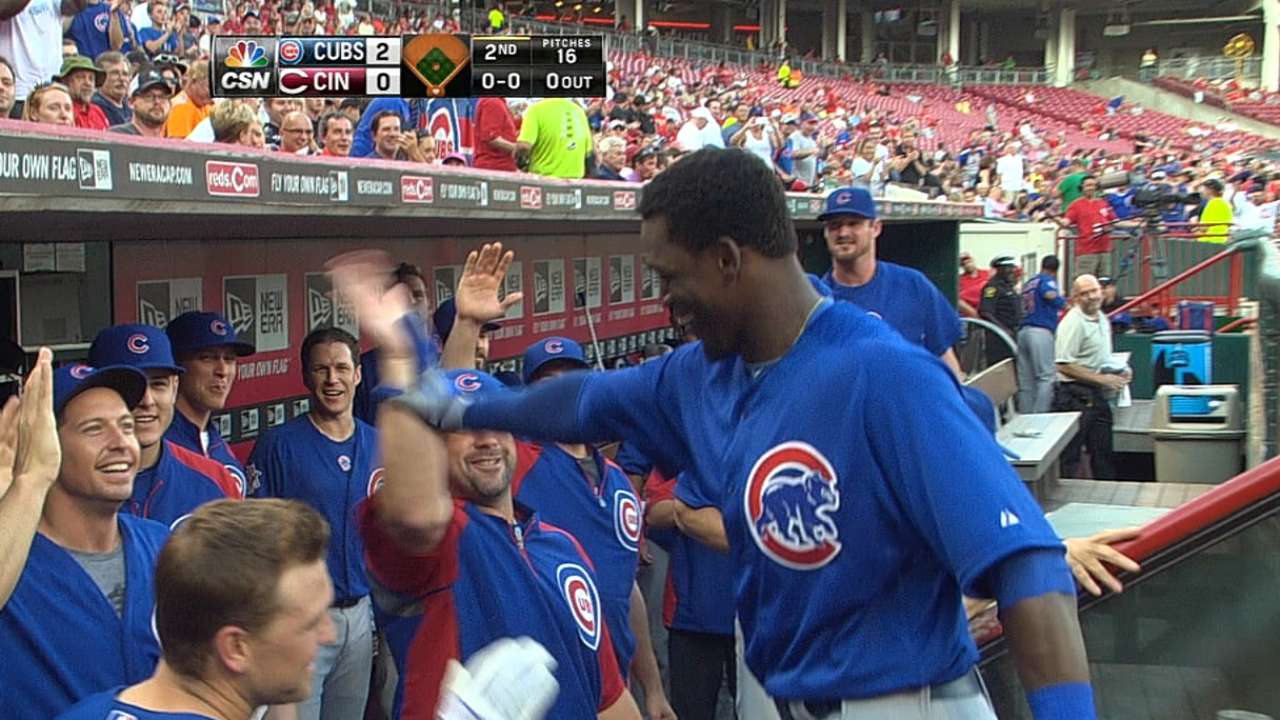 CINCINNATI -- The young Cubs are making great first impressions in their Major League debuts.
Javier Baez hit a game-winning home run in his first big league game, although it didn't come until the 12th inning. On Wednesday, Jorge Soler topped that, smacking a 423-foot blast to center field in his first big league at-bat.
And, coincidentally, the last Cubs player to homer in his first at-bat also did so at Great American Ball Park.
Soler's impressive home run wasn't enough as the Cubs came up short in a 7-5 loss to the Reds. Skip Schumaker drove in two runs to back Mat Latos, who struck out 10 over seven-plus innings, to lead the Reds, who have a 10-5 lead in the season series against the Cubs.
Wednesday marked the unveiling of Soler, 22, ranked by MLB.com as the Cubs' No. 5 prospect, who was promoted from Triple-A Iowa and arrived with much fanfare. He finished 2-for-4 in his first game.
Luis Valbuena led off the Chicago second with his 13th home run, a new career high. Soler immediately followed with his first, launching a 2-1 fastball 423 feet to center, much to the delight of the Cubs fans and Soler's father, Jorge Sr., who was in the crowd of 20,497.
"I'm real, real happy about it," said the young Soler, who admitted to being a little nervous. "First time in the big leagues, first at-bat. I was very excited and happy about that."
He's the first Cubs player to homer in his first at-bat since Starlin Castro did so on May 7, 2010, in Cincinnati. The Cubs players excitedly greeted Soler upon his return to the dugout, and he got a hug from Baez, who had homered on Aug. 5 in his debut game against the Rockies.
Cubs president of baseball operations Theo Epstein said they prefer having their top prospects break in on the road to keep the distractions to a minimum and give the players a chance to bond with their teammates. It worked for Baez, and in the second inning, it worked for Soler. According to ESPN's statistics, the Cubs are the first team to have two players, each age 22 or younger, hit a home run in their first Major League game.
"Soler was supposed to be a two-seamer in," Latos said of the pitch. "It didn't move. I didn't feel like I had my release point. The next inning, I made sure I worked on getting a feel of where my release point should be and getting the ball out in front. I think it helped out."
Latos found his groove, holding the Cubs to two baserunners over the next five innings. But that's not why Chicago lost the game.
The Reds apparently weren't interested in letting Soler enjoy both his first homer and a win. Cincinnati tied the game in the second on an RBI double by Schumaker and a run-scoring groundout by Zack Cozart. The Reds then took the lead in the fourth, when Kristopher Negron doubled and scored on a single by Schumaker. Two outs later, a run scored on a fielding error by Castro, and Todd Frazier then reached on an error by Valbuena.
Chicago starter Jacob Turner was then pulled. This was the right-hander's first start for the Cubs and 13th of the season; his last came Aug. 3 against the Reds, when he went four innings. The Cubs acquired the right-hander from the Marlins on Aug. 8 for two Minor League pitchers.
"I would've liked to have gotten a little deeper in the game," said Turner, who was on a limit. "That part is definitely frustrating. At the same time, you've got to build the pitch count up, too."
Brandon Phillips and Devin Mesoraco followed with RBI singles off Carlos Villanueva to put the Reds ahead, 6-2.
The Cubs tallied in the eighth against Jonathan Broxton on a two-run double by Baez. Castro then smacked a long hit off the center-field wall, but only made it to first base while sending Baez to third. It may have proved costly as Soler then drove in Baez from third on a single before Welington Castillo grounded into an inning-ending double play.
"He feels bad," Cubs manager Rick Renteria said of Castro, who returned from the bereavement list on Tuesday. "He knows. He's apologizing to everybody about not getting over there. He's got a lot of things on his mind, and he's out there doing the best he can.
"When a young man tells you he's made a mistake, it's very hard to do anything other than accept it. Quite frankly, there were a host of things prior to that, and part of that whole ballgame, that put us in the position we were in."
Baez nearly made up for the mistake with two outs and two on in the ninth, when he flied out to deep center.
"It sounded good," Renteria said.
"I had to take a couple of steps back, and I got a little scared; it sounded so loud and it was really high, but, the ball jumps off his bat no matter where he hits it to," Reds center fielder Billy Hamilton said. "I was just talking to [someone] about how his foul balls go up in the third deck every time he hits a foul ball off to the right. The guy has some power. And he had power coming in at him; all he had to do was touch it a little bit. But we got the win, and we did a good job."
Carrie Muskat is a reporter for MLB.com. She writes a blog, Muskat Ramblings, and you can follow her on Twitter @CarrieMuskat. This story was not subject to the approval of Major League Baseball or its clubs.