Rangers strike early and often in rout of Mariners
Odor leads charge with historic grand slam; Lewis goes the distance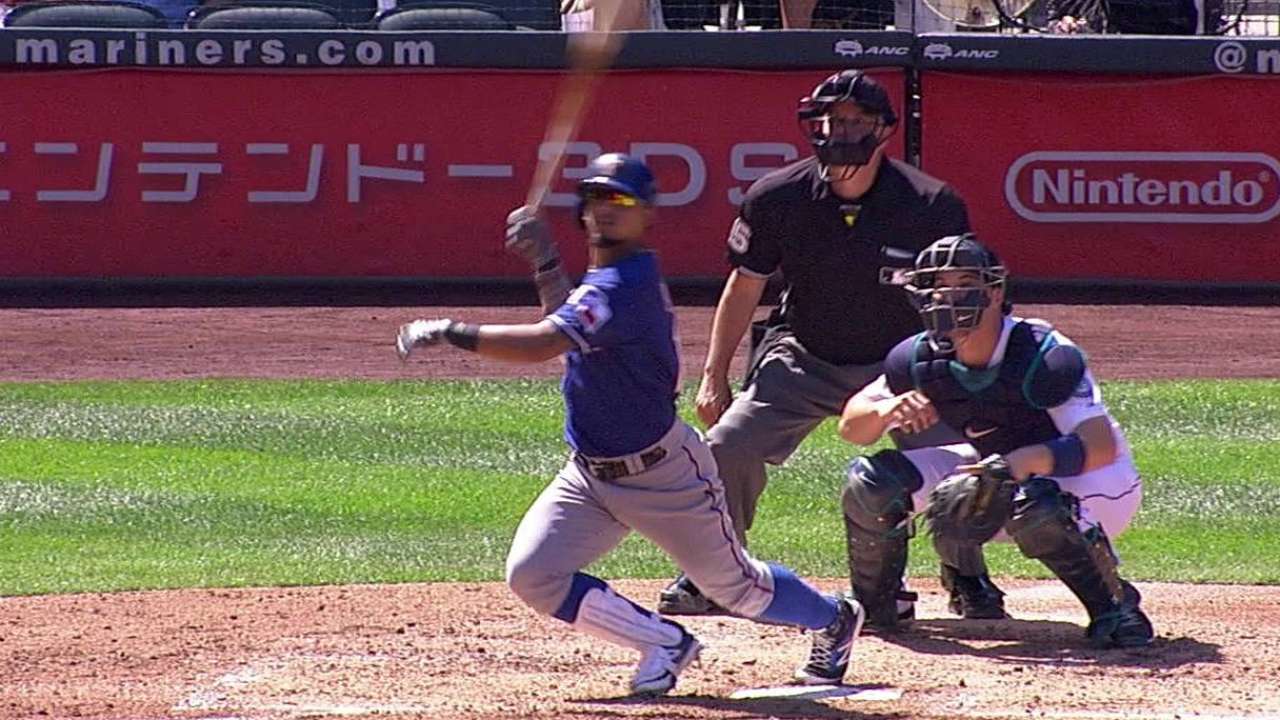 SEATTLE -- The Rangers' nine starting offensive players on Wednesday were averaging 4.5 home runs and just over 24 RBIs per man this season. Take Adrian Beltre out of the equation and ...
Well, they had three starters batting in the .170 range, another batting .190 in his last 23 games and yet another playing in just his second Major League game. In other words, just another everyday lineup put out by the Rangers in this extraordinary season. It's been a long time since Texas was seriously out-manned offensively by the Seattle Mariners.
Turns out they weren't -- at least on Wednesday. Every player in the Rangers' lineup scored a run and all but one had a hit in a 12-4 victory over the Mariners at Safeco Field. Colby Lewis went the distance for his second complete game this season and the Rangers ended up taking two of three from the Mariners.
"You never know what happens in this game," Rangers manager Ron Washington said. "I wish it was that easy to predict, but you have to play. We made good things happen today. We executed, we dropped bunts, we hit the long ball ... just played a solid game."
The big blows for the Rangers were a three-run double in the second inning by Tomas Telis in his second Major League game and a grand slam in the third by second baseman Rougned Odor, who was the one hitting .190 in his last 23 games. Leonys Martin celebrated his return to the leadoff spot by going 3-for-4 with a two-run home run.
"Timely hitting today, a big hit by Odor and Telis had a big hit," shortstop Adam Rosales said. "Everybody had good at-bats. Obviously we have a lot of missing parts but we all have the ability and talent. We are all big league players."
Odor, at 20 years and 205 days old, is the youngest player in Rangers history to hit a grand slam. Roy Howell was 21 years and 230 days old when he hit his first grand slam on Aug. 5, 1975, against the Athletics. Odor is the youngest Major League player to go deep with the bases loaded since Jose Reyes (20 years, four days) with the Mets in 2003.
Odor is the first Rangers player to hit a grand slam on the road since Michael Young on Aug. 4, 2010, at Safeco. The Rangers' last 11 grand slams had been in Arlington.
"I'm always trying to do the best I can to help the team win," Odor said. "Sometimes you do good, sometimes you struggle. I feel good right now. I don't look at the numbers, I just go out and play the game."
The Rangers did most of their damage against Mariners starter Erasmo Ramirez, who allowed 10 runs in three-plus innings. This is the first time this season the Mariners' pitching staff has allowed at least 10 runs in a game. It had gone 144 games without doing so, the seventh-longest stretch in American League history, and the longest since a 194-game streak by the Yankees in 1975-76.
Lewis took advantage of the support and beat the Mariners for the first time since Sept. 17, 2011. He allowed seven hits, walked just one and struck out seven to raise his record to 9-11 with a 5.44 ERA.
"It's easy to go out and pound the strike zone when the guys give me the opportunity like that," Lewis said. "It's real easy to throw strikes when we score that many runs. You just try to get ahead and throw strike one."
Ramirez retired the side in order in the first, but the Rangers loaded the bases in the second on a one-out walk to James Adduci, a single by Rosales and a two-out hit by pitch to Michael Choice. Telis followed with a high drive into deep right that outfielder Logan Morrison got his glove on and dropped as he crashed into the wall. Three runs scored, and single by Martin drove home Telis.
"It just bounced out," Morrison said. "I don't know. That kind of sums up the day, I guess. I make that play and no runs score, we see what happens. I don't make that play and three runs scored and it's a different game. And, obviously, from there it got worse. That's a play I need to make. But it happens. It's baseball."
The Rangers started the third inning with singles from Mike Carp and Adrian Beltre. Adduci dropped a bunt and beat it out for a hit to load the bases. Adduci was bunting on his own, Washington said.
"I was trying to keep the pressure on," Adduci said. "Get them in scoring position and get some more runs. I was going for a hit, but in those situations there is a little more room for error."
Rosales popped out, but Odor hit a first-pitch cut fastball into the right-field seats to make it 8-0, and the inexplicable rout was on from the inexplicable lineup.
T.R. Sullivan is a reporter for MLB.com. Read his blog, Postcards from Elysian Fields, and follow him on Twitter @Sullivan_Ranger This story was not subject to the approval of Major League Baseball or its clubs.