MLB.com Columnist
Tracy Ringolsby
Angels head up group of emerging contenders
AL West leader among teams worth keeping tabs on as stretch run approaches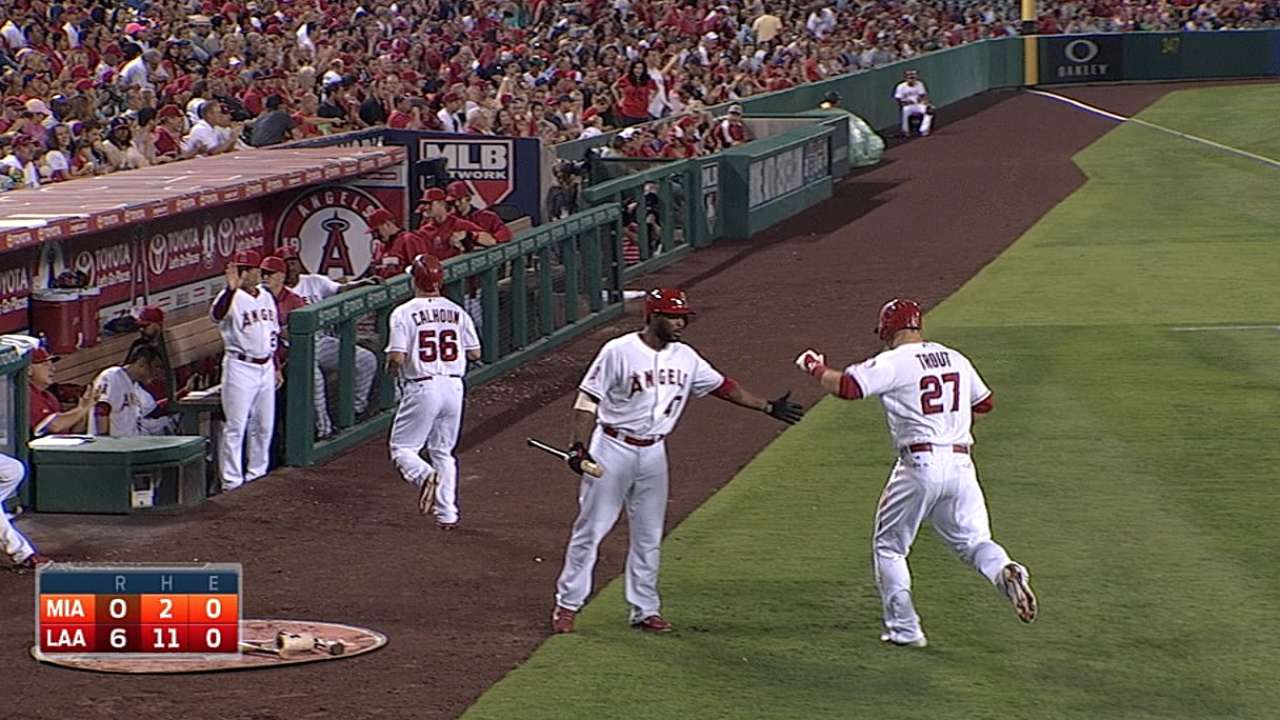 This has been a challenging season for the Angels. And so far, they have been able to meet the challenge.
In addition to the loss of right-hander Garrett Richards (13-4, 2.61 ERA) a week ago to knee surgery, they have never had consistent production from the middle of the lineup.
The Halos went into Wednesday night's game against the Marlins with a one-game lead on the A's in the American League West, and 6 1/2 in front of the Tigers, the No. 3 team in the battle for the two AL Wild Card spots.
They are one of 13 teams within three games of a postseason berth heading into the season's final 33 days.
The Nationals (7 1/2 games up on the second-place Braves in the National League East), the Orioles (seven games in front of the second-place Yankees in the AL East) and the Dodgers (who have a five-game edge on the second-place Giants in the NL West) are in command in their title bids.
If those three division leaders were to win 90 games, Atlanta would have to go 23-7 to overtake Washington; New York would have to go 23-9 to overtake Baltimore; and San Francisco would have to go 22-9 to overtake Los Angeles.
The 10 other teams could all use a late-season boost to help them in their postseason bid.
Teams to keep an eye on down the stretch:
Angels (first place in AL West, one game ahead of the A's) -- They are waiting for the emergence of the Josh Hamilton, who won the 2010 AL MVP Award while with Texas, and in the final month of his second year in Anaheim, Hamilton could definitely win over doubters with a big finish to the season. He has hit only .203 in August, dropping his average to a season-low .263, but there are signs of life. Hamilton has two home runs in the last five games, and he hit four in the first 26 days of August after hitting only one in the final 23 games of July. As the cleanup hitter, as Hamilton heats up, pitchers are going to be forced to be more aggressive with Albert Pujols.
A's (second in AL West, one game behind Angels; leading AL Wild Card, 5 1/2 games ahead of No. 3 Tigers) -- Right-hander Sonny Gray is 1-4 with a 4.50 ERA after opening the season winning 12 of 15 decisions and compiling a 2.65 ERA. He has worked 171 innings, well on his way to a career high in his second big league season. Gray did pitch 182 1/3 innings a year ago, but only 64 at the big league level and the others at Triple-A. While the addition of Jon Lester takes the pressure of being the No. 1 guy off Gray, it doesn't make it any less of a grind to see him struggle.
Mariners (third in AL West, six games behind A's; second in AL Wild Card, half-game ahead of Tigers) -- They were busy in July, adding some right-handed bats to a lineup that was way too left-handed, and none of the additions is bigger than veteran Kendrys Morales. He's being asked to protect Robinson Cano in the lineup and hit cleanup as the DH. After hitting .210 in his first 28 games in Seattle, Morales has hit .265 in the last 13, with all three of the home runs he has hit since coming over from the Twins, an offensive spark that the Mariners were hoping for.
Royals (first in AL Central, 1 1/2 games ahead of Tigers) -- Billy Butler is the key bat in the middle of the Royals' lineup, and he has finally shown life in August, hitting .304 with four of his nine home runs and 13 RBIs. Primarily the DH, Butler was obsessing on his struggles in the first four months of the season, but with Eric Hosmer out with a broken hand since Aug. 1, Butler has taken over at first base, and he feels it allowed him to avoid spending too much time analyzing every at-bat. Now that Butler has his swing back, he should be fine in his traditional DH role with the expected return of Hosmer at some point in September, which will beef up the offense and defense.
Tigers (second in AL Central, 1 1/2 games behind Royals; half-game behind Mariners for second AL Wild Card) -- Reliever Joaquin Soria could be back as soon as Saturday, which would help a Tigers bullpen shouldering a heavier-than-normal load to offset the lack of a viable replacement in the rotation for Anibal Sanchez. Sanchez suffered a setback in his rehab on Monday and is on hold in terms of his next bullpen session.
Giants (second in NL West, five games behind Dodgers; second in NL Wild Card race, one game ahead of Pirates) -- Right-hander Tim Lincecum will be replaced by Yusmeiro Petit for the start Thursday against the Rockies, and maybe more. With Matt Cain out for the season, the Giants need Lincecum to pitch at the top of his game, and he gave them a flash of that when he was 4-0 and allowed one run in 30 1/3 innings in his four starts leading up to the All-Star break. In seven starts since, however, he is 1-4, with two no-decisions and an 8.24 ERA.
Brewers (first in NL Central, 1 1/2 games ahead of Cardinals) -- Right-hander Matt Garza, out for four weeks with a pulled rib cage muscle, faced hitters on Tuesday and could return to the rotation within the next week. While he is 9-9 with a 3.58 ERA, it needs to be noted that he was on a roll at the time of his injury -- 3-2 in his final seven starts, with a 2.62 ERA. Exclude the July 19 start at Washington, where Garza gave up five runs and retired one batter, and he had a 1.62 ERA in the six other starts in that surge. His return will give the Brewers their rotation intact for the stretch run.
Cardinals (second in NL Central, 1 1/2 games behind Brewers; leading NL Wild Card, two games ahead of No. 2 Giants, 2 1/2 games ahead of No. 3 Pirates) -- Catcher Yadier Molina could return as early as Friday. He's been out since the first week of July with a torn ligament in his right hand. Tony Cruz and veteran A.J. Pierzynski have done a solid job behind the plate in Molina's absence, but Molina is the best defensive catcher in the big leagues and has made himself into a middle-of-the-lineup bat with the Cards.
Pirates (third in NL Central, 4 1/2 games behind Brewers; tied with Braves for third in NL Wild Card, 1 1/2 games behind No. 2 Giants) -- The Bucs didn't need a reminder of what Andrew McCutchen means to them, but they got one when he was out for 14 games in August with a broken left rib and they won only five games. He was rushed back and does seem to be battling some rib cage pain in his return, but even if at less than 100 percent, he is vital. The NL MVP Award winner last year, McCutchen, despite his time on the disabled list, went into Tuesday leading the Pirates with a .307 average, 20 home runs, 70 RBIs and a .942 OPS.
Braves (second in NL East, 7 1/2 games behind Nationals; fourth in NL Wild Card, 1 1/2 games behind No. 2 Giants, half-game behind No. 3 Pirates) -- Shortstop Andrelton Simmons is a game-changer defensively and has the potential to impact the offense. He has only hit .202 with a .255 on-base percentage since the All-Star break, but he has hit safely in nine of 11 games going into Wednesday, and he is showing an improved approach at the plate.
Tracy Ringolsby is a columnist for MLB.com. This story was not subject to the approval of Major League Baseball or its clubs.