Bats back Latos early as Reds hold off Cubs
Righty shakes off consecutive HRs to fan 10; Heisey, Aroldis halt rally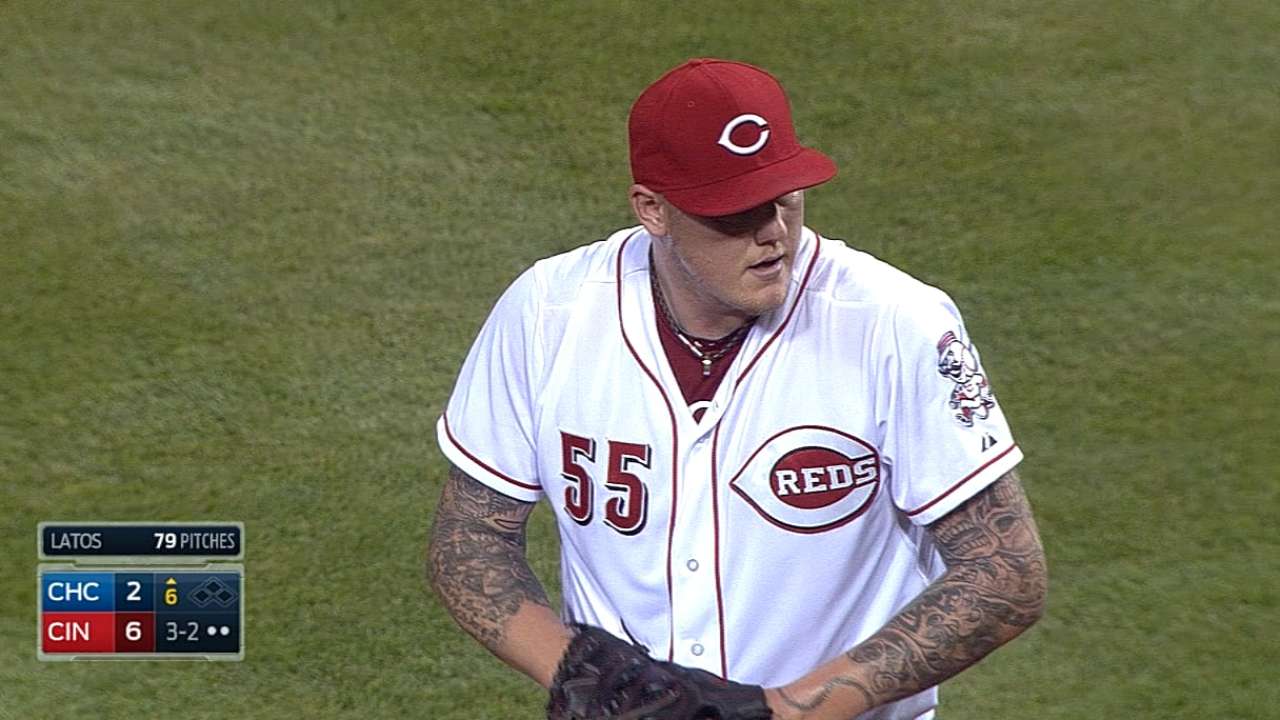 CINCINNATI -- The Reds got a glimpse of what some robust (Jorge) Soler power looks like on Wednesday evening. That and some other lesser drives to the outer limits of Great American Ball Park were not quite enough to undo a very dependable start from Mat Latos.
A four-run fourth inning supported Latos nicely before the Reds had to hang on for a 7-5 victory over the Cubs. Cincinnati has won three of its last four games and stopped Chicago's four-game win streak.
"It was definitely something that we needed," Reds manager Bryan Price said of Latos' performance.
Latos worked into the eighth inning and survived giving up back-to-back home runs to Luis Valbuena and Soler to begin the second inning. Valbuena hit a 1-0 pitch to right field and Soler -- a top prospect who received a much-ballyhooed callup from Triple-A earlier in the day -- tattooed a 2-1 fastball an estimated 423 feet and over the center-field fence.
It made Soler the first Cubs player to homer in his first Major League plate appearance since Starlin Castro did it against the Reds, also in Cincinnati, on May 7, 2010.
"I felt like earlier in the game, I really didn't have a good release point," Latos said. "Both pitches were two-seamers. I wound up pulling it back over the middle of the plate instead of going down and away with it."
In seven-plus innings, Latos allowed four earned runs and seven hits with one walk and a season-high 10 strikeouts. He is 3-0 with a 2.95 ERA over his last six starts.
A single by Welington Castillo followed the two homers in the second inning, but Latos retired nine of the next 10 batters without another hit until Chris Valaika's leadoff infield single in the fifth.
"He had a few guys that had some relatively comfortable at-bats against him, and then he really turned a corner and made some outstanding pitches," Price said of Latos.
The Reds made it a 2-2 game in the bottom of the second before a four-run fourth provided the needed separation. Nine Reds batted in the fourth, but it started with a nice spark from Kristopher Negron, who legged out a double on a hit into short left-center field. That paid off when he scored the go-ahead run easily on Skip Schumaker's single through the left side.
"It was a hustle double. He never broke stride from what I saw. I thought he was thinking double the entire way. That's how you do it," Price said. "It's a great habit, a great thing to do. Of course, it's a great Pete Rose trademark right there to make the outfielder stop you. In that case, they weren't able to stop Kris, and it ended up being a really important play for us."
With two outs, a Billy Hamilton grounder was muffed by Castro at shortstop. Hamilton was credited with an infield hit, while Castro was charged for an error that scored Schumaker. Following Valbuena's fielding error on a Todd Frazier grounder, RBI singles by Brandon Phillips and Devin Mesoraco made it a four-run game.
Heading into the eighth, Latos had a stretch of five strikeouts over his previous eight batters but was pulled when his first two batters singled. Reliever Jonathan Broxton was ineffective, giving up a two-run double to Javier Baez before Castro smacked a long hit off the center-field wall. Castro admired the drive a little too long and was limited to a single. It may have saved the lead since a one-out RBI single by Soler made it a one-run game instead of a potential tie score. Broxton escaped by getting Castillo to ground into a double play.
Pinch-hitter Chris Heisey provided insurance with a long leadoff homer to left field in the eighth against lefty reliever Zac Rosscup. It was Heisey's third pinch-hit homer of the season, and ninth of his career.
Aroldis Chapman earned his 28th save in 30 tries in the ninth, but not without drama. A leadoff single and two-out walk brought Baez to the plate representing the go-ahead run. On a 102 mph, 0-2 fastball from Chapman, Baez hit a booming drive to right-center field. It landed just shy of the fence, where Hamilton caught it at the back of the warning track.
"I was already deep and everything, playing no-doubles. I had to take a couple of steps back, and I got a little scared; it sounded so loud and it was really high," Hamilton said. "The guy has some power. And he had power coming in at him; all he had to do was touch it a little bit. But we got the win, and we did a good job."
Mark Sheldon is a reporter for MLB.com. Read his blog, Mark My Word, and follow him on Twitter @m_sheldon. This story was not subject to the approval of Major League Baseball or its clubs.