Kluber loses battle with White Sox rookie Abreu
Right-hander gives up three hits, two RBIs to slugger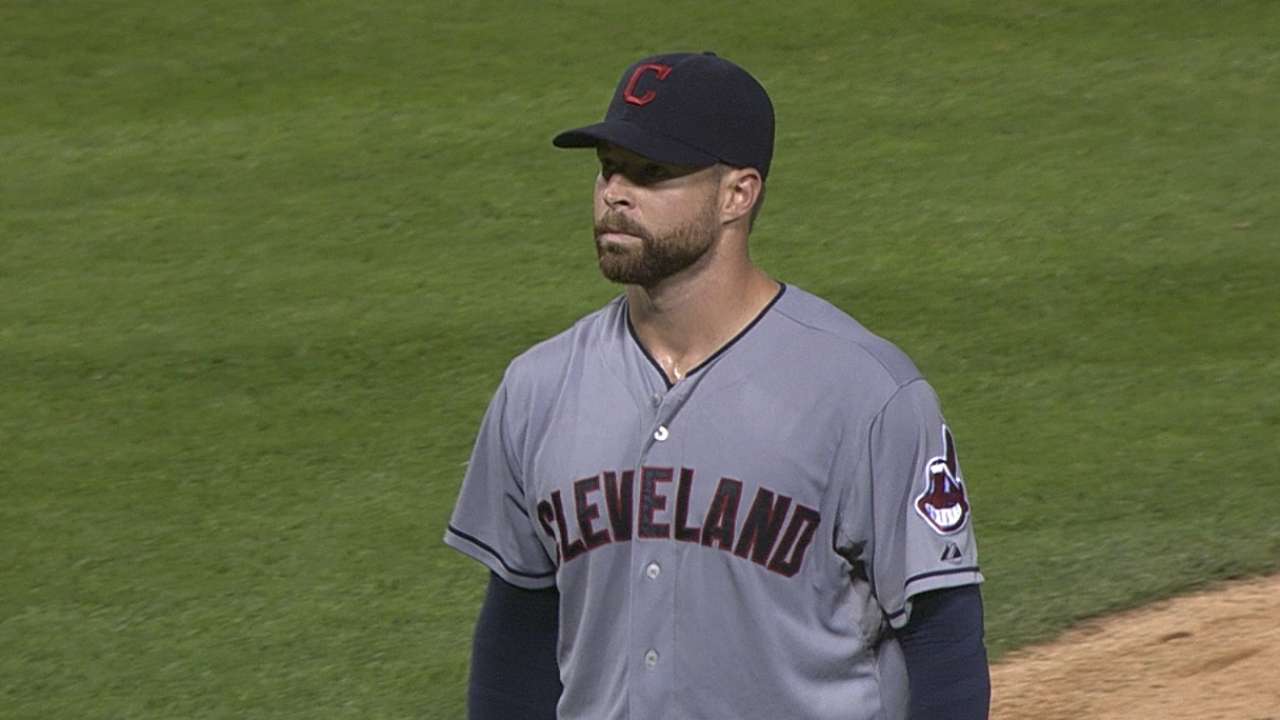 CHICAGO -- It was a pairing of power: one of the American League's best pitchers in Cleveland's Corey Kluber and one of the game's top sluggers in Chicago's Jose Abreu. This is what the fans came to see on Wednesday night at U.S. Cellular Field.
In the seventh inning, a tiring Kluber encountered Abreu with the game in the balance. Not many hitters can claim to have had the right-hander's number this season, but Kluber has found himself a foe. The pitcher went on the attack, but Abreu came out on top, delivering the decisive blow in the Indians' 3-2 loss to the White Sox.
"A lot of respect goes to him," Abreu said. "He's one of the better pitchers in the Major Leagues I've faced."
The defeat was only the fifth in the past 15 games for Cleveland, which is trying desperately to chase down first-place Kansas City and second-place Detroit in the American League Central. The Indians dropped to 6 1/2 back of the Royals in the division, but remain 4 1/2 games back of the AL's second Wild Card.
Abreu shot a cutter from Kluber past the mound and into center field for a run-scoring single to put Chicago ahead for good in the seventh. With the hit -- the third of the night for the rookie -- Abreu improved his average to .462 (6-for-13) on the season against Kluber, who has developed into the leader of Cleveland's rotation and an AL Cy Young contender.
Asked about Abreu's success, Kluber allowed himself to crack a smile.
"He does good against a lot of people, if you look at his numbers," Kluber said. "He's a good hitter. He covers a lot of pitches, so you've just got to kind of mix it up on him. Even when you make some good pitches, sometimes good hitters are able to get their hits."
Complicating matters on Wednesday night was a lack of run support for Kluber (13-8), who has had his team score three or fewer runs in six of his past seven starts. This time around, Cleveland's lineup was quieted for much of the evening by White Sox righty Hector Noesi, who limited the Indians to a pair of runs in his seven innings.
Kluber picked up a hard-luck loss after being charged with three runs on nine hits in 6 1/3 innings, ending with eight strikeouts and two walks. He became the first Indians pitcher since 1970 (Sam McDowell) to notch at least 17 games with at least eight strikeouts in a season, and climbed to 19th on Cleveland's all-time single-season strikeout list with 213.
The low offensive output magnified Kluber's few mistakes.
"If we score five or six," Indians manager Terry Francona said, "we're talking about him cruising."
Considering how dominant Kluber has been all season for Cleveland, he should be forgiven for a lapse here and there. Kluber's first setback in Chicago came in the form of a 32-pitch third inning that gave the White Sox their first lead of the night.
Chicago began its attack with a one-out triple from Adam Eaton, who shot a pitch from Kluber into the right-field corner to allow time for the three-base sprint. Two batters later, Abreu drove an offering up the middle for a two-out single that easily scored Eaton to pull the contest into a 1-1 deadlock.
That effectively erased Michael Bourn's RBI single off Noesi in the top of the third.
Abreu's first hit set things up for Adam Dunn, who crushed a 1-2 sinker on a line to deep center field, where Cleveland outfielder Michael Bourn could not run it down. Abreu scored from first base to push the Indians behind, 2-1, and the White Sox went on to load the bases. Kluber escaped further damage by inducing an inning-ending groundout off the bat of Tyler Flowers.
"I thought [Kluber's] stuff was really good and he worked ahead really well," Francona said. "He just made some mistakes when he was ahead in the count. A number of the guys who got the key hits, he had them down in the count."
From there, Kluber settled down, and Indians third baseman Lonnie Chisenhall did his part by belting a game-tying home run off Noesi in the top of the seventh inning. The blast was the 12th for Chisenhall, who sent a 3-2 pitch darting just over the wall down the right-field line.
In the home half of the seventh, Chicago's Carlos Sanchez opened with a single to right, and Eaton followed with a double to put runners on second and third with no outs. Kluber then induced a chopper to Chisenhall, who fired a strike to catcher Roberto Perez to cut down Sanchez at the plate. The out was confirmed following a brief crew-chief review.
That brought Abreu to the plate with Kluber at 110 pitches, runners on the corners, Dunn looming on deck and the game caught in a 2-2 tie with one out.
"That's a tough situation," Francona said. "[Abreu] has hit into a number of double plays. But he's a really good hitter. It's tough -- really tough. ... If we walk him there, it's not the end of the world."
Abreu tormented the pitcher once again with the game-winning hit.
"He's a good hitter," Perez said of Abreu. "He beat us today."
Jordan Bastian is a reporter for MLB.com. Read his blog, Major League Bastian, and follow him on Twitter @MLBastian. This story was not subject to the approval of Major League Baseball or its clubs.