Abreu ups RBI total to 96 in White Sox victory
Slugger drives in go-ahead run with one-out single in seventh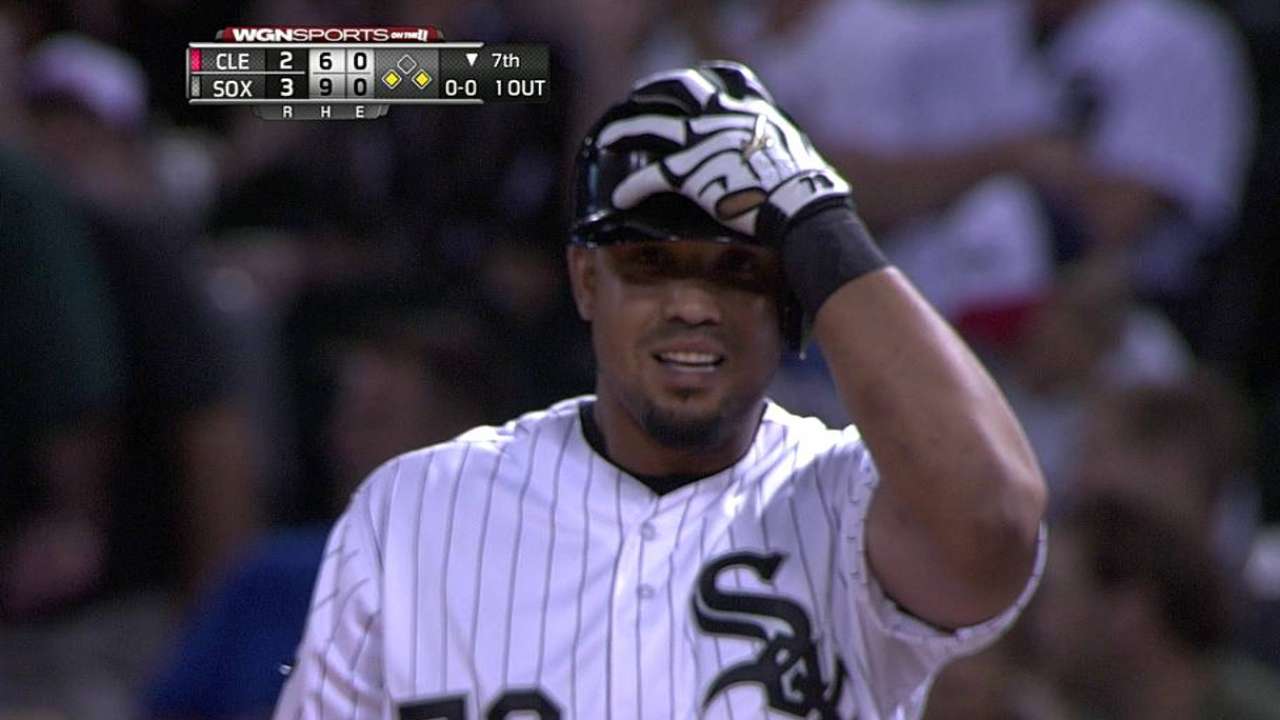 CHICAGO -- To pitch to Jose Abreu or not to pitch to Jose Abreu?
That was the question facing the Indians and staff ace Corey Kluber during the White Sox 3-2 victory Wednesday night at U.S. Cellular Field.
Actually, it's a question that has plagued White Sox opponents for much of this season. And it's not a shot at any other hitter in the White Sox lineup, as much as it's high praise for the odds-on American League Rookie of the Year favorite and AL Most Valuable Player candidate.
There were two scoring chances at U.S. Cellular Field where the Kluber-Abreu matchup ultimately decided the outcome. In the third, with Adam Eaton on third and two outs, the Indians (67-64) went after Abreu, and he singled home the tying run. Adam Dunn followed with a double to right-center that scored Abreu.
The situation was a bit trickier in the seventh.
With the game tied at 2 thanks to a Lonnie Chisenhall homer off of Hector Noesi (8-9) in the top of the frame, the White Sox (60-72) had runners on first and third with one out and Abreu at the plate.
They started the frame putting runners on second and third with a Carlos Sanchez single and an Eaton ground-rule double, but Alexei Ramirez's grounder to Chisenhall at third produced an out at the plate. That out was confirmed after White Sox manager Robin Ventura requested a crew-chief review to see if catcher Roberto Perez blocked the plate without the baseball.
Cleveland still could have elected to pitch around Abreu, loading the bases for Dunn or for right-handed-hitting pinch-hitter Paul Konerko if the Indians turned to left-handed reliever Marc Rezepczynski. Instead, Kluber (13-8) attacked Abreu with seven pitches outside of the zone. That seventh pitch, which would have been ball four, was poked back into center by Abreu to score the game-winning run.
"He didn't throw too much good, but I wanted to bring the guy in from third base, so I was as aggressive as I could be," said Abreu through interpreter and White Sox manager of cultural development Lino Diaz. "He left a pitch there and I was able to connect and get the ball through the middle."
"Even when you make some good pitches, sometimes good hitters are able to get their hits," said Kluber, who struck out eight over 6 1/3 innings. "He covers a lot of pitches, so you've just got to kind of mix it up on him."
Abreu's final connection, along with scoreless relief work from Javy Guerra and Zach Putnam (fourth save), ended the club's season-worst seven-game losing streak and four-game streak at home. They improved to 7-2 at home against the Indians, who made the playoffs last season thanks to a 17-2 record against the South Siders.
Noesi earned the victory, meaning the White Sox have a 12-10 record in games that the right-hander has started for them this season. He had very little room for error going against Kluber and made very few mistakes while allowing two runs on six hits over seven innings, striking out five and walking one.
"Well, you know he is good and I was not thinking about, 'Oh, he's going to do good,' you know?" said Noesi, who threw 99 pitches compared to 118 for Kluber. "And then I was just trying to go to my game and do my game."
"His offspeed stuff looked very good, he kept the ball down and he throws 95 [mph]," said Eaton of Noesi. "He knows how to pitch and him and [catcher Tyler Flowers] work really well together. It's really fun to play behind those guys."
As well as Noesi pitched, a victory might not have been possible without Abreu. The good feeling the White Sox have coming out of this season, regardless of their final record, also wouldn't be possible without the free agent from Cuba.
Three hits on Wednesday pushed Abreu's season average to .312. His two RBIs raised that total to 96. Although Abreu has just two homers in August, he has proven to be so much more than a power hitter.
Eaton compared Abreu's offensive game to Paul Goldschmidt, his former teammate in Arizona.
"My dad always said most good hitters are line-drive hitters. They just happen to go out," said Eaton of Abreu, who is now 6-for-13 against Kluber and is hitting .500 during a current seven-game hitting streak. "He sprays the ball all over the field. He's very disciplined at the plate, knows what he's doing, can hit to all fields with power and I'm lucky to be his teammate."
"I'm very happy because we just came out of a bad stretch there," Abreu said. "I was concentrating since yesterday on this pitcher because I knew he was going be tough. I dedicated a lot of time to preparing against him and was glad we got that win today."
It was a win decided by Abreu answering Kluber's challenge.
"Jose was great tonight," Ventura said. "He stayed through the middle of the field and came up with some big RBIs for us."
Scott Merkin is a reporter for MLB.com. Read his blog, Merk's Works, and follow him on Twitter @scottmerkin. This story was not subject to the approval of Major League Baseball or its clubs.