Tazawa's woes vs. Blue Jays continue in loss
Papi notches RBI in return to lineup; Kelly takes no-decision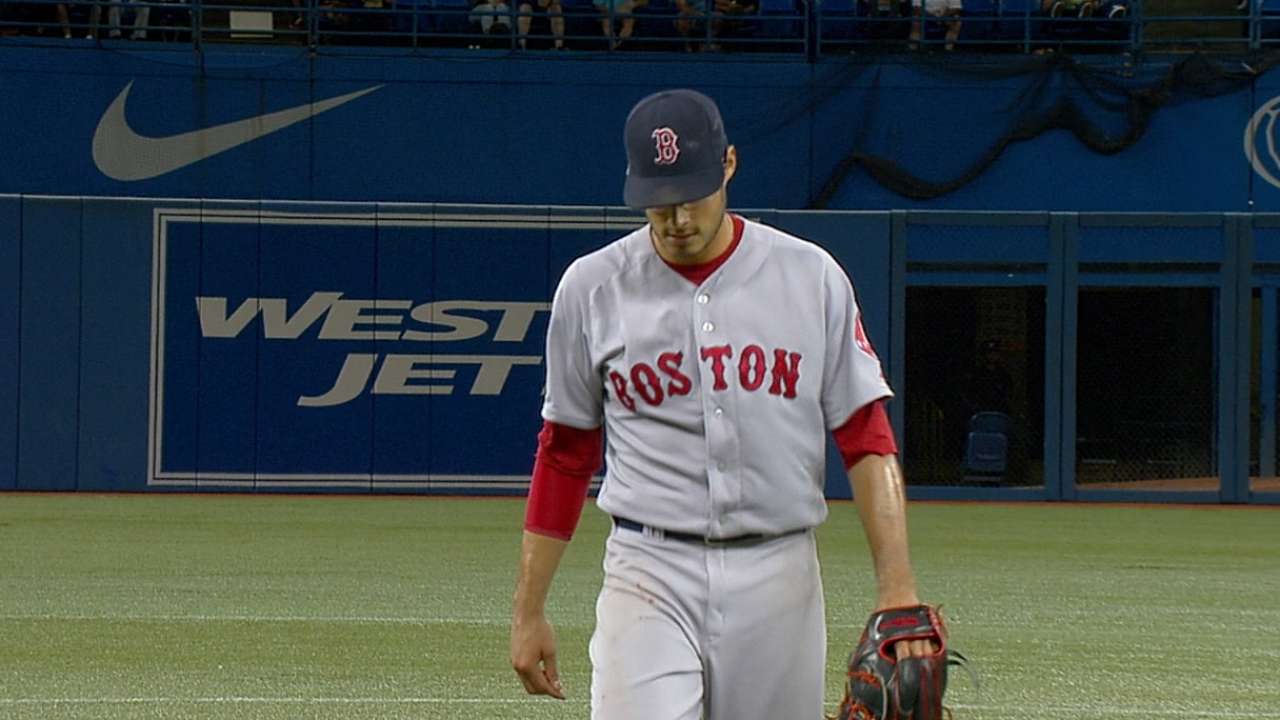 TORONTO -- Junichi Tazawa has struggled against the Blue Jays and at Rogers Centre throughout his five big league seasons, and on Wednesday, those woes sunk the Red Sox's hope of a sweep.
With Boston clinging to a one-run lead in the seventh inning, Danny Valencia belted a 2-0 fastball over the left-field wall as Toronto took the final match of the three-game series, 5-2.
"It leaped back quite a bit and went inside and I missed my location," Tazawa, who's allowed eight of his 20 career homers to the Blue Jays, said through an interpreter. "I'm aware of the history, but I blocked that out and I was just trying to be aggressive."
In seven career innings pitched at Rogers Centre, Tazawa has allowed eight runs on 12 hits. For his career against the Blue Jays, he's 1-3 in 20 appearances, over which he's worked 19 1/3 innings and given up 16 runs on 29 hits for a career 7.45 ERA.
After leaving his previous start with a sore right shoulder, Joe Kelly was on a pitch count. After allowing a leadoff double to Edwin Encarnacion in the sixth, manager John Farrell turned to lefty Tommy Layne.
Layne appeared to have the first out, but Red Sox catcher David Ross dropped a routine popup in foul territory from Dioner Navarro. The Toronto backstop used his second chance to swat a single to left field to put runners on the corners.
Ross was at a loss for words about what happened.
"I just missed it. I don't know what to say," he said.
Farrell said it looked like the wind played a factor in his catcher's error.
"The wind was whirling, and it pushed it back to him," said Farrell. "[It] caused him to turn his glove over and it went off the glove."
With Valencia waiting in the on-deck circle to bat for Juan Francisco, Farrell said Tazawa was the best option available at that point in the game.
Farrell said he thought the club had thought it corrected some problems Tazawa was having against the Blue Jays two months ago, and the Valencia homer was simply the result of a bad pitch.
"Well, we knew they we going to pinch-hit, so we went right-handed reliever," Farrell said.
That seventh spoiled a solid start from Kelly, who lasted six-plus innings and gave up two earned runs on three hits as he battled Toronto starter Marcus Stroman in what was a pitchers' duel until the later innings.
After giving up a solo shot to Jose Bautista in the first, Kelly settled in and allowed only a hit over the next five innings before exiting.
Kelly was the beneficiary of some stellar defensive plays all the way around in the infield, courtesy of diving stops from Dustin Pedroia, Will Middlebrooks and Mike Napoli and an outstanding barehanded grab-and-throw from Brock Holt.
"I wouldn't be surprised if there were a couple of Top 10 plays in there," said Kelly. "Brock made an unbelievable play. I can't give him enough credit. ... It's fun to watch."
Stroman, meanwhile, held the Sox to one hit through five innings, inducing groundout after groundout as he cruised into the sixth.
The rookie right-hander stumbled in the sixth as the Red Sox put up three hits and two runs for a 2-1 lead. All said, Stroman went 7 2/3 innings, giving up five hits and two runs (one earned) with six strikeouts and a walk.
"He's a strong kid," Blue Jays manager John Gibbons said. "He's coming out of college, he's still a youngster, but he has some innings in the Minor Leagues, too. It crosses your mind when he has a couple of outings when he struggles. Is he tired out a little bit, running out of gas? Who knows where it goes from here, but he's put together pretty good. Strong guy, low center of gravity. I don't think that will be a problem with him."
David Ortiz made his presence felt, returning to the lineup after missing a pair of games with a bruised right foot. Big Papi had a pair of singles in his first three at-bats and drove in the Red Sox's first run of the sixth inning.
Jamie Ross is an associate reporter for MLB.com. This story was not subject to the approval of Major League Baseball or its clubs.