Valencia comes off bench, delivers clutch homer
Stroman silences critics by allowing one earned run over 7 2/3 frames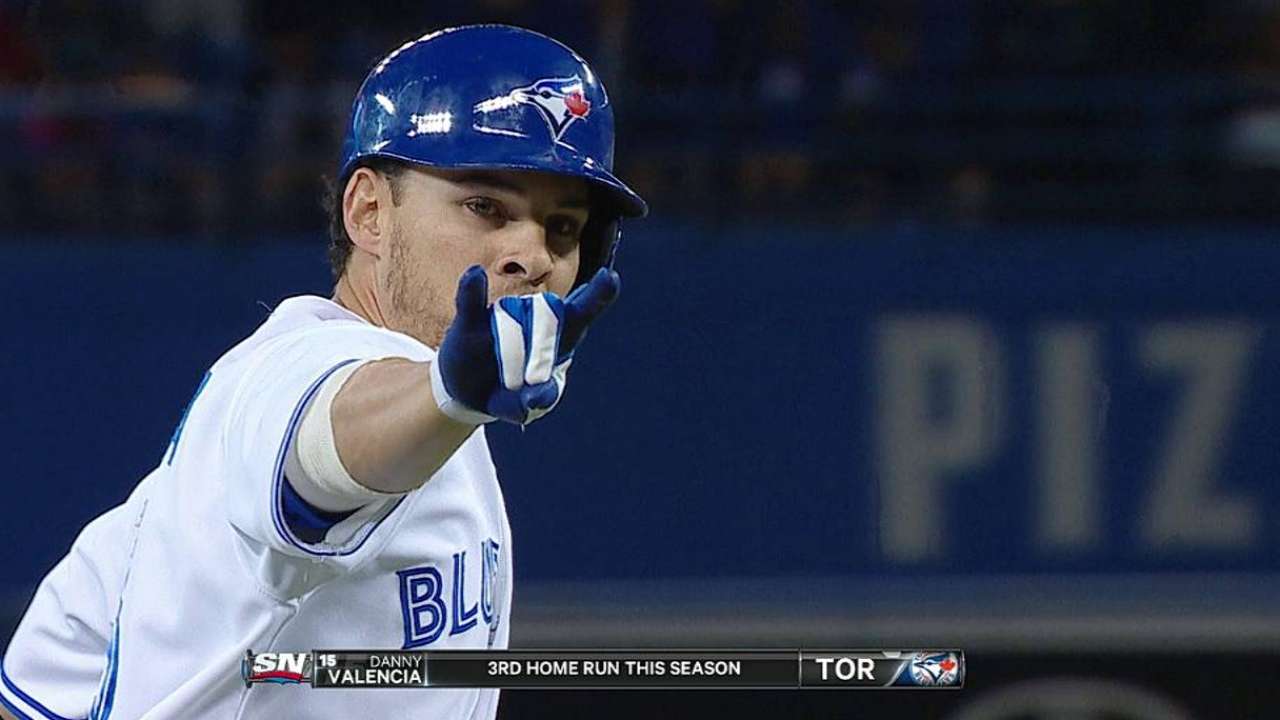 TORONTO -- The Blue Jays' lineup is typically known for hitting a lot of home runs, but that weapon has been missing for most of August. On Wednesday night, it finally returned.
Toronto posted its second multihomer game of the month. The long ball is the bread and butter of the Blue Jays' approach, and for the first time in quite awhile, it allowed them to relax.
Danny Valencia hit the go-ahead three-run homer in the bottom of the seventh inning while Jose Bautista added one earlier in the Blue Jays' 5-2 victory over the Red Sox in front of 30,285 fans at Rogers Centre.
"We haven't had that. It gives us a little bit of breathing room," said manager John Gibbons, whose club is 5 1/2 games back of the Tigers for the second American League Wild Card. "The pitcher doesn't have to be quite as perfect. ... It changes our whole philosophy. You can run some contact plays, you can be a little more aggressive. It makes quite a bit of difference."
When general manager Alex Anthopoulos constructed this version of the Blue Jays, the expectation all along was that a lot of offense would come from home runs. That's one reason why it was so surprising to see Toronto enter play on Wednesday night with fewer homers this month than any team in the Major Leagues.
The Blue Jays also scored fewer runs than any team in baseball during August. Everyone appeared to be pressing at the plate, and that was the case for much of Wednesday's game as well. Boston's right-hander Joe Kelly was borderline dominant through six innings, and it wasn't until he departed in the seventh that Toronto had an opportunity to turn things around.
The first two batters of the inning reached base and Valencia came in to pinch-hit for third baseman Juan Francisco. Boston manager John Farrell made a countermove by going to right-hander Junichi Tazawa, but it immediately backfired.
Valencia sent a 2-0 fastball over the wall in left field for his third home run of the season and first in a Blue Jays uniform.
In seven career innings pitched at Rogers Centre, Tazawa has allowed eight runs on 12 hits. For his career against the Blue Jays, he's 1-3 in 20 appearances, over which he's worked 19 1/3 innings and given up 16 runs on 29 hits for a career 7.45 ERA.
"I looked at the video and the pitch to Valencia leaped back quite a bit and went inside," Tazawa said through an interpreter. "I missed my location."
Bautista provided the other spark on offense in the first inning when he recorded his 26th home run of the season. The solo shot was Bautista's second in as many games as he continues to heat up following an 0-for-17 skid at the plate. He is now four home runs shy of hitting the 30-homer plateau for the first time since 2011.
Right-hander Marcus Stroman recovered from a pair of rough outings to get back into the win column with another solid start. He carried a no-hitter into the fourth inning and faced one batter over the minimum through five. Stroman's only blemish came in the sixth, when he loaded the bases and allowed an RBI single to David Ortiz to go along with a wild pitch for Boston's two runs.
The strong outing should go a long way in helping to silence any of the critics who thought Stroman, who was the 22nd overall pick in the 2012 First-Year Player Draft, might be running out of gas. The hard-throwing righty has thrown a career-high 134 1/3 innings between the Blue Jays and Triple-A Buffalo, but there weren't any signs of fatigue against Boston.
"He's a strong kid," Gibbons said. "He's coming out of college, he's still a youngster, but he has some innings in the Minor Leagues, too. It crosses your mind when he has a couple of outings when he struggles. Is he tired out a little bit, running out of gas? Who knows where it goes from here, but he's put together pretty good. Strong guy, low center of gravity. I don't think that will be a problem with him."
In Stroman's previous two starts, he allowed 11 runs over 5 2/3 innings. A lot of his issues were related with command with fastballs staying up in the zone and secondary pitches not having a lot of downward movement. After his Wednesday's win, Stroman said he didn't really make any adjustments between outings but got back to what he normally does.
"Just sometimes you're going to be up," Stroman said. "That's the biggest thing for me is to constantly try to fight to stay down in the zone. Sometimes I'm just up and I had a stretch there when I was up in the zone. I'm happy to be back down and locating my heater down."
Despite Wednesday's result, Toronto still has just one series win in its past eight. The Blue Jays have been outscored 123-75 in 23 games this month en route to a 7-16 record. The win did allow the Blue Jays (67-66) to avoid dropping below .500 for the first time since May 14, when they were 20-21.
"Obviously we've been struggling and every win's important," Valencia said. "To come out on top today, salvage the series, go into the off-day, recoup and then come into play this weekend should be good for us."
Gregor Chisholm is a reporter for MLB.com. Read his blog, North of the Border, and follow him on Twitter @gregorMLB. This story was not subject to the approval of Major League Baseball or its clubs.