Davis' big blast backs brilliant Locke in series finale
Bucs inch closer to Cardinals in division race after winning home set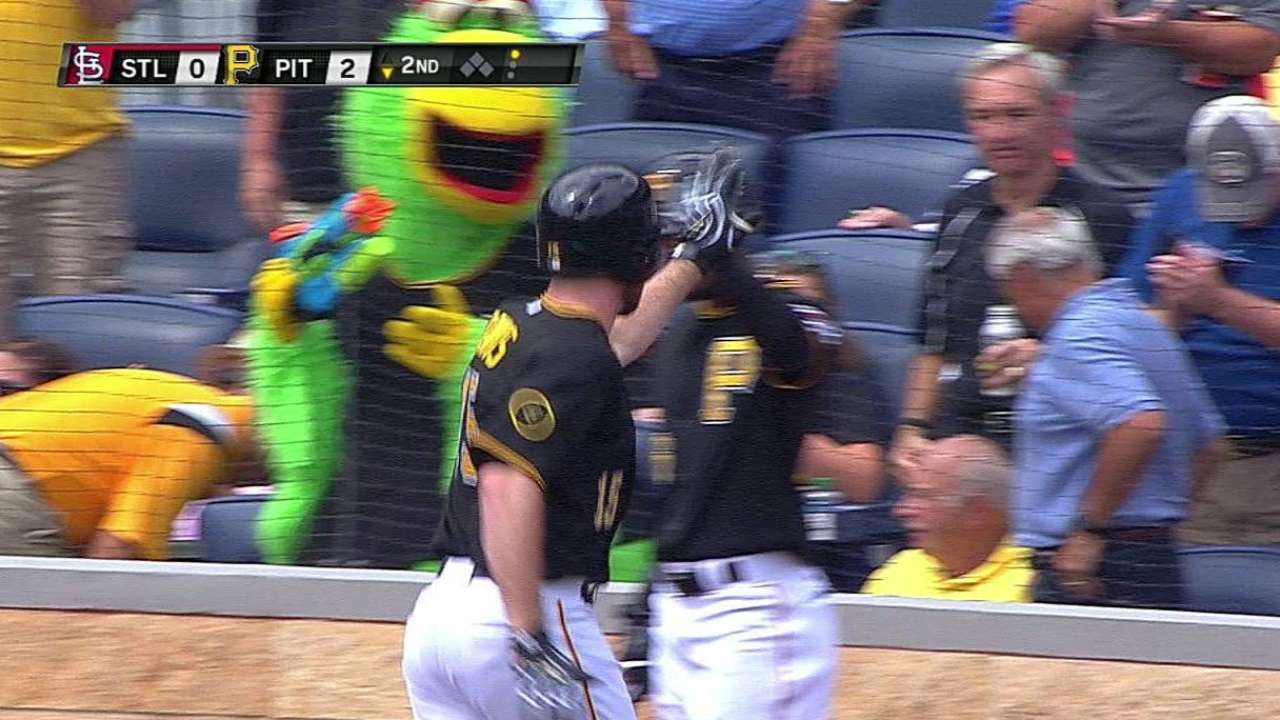 PITTSBURGH -- A year ago, Jeff Locke was on his way to pitching himself off the Pirates' postseason roster. Now, he is doing his best to pitch the Bucs into another postseason.
A year ago, Ike Davis was swinging for himself, with the rest of the New York Mets sitting more than 20 games out of a postseason spot.
This stretch-drive figures to unfold in heavy traffic, with lumps-in-the-throat laps. The Bucs will need steady hands on the wheel, icy veins on the mound -- and big swings from the batter's box. Once again on Wednesday, Locke and Davis filled those requirements.
Locke held St. Louis to six hits and a run through 7 1/3 innings to make Davis' two-run homer off Adam Wainwright stand up for a 3-1 victory in PNC Park under afternoon sunshine.
"It's hard when you're mathematically eliminated," said Davis, who raised the curtain Wednesday afternoon the same way he had lowered it Tuesday night, with his pinch-hit three-run homer in the eighth of the Bucs' 5-2 win. "You hit a homer, it still makes you feel great ... but you kinda also feel like it didn't really matter. If you're still in it, it definitely feels a little sweeter."
The win kept the Bucs within 1 1/2 games of the second National League Wild Card spot in the Giants' current possession, and also inched them 4 1/2 games behind NL Central leader Milwaukee and 2 1/2 games behind second-place St. Louis.
If Davis feels resurrected from baseball's depths, Locke feels like he has come back from an even deeper chasm. Going 2-5 with a 6.12 ERA after the All-Star break last season not only left him out of the Pirates' playoff plans, it squeezed him out of the team's 2014 plans.
Locke got an early sense of that. With the added hindrance of an oblique strain, he felt like a forgotten man in Spring Training.
"Absolutely," Locke said Wednesday. "I felt I'd earned a position on this team last season, but because of the way things ended, I didn't feel like I was going into this season where I wanted to be.
"I expected to be in the rotation when camp broke. I did get hurt, but I don't know if I would've been in there regardless of whether I was hurt or not. We had too many options -- and it's never a bad thing to have starting pitcher options. It was just one of those circumstances you have to tough out if you want to have any kind of career."
Locke, who had never before pitched past the seventh inning, did so for the fifth time this season, which did not begin until his June 8 recall from Triple-A Indianapolis. He made a strategic exit after retiring Randal Grichuk for the first out in the eighth -- so Tony Watson could take over against Holliday -- and left to a well-deserved standing ovation from the crowd of 29,905.
"At this point last year, I was probably shaping up to finish the season real soon," Locke said. "Ever since coming back [from Indianapolis], I've just been focused on being strong and healthy down the stretch, to give this team a chance to move forward. That was my biggest takeaway from last year -- it wasn't the ups and downs, but not being here at the end and not being able to contribute. I've really focused on changing that this time."
To Davis, one of his newer teammates, this was a typical day for Locke.
"He keeps hitters off balance," Davis said. "Paints corners -- every time he has the ball, you have a chance to win."
"He was making good pitches on the third-base side. I've never seen so many strike-three freeze calls," said Mike Matheny, the Cardinals manager who also spent considerable time behind the dish as a big league catcher. "He was below the zone with the offspeed pitches when he needed to be. He was back and forth all day long."
Matt Holliday drilled a solo shot in the third, but the Bucs got that one back in the bottom of the inning on Andrew McCutchen's sacrifice fly.
Wainwright manned up to his biggest threats to keep the game tight, limiting the damage to a minimum in a pair of bases-loaded jams. The most opportunistic came in the third, with none out, when, following the McCutchen scoring fly, Wainwright fanned both Neil Walker and Russell Martin. After the Bucs reloaded the bases with two outs in the fifth, Wainwright escaped on Davis' sharp liner at second baseman Daniel Descalso.
"I take pride in the fact that I'm still getting those tough outs," Wainwright said.
Tom Singer is a reporter for MLB.com and writes an MLBlog Change for a Nickel. He can also be found on Twitter @Tom_Singer. This story was not subject to the approval of Major League Baseball or its clubs.