Cards go quietly against Bucs to end road swing
Holliday supplies only run as Wainwright battles through quality start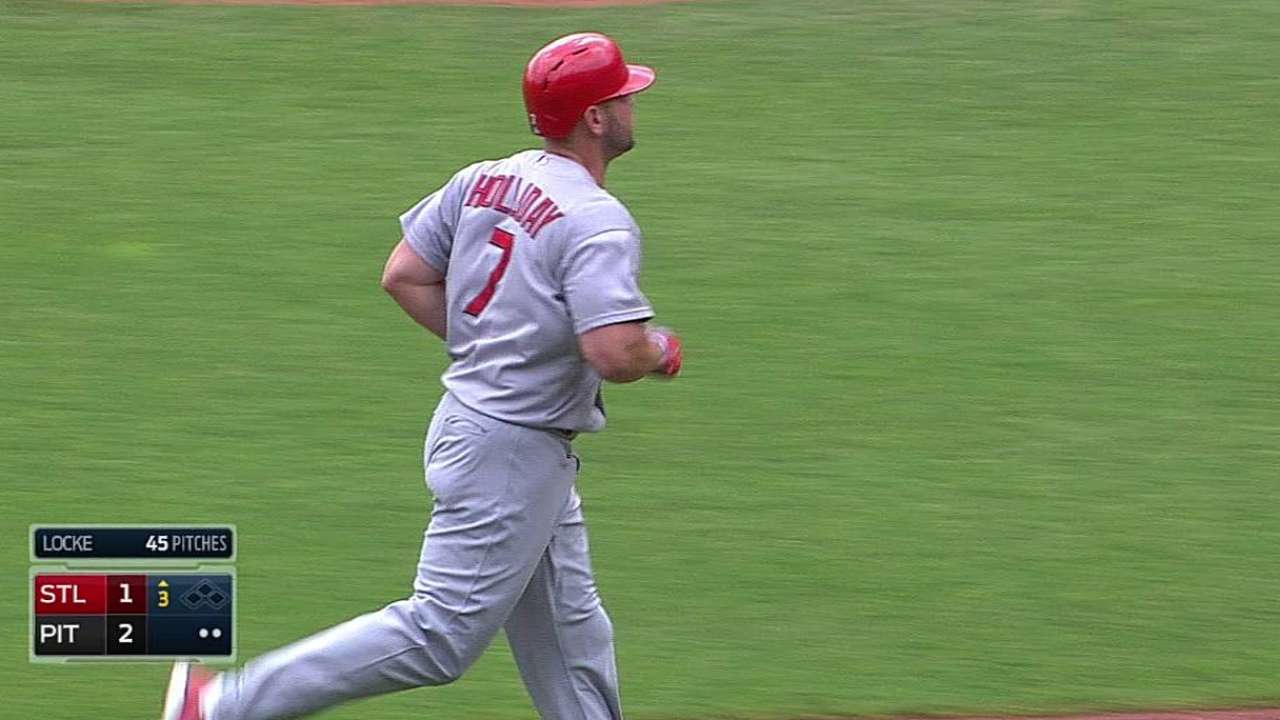 PITTSBURGH -- With the offense again quiet and their ace still working out some second-half kinks, the Cardinals ended a disappointing swing through Pennsylvania with Wednesday's 3-1 loss to the Pirates, who now lurk 2 1/2 games behind St. Louis in a three-team National League Central race.
A chance to bury the hanging-around Bucs went untapped as the Cardinals dropped back-to-back games after stealing a come-from-behind win on Monday. The momentum gained during a strong homestand last week was sapped by a stalling offense this week, as St. Louis tallied six runs in this three-game series.
As a result, the Cardinals spoiled quality starts first from Lance Lynn, then from Adam Wainwright in front of 29,905 at PNC Park. Wainwright's outing wasn't pretty, as the Pirates dotted the basepaths with runners throughout a laborious, 103-pitch effort that was marred by another Ike Davis home run. But he also managed to keep his outing from spiraling out of control.
Wainwright just didn't have the batters' backing to make that much of a moral victory.
"The guy is a warrior," manager Mike Matheny said of his ace. "He is just an absolute example of how you're supposed to continue to go through this. It's too bad that we couldn't have gotten a little more run support."
It was a strenuous six innings for Wainwright, who continued to aptly describe his stretch since the All-Star break as a grind. After going 12-4 with a 1.83 ERA before starting the Midsummer Classic, Wainwright has a 4.68 ERA in eight starts since. The Cardinals have won only three of those games.
The troubles have been multifold, too, from mechanical slips to fastball command dips to, as Wainwright acknowledged on Wednesday, the need to fight through a dead arm period. He and Matheny have struck down attempts to attach the recent trouble to workload -- Wainwright has thrown 462 2/3 innings since the start of 2013 -- and especially to the absence of longtime batterymate Yadier Molina.
There was also agreement that August can't pass soon enough.
"It has been a grind, and I'll just continue to go out there and battle my tail off until things click back into place," said Wainwright, who lost four games this month, a first in his career. "It's been a while, and I'm ready to move on. As ugly as it is, and whatever it may look like, I'm still holding us in the game and I know that we're close. This month is over for me. I'm ready to move onto September and build off the few good pitches I did throw."
Several of those came in the first inning, which Wainwright breezed through on 11 pitches. He struck out two. The battle then began in the second, during which the Pirates take a 2-0 lead in a two-pitch span. After hitting catcher Russell Martin, Wainwright watched Davis send a cutter over the wall in right-center.
The homer followed a similar trajectory to the one the first baseman hit off Cardinals reliever Seth Maness to win Tuesday's game.
"It's a cutter, and it's in. But it's down and in, and that's every lefty's honey hole, especially a big, strong fellow like [Davis]," Wainwright said. "If I'm throwing that pitch, it needs to be up on the hands."
The Pirates scored again off Wainwright in the third after loading the bases with three singles. Wainwright prevented a bigger inning by closing the threat with strikeouts of Neil Walker and Martin. He kept the Pirates from capitalizing when they loaded the bases in the fifth, too. Those two innings, as well as the second, took Wainwright 20-plus pitches to navigate through.
"I do see him making the most of what he's got," Matheny said. "It's just trying to consistently keep that feel. Even though the scoreboard didn't show it, he got it done today. This guy went out and did everything we asked him to do."
The offense, which Wainwright bailed out with regularity earlier this year, could not return the favor against Pirates starter Jeff Locke. The lefty served up a solo homer to Matt Holliday in the third, but he otherwise limited the Cardinals to five hits, four of which were singles.
In the series, three Pirates starters limited the Cardinals to three runs in 19 1/3 innings.
"First-pitch strikes set up some things," Pirates manager Clint Hurdle said of Locke. "Any time they got a guy on, he was able to make pitches and stop any potential rally."
After scoring four or more runs in 10 straight games, the Cardinals have a four-game total of seven since Sunday. The club has seven extra-base hits and is 5-for-24 with runners in scoring position over those 36 innings.
After Holliday's 13th homer of the season, the Cardinals pushed only one runner as far as second base against Locke, Tony Watson and Mark Melancon to nail down the win. The loss sent St. Louis home with a 2-4 road trip.
"Every time we face these guys and from here on out, every game is so important," Matheny said. "[The trip] could have gone a little different, and today we had a pitcher we couldn't get anything going against. We just have to go back to the grindstone after we get a day tomorrow."
Jenifer Langosch is a reporter for MLB.com. Read her blog, By Gosh, It's Langosch, and follow her on Twitter @LangoschMLB. This story was not subject to the approval of Major League Baseball or its clubs.