Shoemaker stellar in drubbing; Halos alone in first
Rook allows two hits in seven scoreless; Trout, Pujols lead 5-run fourth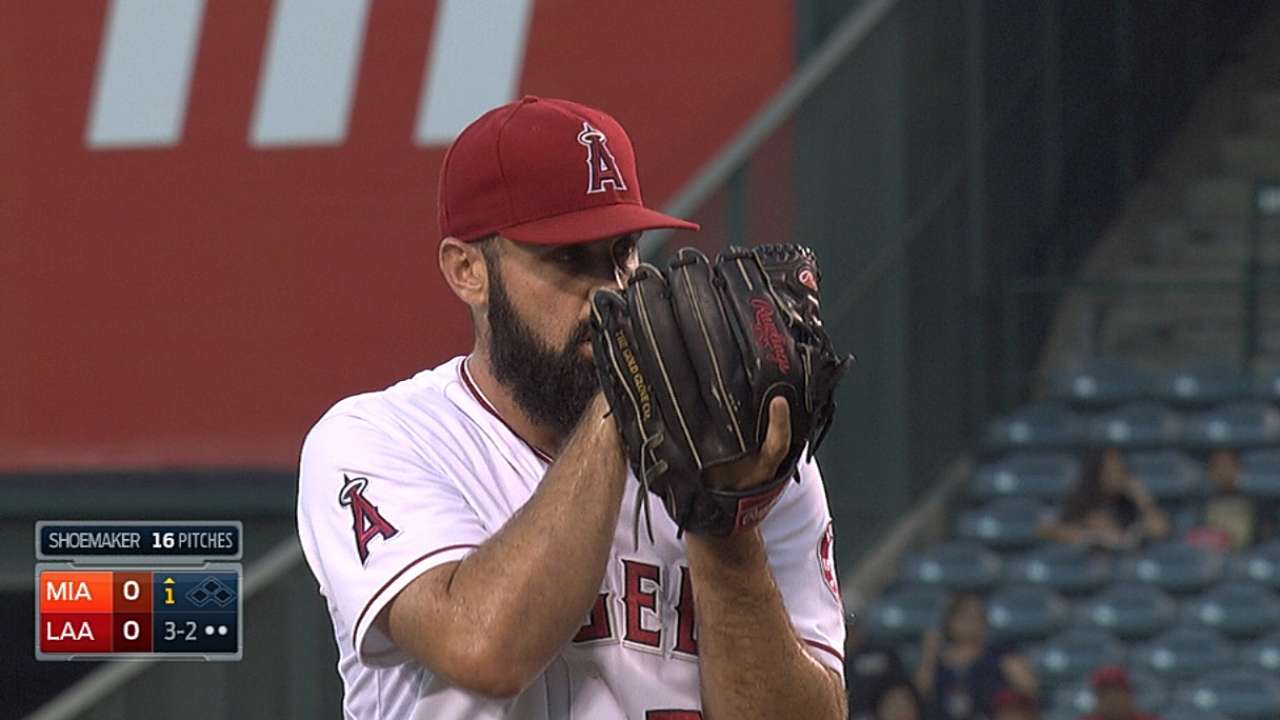 ANAHEIM -- It's becoming harder to remember what Matt Shoemaker wasn't and easier to recognize what he is.
Shoemaker wasn't drafted. He wasn't a Major Leaguer until after he was a seven-year Minor Leaguer. He wasn't part of the Angels' Opening Day rotation.
He wasn't supposed to do this.
But thanks to another dominating performance during the Angels' 8-2 win over Miami on Tuesday, Shoemaker is now a 13-game winner, a No. 3 starter on the best team in baseball, and an innings-eater on a team that desperately needs them.
"You see the beard and you think he's 35 and he's a vet, but he's really held his own and his composure is beyond his years," catcher Hank Conger said.
Shoemaker followed a one-hit masterpiece in Boston on Thursday by twirling a two-hit gem against the Marlins, getting through seven innings and striking out six while walking just two.
Coupled with Oakland's 4-2 loss to Houston, the Angels' win broke a tie with the A's and placed them alone atop the American League West again. The Halos have spent the last 11 days in first place.
"Shoe just keeps doing what he's been doing all year," Angels manager Mike Scioscia said.
But he hasn't been doing it like he has in his last two starts.
Since allowing two runs at Texas on Aug. 16, Shoemaker has tossed 16 2/3 innings of scoreless baseball, looking more like a veteran with years of experience instead of the 27-year-old rookie with 17 career starts.
"It's hard to top the outing he had last outing in Boston," Conger said. "I think the past couple of starts, he's doing an outstanding job as far as just executing pitches when he needs to."
In wins over Boston and Miami, Shoemaker faced 52 batters. He recorded 44 outs.
Only eight of those outs have come in the air, with the remaining ones coming via strikeouts and groundouts, a good indicator that his pitches are staying low and that his sinker is working, Conger said.
"For me, when he's out there and he's starting, I'm not really expecting strikeouts," Conger said. "For him just to get early outs and go deep into games, especially now for us, it's August, it's getting into September, any sort of early outs he can get is really huge."
While Conger may not expect strikeouts from Shoemaker, not many could have expected anything from the pitcher at the beginning of the season. But he has given the Angels a rock to roll out every five days and their first rookie 13-game winner since 1997.
"Although we don't have a crystal ball, you know that some guys are just waiting for an opportunity," Scioscia said. "It's tough enough to make it to the Major Leagues, but to make your footprints is a totally different chapter in your development. He is making the most of getting the baseball every fifth day and going out there and pitching."
Shoemaker said the confidence to be this good has always been there, even in his years toiling in the Minors. In his last seven outings (six starts), he is 6-1 with a 1.31 ERA.
"If you're going to feel like you belong, you want to keep getting better each day and be successful," Shoemaker said.
While Shoemaker's two dazzling outings have led to Angels wins, they've also led to a rested bullpen. In the games before his last two starts, Angels relievers threw a combined 13 innings, and Shoemaker's deep starts have given the 'pen a welcome breather.
"Today, there was no doubt that we needed some length from Matt," Scioscia said. "Getting into the seventh is huge, especially putting up zeros. That's more important than anything, winning the ballgame."
Miami failed to reach second base until the eighth inning, one night after it pounded Angels starter Wade LeBlanc for six runs in 3 1/3 innings.
The Angels' offense did more than enough to back Shoemaker, knocking 13 or more hits and scoring seven or more runs for the second time in three games. Every Angels starter except Josh Hamilton registered a hit, and five different players drove in a run.
Mike Trout and Albert Pujols led the offensive onslaught with a combined six hits, three RBIs and two runs scored. It was the first time since June 14 that each of the Angels stars had at least three hits.
"The offense came alive. Guys in the middle, particularly Mike and Albert, really carried us tonight," Scioscia said.
The Angels struck early, pushing across a run in the first on Howie Kendrick's RBI single that scored Trout. They scored five more behind six straight hits in the fourth, punctuated by Pujols' two-run single to score Kole Calhoun and Trout.
They added another in the fifth on Efren Navarro's RBI groundout and one more in the seventh on Conger's RBI single.
Matthew DeFranks is an associate reporter for MLB.com. Follow him on Twitter @MDeFranks. This story was not subject to the approval of Major League Baseball or its clubs.