Paxton cruises as Mariners blank Rangers
Lefty allows four singles over 6 2/3; Cano's HR sparks rout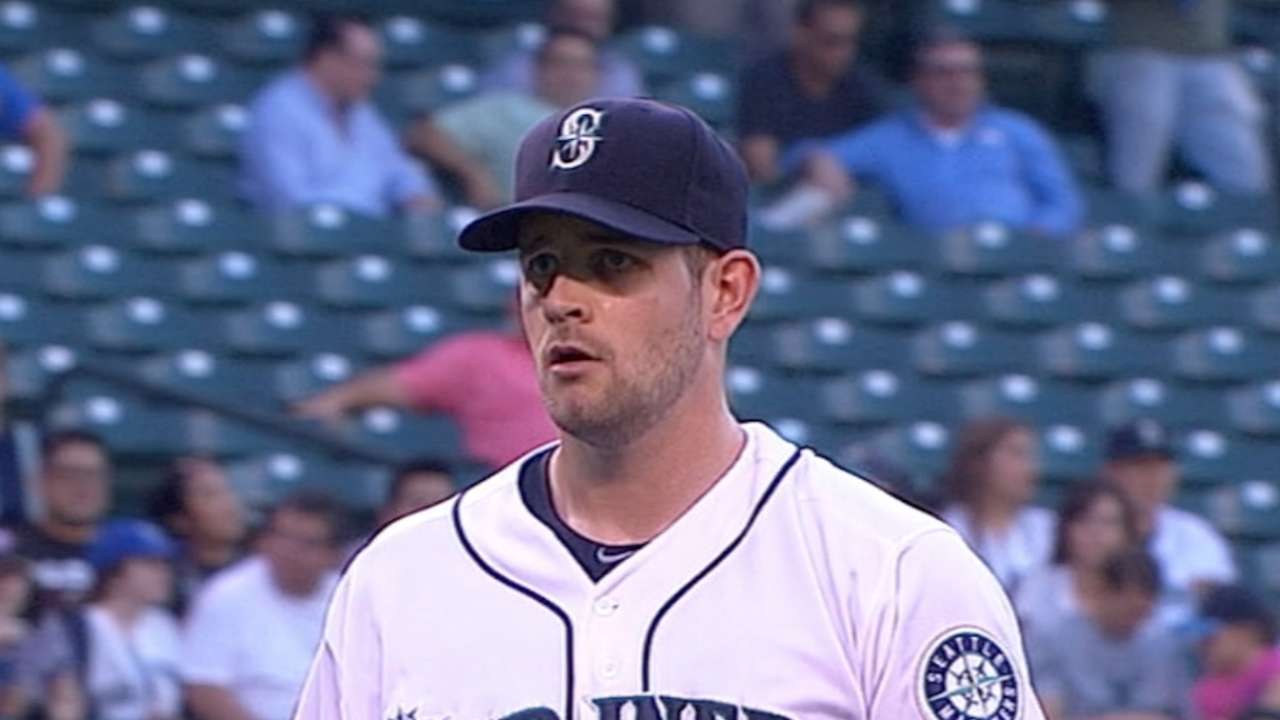 SEATTLE -- As the Mariners hit the stretch run in pursuit of their first playoff appearance since 2001, they've picked up a valuable addition to their rotation with rookie southpaw James Paxton returning to health.
Paxton bounced back from the first loss of his career to throw 6 2/3 scoreless innings Tuesday night as Seattle rolled to a 5-0 win over the Rangers at Safeco Field and maintained its hold on the second Wild Card position in the American League.
Paxton improved to 4-1 with a 1.83 ERA in seven starts this season and 7-1 with a 1.71 ERA in 11 outings overall, the best ERA for any Major Leaguer through 11 career starts since 1990.
"This guy's good," said Mariners manager Lloyd McClendon. "For me, and I said it early, he's the X-factor. He's the glue for this rotation and I believe that. We need to get him ready."
The Mariners are 15-5 over their past 20 games to put their record at 72-59, as they've now exceeded last season's 71-win total with 31 games still to go. Seattle kept its half-game lead on Detroit in the race for the AL's last Wild Card berth as the Tigers kept pace with a 5-2 victory over the Yankees.
Paxton missed nearly four months with shoulder issues that landed him on the disabled list, but Tuesday's start was the longest of the five outings since his return and the youngster could play a big part in the Mariners' postseason pursuit as he adds another strong arm behind veterans Felix Hernandez, Hisashi Iwakuma and Chris Young.
After lasting a career-low four frames in his previous outing in Philadelphia, the 25-year-old pumped out a career-high 118 pitches while allowing just four hits -- all singles -- with three walks and four strikeouts.
"I feel like I'm getting closer with each start," Paxton said. "My stuff is starting to come around a little bit better each time. I just need to keep on pushing forward and get that feel earlier in the game so I can save some pitches and not have to throw 118 or whatever I threw today."
As for finally pitching in big games after months of rehab and two different comeback attempts, Paxton just smiled.
"It's a lot of fun," he said. "We're playing some important baseball games right now and it's great. We're all feeling really good, really confident. We feel like we're going to come out here and win every night."
Danny Farquhar replaced Paxton and held Texas to just one walk over the final 2 1/3 innings. Seattle has allowed three runs or fewer in each of its last 14 home games since July 25. Since 1901, only the 1965-66 Dodgers (16) and 1966-67 White Sox (15) have had longer home streaks of three or fewer runs.
Seattle is 54-10 when scoring four or more runs and the Mariners hit that mark early in this one, with Robinson Cano leading the way with his 12th home run of the season and fifth in August.
Cano said the Mariners did well to bounce back from Monday's lackluster 2-0 loss after returning from a long road trip.
"Sometimes you need that, to wake up everybody," he said. "I tell the guys, no matter what you did in the past, every game means something and every game counts."
Cano lofted a solo home run into the right-field seats in the first inning for his 71st RBI, and the Mariners made it 2-0 in the second when Jesus Sucre forced in a run with a bases-loaded groundout after Kyle Seager singled and Chris Taylor and Endy Chavez walked.
Seattle then opened some space with a three-run fourth as Chavez laced a two-run double over the head of center fielder Daniel Robertson and Dustin Ackley singled in another run after Austin Jackson tripled.
Chavez was thrown out going to third following his double, but the veteran said he went because he saw Taylor close on the heels of Logan Morrison after Morrison momentarily tagged up at second while Taylor was running hard from first the whole way and nearly caught him at home plate.
"I thought Taylor was going to be stopping at third, but when I saw both runners going, I thought, 'I've got to do something to make sure they both score,'" Chavez said. "So I continued to run to third so the throw would get cut off and they could score easily."
A veteran move by the savvy Chavez, who was a late fill-in for Chris Denorfia in right field after Denorfia came up with a stiff neck. Chavez also didn't know if his well-hit ball to center was going to clear Robertson's glove until the last second.
"I was blowing, 'whew, whew,' so it would go over his head," Chavez said with a grin. "I'm glad the ball fell down and we scored two runs. That was a big two runs."
And a big victory for a Mariners club that pulled within five games of Oakland for the second spot in the AL West with its 16th win in August, second only to the Royals' 18 in the American League.
Greg Johns is a reporter for MLB.com. Follow him on Twitter @GregJohnsMLB as well as his Mariners Musings blog. This story was not subject to the approval of Major League Baseball or its clubs.