Bats go quiet as Martinez struggles in Seattle
Rangers drop battle of rookie starters; Rios exits with thumb injury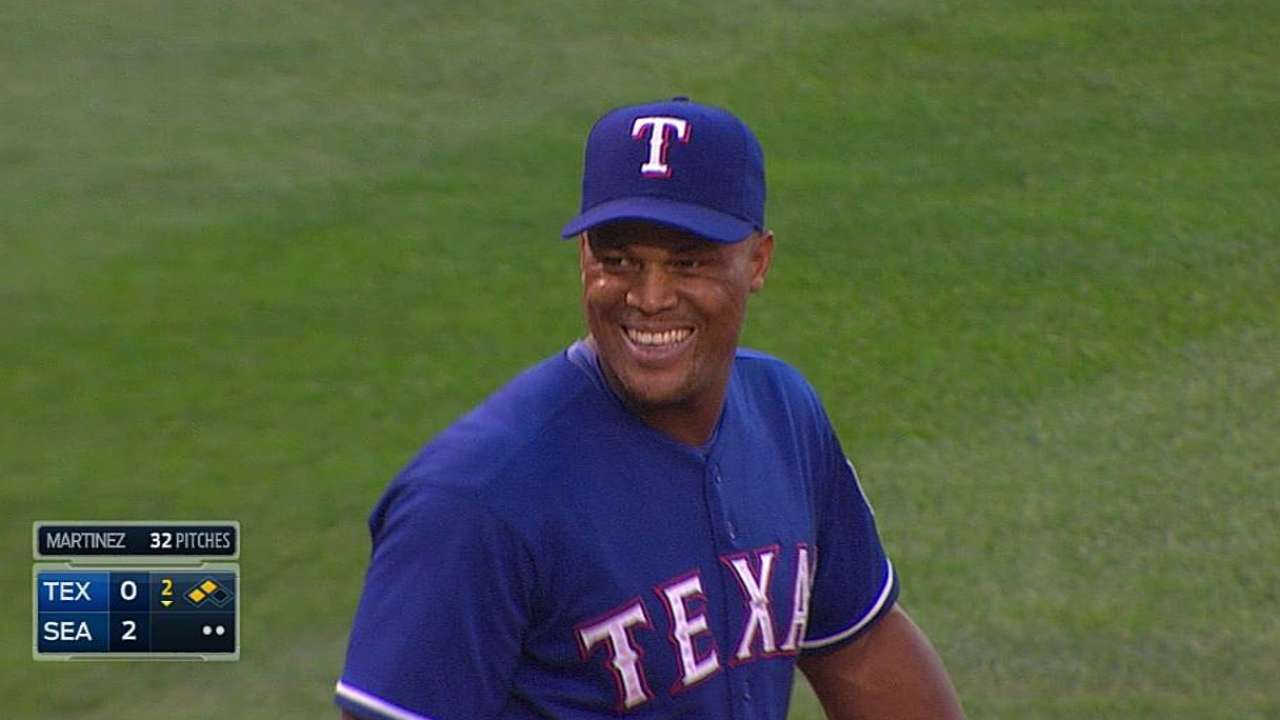 SEATTLE -- The Rangers' hopes of their first three-game winning streak since June 11-14 were snatched away by the Mariners and left-hander James Paxton on Tuesday night.
In a meeting of rookie starters, Paxton held the Rangers scoreless on four singles through 6 2/3 innings in the Mariners' 5-0 victory at Safeco Field. Paxton beat Rangers starter Nick Martinez, who allowed five runs in five innings.
"He just didn't command the baseball the way he has been earlier," Rangers manager Ron Washington said. "He couldn't get his fastball where he wanted it and he couldn't get his breaking ball over with any consistency and he left his changeup up a lot. He just didn't have his command."
Adrian Beltre had two of the Rangers' four singles. Alex Rios was 0-for-3 with three groundouts and was lifted in the eighth for pinch-hitter Jim Adduci. Rios is dealing with a bruised right thumb that showed considerable swelling after the game. He probably won't play in Wednesday afternoon's series finale.
"I'm having a little issue," Rios said. "It is what it is."
Against the Rangers' limited lineup, Paxton showed why pitching has pushed the Mariners into playoff contention in the American League. The Mariners have a team ERA of 2.92 and are trying to become the first AL team to finish under 3.00 in a full season since the 1974 Athletics.
"He was good," Washington said. "He is one of their promising young arms. He throws hard and drops some good breaking balls in there. He moved his fastball around with some velocity. He has a good arm."
Paxton, a fourth-round pick in 2010 out of the University of Kentucky, was making his 11th Major League start while Martinez, an 18th-round pick in 2011 out of Fordham University, was making his 18th start.
The much bigger difference between the two is Paxton has more than 300 innings of experience at the Double-A and Triple-A levels of the Minor Leagues. Martinez has just over 40, all at Double-A.
He has been forced to get his experience in the American League, and Tuesday's loss left him 3-10 with a 5.31 ERA on the season. He is the sixth Rangers rookie pitcher to lose at least 10 games in his first season.
"I didn't think it would be like this but that's how it turned out," Martinez said. "I would much rather learn going 25-0."
This is the most losses and highest ERA (minimum 100 IP) by a Rangers rookie since Derek Holland went 9-13 with a 6.12 ERA in 2009. Holland recovered from that to pitch in two World Series. Washington said Martinez's lack of experience has been evident throughout the season.
"It's hurt him," Washington said. "When things aren't going as well as he'd like, he's still trying to find out how to get back in sync. He was out there competing tonight, he just couldn't find a way to get back in sync. That's inexperience."
Martinez allowed six hits and walked four, the second most for him in a start this season. The walks figured prominently in the Mariners scoring.
"I was nibbling," Martinez said. "I was trying to make too fine of pitches and walks killed me. It comes from being over-confident ... confident that I can hit my spot and that's trying to be too fine."
Martinez retired the first two hitters he faced on ground balls before Robinson Cano hit a 1-1 curve over the right-field wall to give the Mariners the lead.
In the second, Martinez gave up a leadoff single to Kyle Seager and one-out walks to Chris Taylor and Endy Chavez to load the bases. Jesus Sucre followed with a grounder down the third-base line. Adrian Beltre made an outstanding play and strong throw to first for the out but Seager scored on the play.
Martinez started another Mariners rally in the fourth by walking Logan Morrison. Taylor followed with a single and both scored on a double by Chavez. The Rangers did get Chavez trying to go to third on the throw to the plate. But the Mariners added another run in the inning on a triple by Austin Jackson and a single by Dustin Ackley.
"I thought I was making good pitches," Martinez said. "But it all comes back to being too fine with the fastball."
T.R. Sullivan is a reporter for MLB.com. Read his blog, Postcards from Elysian Fields, and follow him on Twitter @Sullivan_Ranger. This story was not subject to the approval of Major League Baseball or its clubs.