Bumgarner takes perfecto into eighth in one-hitter
Morneau's double the only runner allowed by lefty; Posey homers twice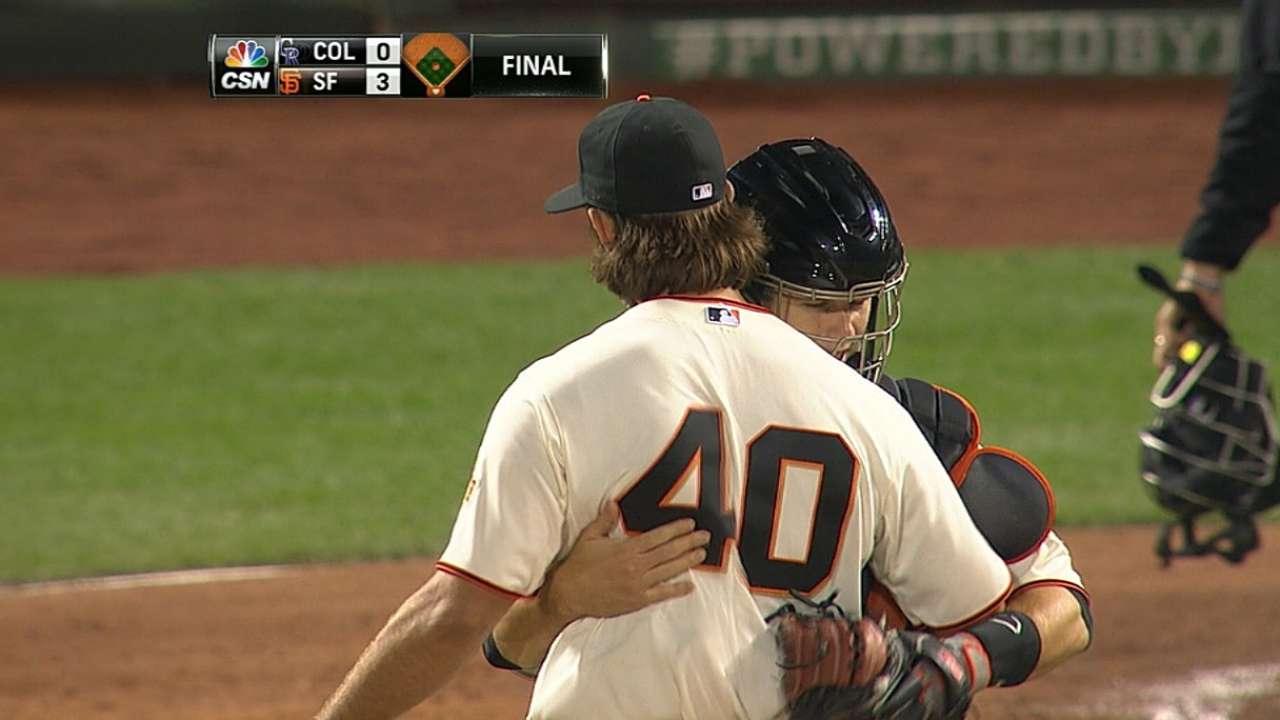 SAN FRANCISCO -- After catching the final out of Madison Bumgarner's Tuesday night masterpiece, Matt Duffy handed the ball to the man of the hour, who will eventually enshrine the keepsake in his personal trophy case. His shutout won't be immortalized in the history books, but it might as well.
Bumgarner was six outs away from a perfect game at AT&T Park when Justin Morneau intruded on the ace's flirtation with perfection, poking a double down the right-field line. That was all the offense the Rockies could amass, though, and the Giants won, 3-0, thanks to the star lefty's second career one-hitter.
There weren't any dogpiles on the mound or postgame champagne toasts in the clubhouse Tuesday, as was the case after Matt Cain's 2012 perfect game and Tim Lincecum's two no-hitters. But, as the numbers attest, fans along the shores of McCovey Cove were treated to one of the more dominant pitching performances in Major League history.
One hit allowed. A career-high-tying 13 strikeouts. Fifteen of the 28 batters faced fell into 0-2 counts. Eighty of 103 pitches were strikes.
"That game was probably more impressive than a lot of no-hitters," manager Bruce Bochy said. "That's how well he threw tonight."
That includes the 1-2 curveball Morneau knocked down the right-field line to lead off the eighth.
"I was going to try and bounce one low and away, and I think it would have bounced had he not hit it," said Bumgarner, who is tops in the National League with six double-digit strikeout games this season. "He's a good hitter and he happened to hit it pretty good.
"I felt good about it and have no regrets on throwing it."
For Bochy and Buster Posey, the most impressive aspect of Bumgarner's brilliance, even moreso than the one hit he allowed or his impeccable command, was what happened after the hit: four consecutive strikeouts.
Thanks to the hit, there wasn't another edition of Buster Hugs, but there was plenty of Buster Help.
Bumgarner's batterymate ensured he would have the little run support he'd need in the sixth inning. After a leadoff walk by Hunter Pence, Posey turned an 82 mph splitter from Jorge De La Rosa into a two-run blast to left-center to give the Giants a 2-0 lead. Posey added a solo shot in the eighth for his second career multi-homer game.
"No question," Posey said when asked if the run support was a major relief in the dugout. "At that point, you could sense that he had an opportunity to do it, and it definitely would've gotten a bit stressful if we didn't have any runs on the board in the ninth."
If not for a pair of tremendous defensive plays early in the game, perfect-game chatter would've never commenced.
It was way too early to consider the potential magnitude of the catch, but Gregor Blanco -- who has a knack for working his way into the highlight reel during perfect (or near-perfect) games from Giant pitchers -- preserved the bid for the perfecto well before history crept into anyone's minds. In the game's second at-bat, Drew Stubbs smacked a 93 mph fastball to deep left. Blanco tracked back and timed his leap to make the snag at the top of the wall.
In the fifth inning, Matt McBride hit a grounder toward the hole to Brandon Crawford's right. Crawford ranged right, gathered the ball and one-hopped his throw across the infield in time for Michael Morse to make an excellent pick, to preserve the perfect game through five. The play was bang-bang, but after a brief conversation with first-base umpire Jim Joyce, Rockies manager Walt Weiss opted not to issue a replay challenge.
"They looked very determined to straighten that out tonight," Bochy said of the defense, which committed four errors and balked in a run Monday. "We played very crisp baseball. The defense really picked us up, especially early. It's good to see guys bounce back."
The win kept the Giants five games behind the Dodgers in the National League West and increased their advantage on the Braves for the NL's second Wild Card spot to 1 1/2 games.
To Bumgarner, that was Tuesday night's most notable statistic.
"It's a cool thing to do and a good individual accomplishment, but that's not important to me," Bumgarner said when asked if throwing a no-hitter or perfect game is a goal. "It's definitely an amazing accomplishment, but when it comes down to it, we're trying to win games; it's not about something about yourself.
"The fact that we won was more than enough. That's all we're trying to do anyway."
Ryan Hood is an associate reporter for MLB.com. Follow him on Twitter @ryanhood19. This story was not subject to the approval of Major League Baseball or its clubs.