Big frame dooms Eovaldi in Marlins' loss
Righty allows six runs -- five in fourth -- in 3 1/3; Miami stifled until 9th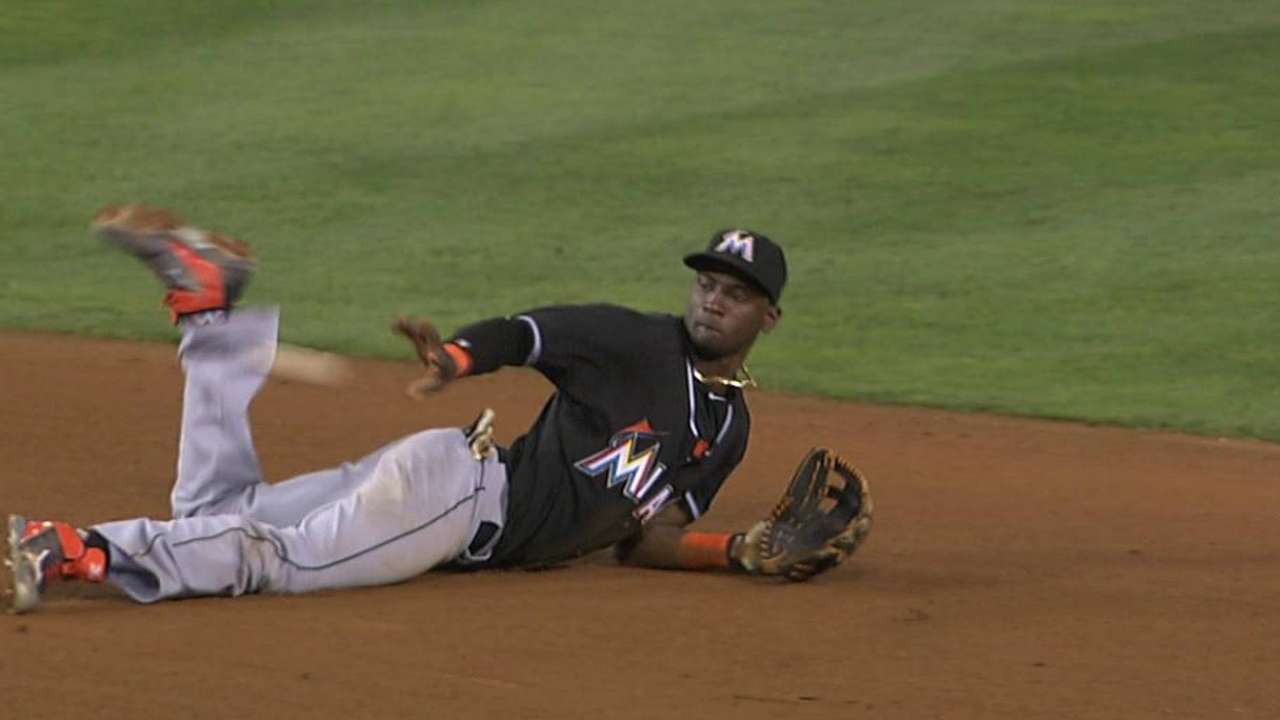 ANAHEIM -- Avoiding the big inning has been an issue of late for Nathan Eovaldi. It plagued the Marlins' right-hander once again on Tuesday night.
The big damage off Eovaldi came in a five-run fourth inning that propelled the Angels to an 8-2 victory over the Marlins at Angel Stadium of Anaheim.
Eovaldi was charged with six runs on 10 hits in 3 1/3 innings, his shortest stint of the season.
"Extremely discouraging," said Eovaldi, who fell to 6-9 on the season. "Really frustrating. I'm just going through a rough little rut right now. Keep grinding and work through it."
Mike Trout had three hits and an RBI, and Albert Pujols added three hits and two RBIs for the Angels, who rebounded after the Marlins took Monday's opener, 7-1.
Eovaldi has won just one of his last seven decisions, and Miami is counting on him down the stretch.
"To be able to win games at the big league level, you've got to be able to pitch," manager Mike Redmond said. "He's got a great arm, but eventually you've got to start executing some pitches and stay away from contact and big innings. That's what has been tough for him."
Boosted by an early lead, Angels right-hander Matt Shoemaker cruised through seven shutout innings, allowing just two hits while striking out six.
"He was good," Redmond said of the Angels' right-hander. "He was able to throw some breaking balls. He's got a nice split-finger. He's good. He's got good stuff. He pitched really well."
The Marlins didn't have a runner reach as far as second base until the eighth inning. Jarrod Saltalamacchia's two-out RBI double in the ninth inning put Miami on the board, and Ed Lucas followed with an RBI single. The Marlins have gone 57 straight games without being shut out, the longest active streak in the Majors.
There is growing concern for Eovaldi, who is now 0-3 with a 7.54 ERA (12 earned runs in 14 1/3 innings) in his last three starts. The hard-throwing right-hander also has given up 27 hits in those starts.
"It's definitely concerning," Redmond said. "Three innings. It makes it tough to win a ballgame. We're in crunch time where every start is big and every one of these games is big. It's a missed opportunity for us. We've got to have guys step up and log those innings. It's a tough toll on our bullpen when we've got to eat up six innings."
A year ago, Eovaldi missed the first few months with a right shoulder injury. He ended up throwing 106 total innings in 2013. In 27 starts this year, Eovaldi has now logged 165 1/3 innings, but he insists he is fine physically.
"My arm feels great," the right-hander said. "I feel 100 percent right now. Probably the best I've felt in my career. No issues."
The fourth inning fell apart quickly. Erick Aybar walked to open the inning, but on a ball in the dirt, Aybar was thrown out trying to advance to second base.
From there, Eovaldi surrendered five straight hits, including an RBI single by Efren Navarro and an RBI double by Trout. Sam Dyson replaced Eovaldi, inheriting runners on second and third for Pujols, who slapped the first pitch into center field, bringing home two more runs.
"There were a few pitches that were located pretty well, and they fell for hits," Eovaldi said. "But there were pitches up in the zone or down the middle that they were getting hits on. They were swinging early on the fastball. Again, it's just being able to locate offspeed pitches to get them off fastballs."
Miami has now fallen to 65-66 on a night the National League East's leaders -- the Nationals and Braves -- both lost.
The first inning also has given Eovaldi trouble for most of the season. It was problematic again on Tuesday night.
Eovaldi struck out three in the inning, but he also allowed three singles, which led to the Angels taking an early lead.
Trout, hitless in four at-bats on Monday, singled to right to get the rally started. He moved to third on Pujols' single to center. With runners at the corners and two outs, Howie Kendrick's run-scoring single to right put the Angels on the board.
Eovaldi has now allowed 17 earned runs in the first inning in 27 starts, bumping up his ERA in the inning to 5.67.
"He's leaving too many pitches up in the zone," Redmond said. "That's been going on for a few starts now. He's going to need to make an adjustment. Maybe throw inside a little more and keep guys off his fastball. His last couple of starts have been tough."
Joe Frisaro is a reporter for MLB.com. He writes a blog, called The Fish Pond. Follow him on Twitter @JoeFrisaro. This story was not subject to the approval of Major League Baseball or its clubs.