Bats held in check as Braves edged by Mets
'Real streaky' club hits into four double plays to drop four out of six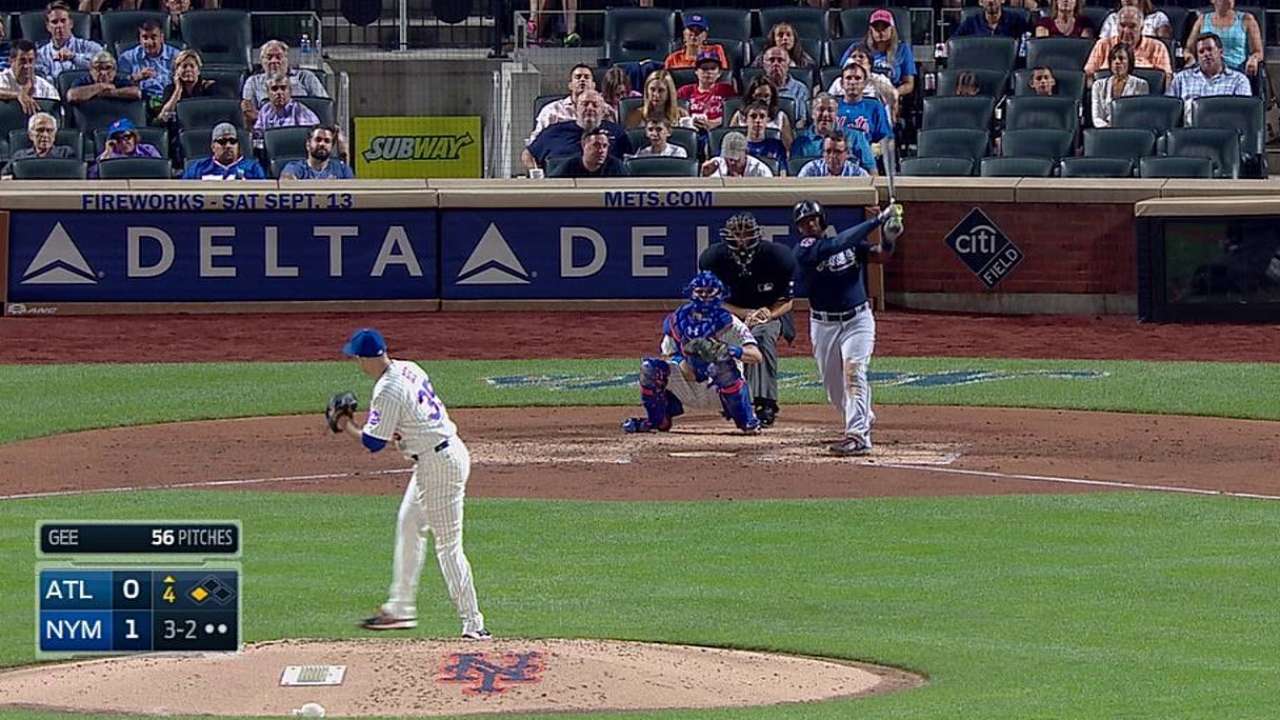 NEW YORK -- Though they might have already buried themselves too deep to overcome their deficit in the National League East race, the Braves know they could easily claim a National League Wild Card spot if they manage to produce an extended stretch of success -- something that has eluded them for nearly two months.
Since notching a season-best nine-game winning streak that concluded on July 6, the Braves have lost 19 of the 44 games that have followed. They have also managed to go 51-57 since winning 17 of this season's first 24 games.
So, maybe it shouldn't be surprising that the Braves have now lost four of six since notching a five-game winning streak exactly one week after snapping an eight-game losing streak. Their latest setback occurred on Tuesday night when another frustration-filled night for the offense resulted in a 3-2 loss to the Mets at Citi Field.
"We're real streaky," Braves third baseman Chris Johnson said. "We either get on a roll or we get on a roll the other way. It's something we've been trying to figure out all year."
Johnson accounted for two of the four double plays that hindered the Braves' bid to overcome the decisive two-run home run Juan Lagares hit off Alex Wood in the fourth inning. Wood minimized the damage to three runs as he shook off some rust during the early innings and ended up allowing just five hits over seven innings.
But Lagares' fourth home run of the season forced Wood to deal with yet another hard-luck loss. The Braves have won just twice during the current six-start stretch within which Wood has produced a 2.23 ERA.
"You can take positives and negatives from anything," Wood said. "But at the end of the day, we're only here for one reason, and that's to win as many games down the stretch as we can. When you lose when you go out there, you can't help but take responsibility because you're the guy with the ball in his hand."
While Wood continues questioning why he threw a 3-2 changeup when he knew Lagares was going to be aggressive, he certainly bore just a small percentage of the blame for the Braves, who sit 7 1/2 games behind the Nationals in the NL East and within 1 1/2 games of grabbing the second Wild Card spot.
"We've just got to keep playing," Justin Upton said. "Results are results. There's nothing we can do about that. We just need to continue to play better. We need to continue to play better baseball and try not to get too far ahead of ourselves."
Though the offense as a whole has continued to be inconsistent of late, Upton has impressed as he has batted .417 with a 1.213 OPS over the past nine games. He opened this three-game set with a three-hit performance that provided Wood some support.
Upton teamed with Freddie Freeman to notch consecutive two-out doubles in the fourth inning. He also singled to begin the seventh inning and scored on a Tommy La Stella single that followed Evan Gattis grounding into a double play.
Those two runs accounted for all that was allowed by Dillon Gee, who completed 6 2/3 innings. Gee had allowed four earned runs or more in five of his previous seven outings.
Johnson grounded into his first double play of the night after Upton walked to begin the second inning. The Braves third baseman, who has grounded into a team-high 20 double plays, also hit into a double play after Upton singled to begin the ninth against Jenrry Mejia.
Before tallying a pair of runs through Tuesday's first seven innings, the Braves had not scored more than one run through the first eight innings of any of their previous three contests.
"We had chances," Johnson said. "It's part of the game. When you put the ball in play, sometimes you hit it right at them and they turn double plays. Sometimes, you pick bad times to hit ground balls. I got a couple of sinkers down and they were good pitches. That's kind of what happens when you swing at those … you get ground balls and I'm not a speed demon."
Mark Bowman is a reporter for MLB.com. This story was not subject to the approval of Major League Baseball or its clubs.