Lagares' all-around effort leads Mets in series opener
Gee's solid outing, sharp defense sink rival Braves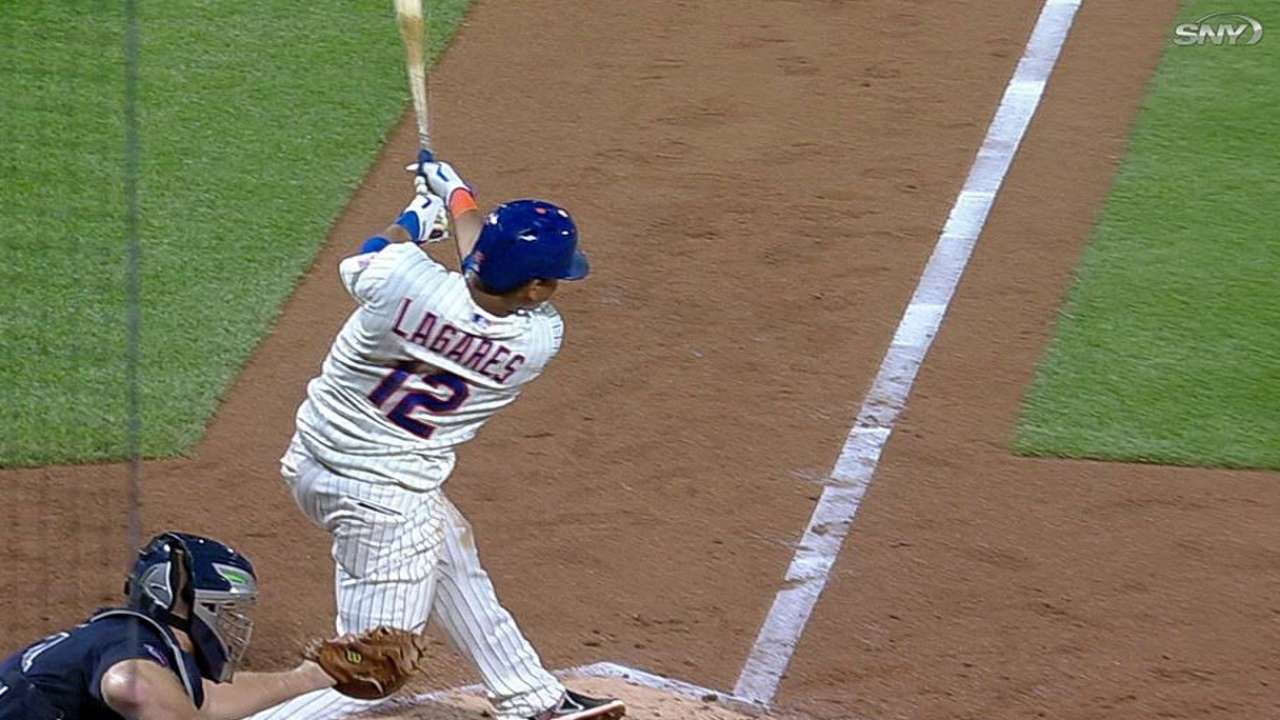 NEW YORK -- Terry Collins swears by it: Juan Lagares has considerable power. You might not be able to tell by his 6-foot-1, 215-pound frame or his one home run every 100 or so plate appearances, but sooner or later, the Mets manager says, Lagares will start to show the sort of pop he does regularly in batting practice.
Lagares flashed some of that power in the Mets' 3-2 win Tuesday night over the Braves with a two-run home run that ultimately stood as the difference in the game at Citi Field. The long ball, combined with yet another highlight-reel catch in center -- this one a diving grab on a sinking liner to end the third inning -- provided another tantalizing glimpse of what the Mets think Lagares could become.
"He's got enough juice to do some damage," Collins said. "And yet he's still got enough, let the ball get deep with two strikes and still put it in play and be dangerous. But in order to play in this league you've got to be able to pull some balls, and with his power I think he can hit some home runs. I'm not going to put a number on him, but he's got more power than he's shown."
Then Collins paused briefly from raving about Lagares -- about how the coaches want him to focus on pulling the ball more, like he did Tuesday, and how he is always willing to listen and learn and implement -- to collect his thoughts.
Then he kept raving.
"Once again," Collins continued, "when he hits -- that's extra. He made some plays today. That play [in the third], that's what he's getting paid for. And so when he comes up with big hits like he does today, that's what you see and think, 'If he ever gets it, he's going to be some kind of player.'"
Lagares' homer, which came with no outs in the fourth and moments after Travis d'Arnaud's double, was the result of a full-count changeup down and in. Lagares turned on the 82-mph offering from Braves lefty Alex Wood and put it in the left-field seats.
"I think if I throw a good located changeup there, I don't think he does that," Wood said. "I think that's without question. But anytime you throw a changeup in a count where you know he's swinging and you leave it right down the middle at about 82, this is the big leagues and they're going to make you pay."
It was Lagares' fourth blast of the season and second in three games. He later put a charge into a Wood fastball in a similar location, momentarily thrilling the Queens crowd of 22,406 before it died on the warning track.
The Mets parlayed Lagares' big day with four double plays and an impressive showing from right-hander Dillon Gee for their second win in a row.
Gee hasn't had an easy time since returning from the disabled list a month and a half ago, posting a 5.71 ERA in seven second-half starts. But against the Braves -- a team he has historically dominated -- he turned in one of his better starts of the summer, limiting Atlanta to two runs in 6 2/3 innings.
Gee worked quickly early and slowed late. The Braves didn't record a hit through the first 3 2/3, then eventually put seven runners on before Gee exited with two outs in the seventh after Tommy La Stella's RBI single. Gee scattered six hits and two walks while striking out just one, the first time he fanned that few since May 10.
Back-to-back, two-out doubles from Freddie Freeman and Justin Upton served as the only other blemish on Gee's ledger.
Collins said it was the sharpest Gee has been of late, "no question."
"It's funny it looked that way," Gee said. "I think I struggled throwing my breaking ball in some of those innings. The changeup was a good pitch for me tonight, I was able to throw that behind in the count, get ahead with it and throw it when I needed to. A couple key double plays was nice, definitely needed those. It was a good team win tonight."
New York hasn't had a ton of those lately, and this one came with David Wright (neck) and Daniel Murphy (calf) nursing injuries on the bench. The Mets were also without relievers Josh Edgin and Vic Black for undisclosed reasons.
But Lagares provided enough theatrics to go around, his third-inning grab in particular drawing praise from Gee.
"He kind of played himself into we expect that from him now," Gee said. "That's Lagares, man."
Tim Healey is an associate reporter for MLB.com. This story was not subject to the approval of Major League Baseball or its clubs.