Ike's pinch-hit homer lifts Bucs over Cardinals
First baseman capitalizes on opportunity; Cole takes no-no into sixth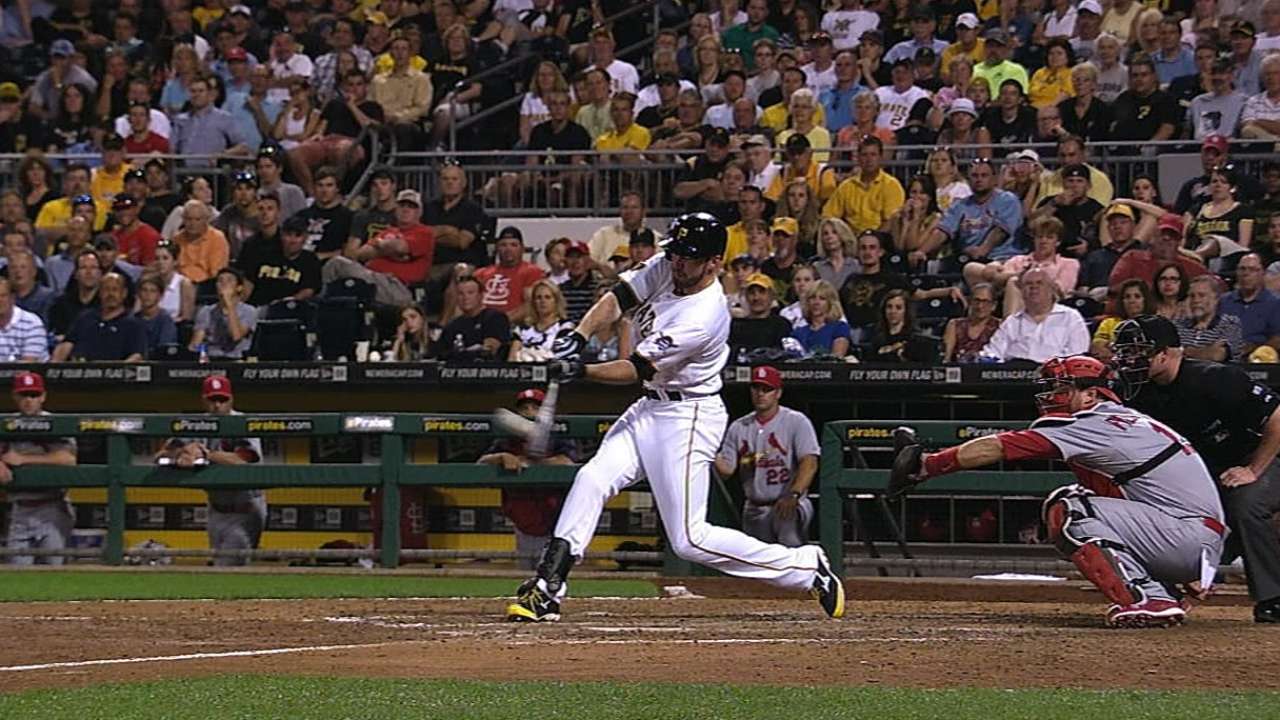 PITTSBURGH -- Ike Davis is used to being in and out of the starting lineup, so his eighth-inning pinch-hit at-bat on Tuesday was certainly not uncharted territory. What's unfamiliar for Davis is making a difference in a game with playoff implications late in August.
With two outs and two runners on base, Davis crushed a 2-2 Seth Maness changeup deep into the right-center-field seats to lift the Pirates to a 5-2 win over the National League Wild Card-leading Cardinals. It was just Davis' third at-bat since Aug. 19, as his playing time has decreased in the wake of fellow left-handed-hitting infielder Pedro Alvarez being shifted to first base.
PNC Park was deflated after the Pirates coughed up a late lead for the second night and briefly spoiled a commanding performance from Gerrit Cole. But the crowd was rejuvenated when Davis connected on a ball that neither he nor the 25,521 in attendance doubted would clear the fence.
"This game has a tendency to switch. The switch can flip at any time, you got to stay ready, you never know when your next opportunity is going to come," Pirates manager Clint Hurdle said of Davis' preparation on the bench. "Right when we needed it, he put a beautiful swing with a couple runners on base."
The victory keeps the Bucs just 1 1/2 games back of the Giants for the NL's second Wild Card spot. It was also one of the most memorable moments in a Pittsburgh uniform for Davis, who spent his first four seasons in the Majors with the Mets before being traded in April.
"Every game means something. It's exciting to come to the ballpark every day, even if you're not playing," Davis said. "I know I'm going to be in a huge situation at some point in the game. And I've never been there. It's new territory for me, and I'm really liking it."
Even with left-hander Randy Choate up in the bullpen, Cardinals manager Mike Matheny stuck with Maness, a right-hander, against Davis.
"The majority of that decision goes into the fact that they pull [Davis] pretty fast," Matheny said. "They still have two righties [Jordy Mercer and Chris Stewart] on the bench. Both of them hit lefties very well."
Before Davis put the home side back on top, the Pirates had a 2-0 on Clint Barmes RBI forceout in the fourth and a solo homer from Josh Harrison in the fifth. That was more than enough for Cole, who was hanging zeros despite constantly being in a battle with Cardinals hitters. Nearly everyone the right-hander saw worked the count, fouling pitches off and taking anything on the fringe of the strike zone.
Cole, who carried a no-hitter until two outs in the sixth inning, earned the 18 outs he got -- half of which were strikeouts. It took Cole 104 pitches to get through six innings, however, and the right-hander wished he was more efficient.
"I kind of ran out of bullets there toward the end," Cole said. "I have to pound the zone a little better earlier. I made good, quality pitches late. But it goes to show why it's imperative to make quality pitches early."
Cole went back out for the seventh, with Hurdle pointing to the fact that an off-day last Thursday gave Cole an extra day off, so he felt comfortable with the righty running his pitch count up to 115. However, it got to just 108 as the Cardinals opened the seventh frame with back-to-back hits -- a Matt Adams double and a Jhonny Peralta single -- which ended Cole's night.
"It seemed like the right pitch," Cole said offering to Adams. "But then he hits it and you see the swing, and you're just like 'Ah, man, he was waiting for that one.'"
A Jon Jay sacrifice fly and strikeout of A.J. Pierzynski made it look like All-Star lefty Tony Watson was going to shut the book on the seventh with just one run crossing the plate. But Oscar Taveras' broken-bat single advanced Peralta to third, and the Pirates' lead, as well as Cole's win, evaporated when pinch-hitter Randal Grichuk singled on a line drive to center.
Watson came back and pitched a scoreless eighth, while Mark Melancon came on in the ninth to nail down his 23rd save after Davis' homer. Though he didn't get a win, Cole was strong in his second start back from a strained right lat, which sidelined him for more than a month. Since returning, he has a 2.77 ERA and 15 strikeouts in 13 innings.
"The punchouts play, they always elevate your count. He finished with nine of them," Hurdle said of Cole. "A really good mound presence. Really good poise, rhythm, pace, all of it. Just a real strong outing."
Stephen Pianovich is an associate reporter for MLB.com. This story was not subject to the approval of Major League Baseball or its clubs.