Ross extends streak of quality starts to 13
Almonte homers and singles in a run as Padres even series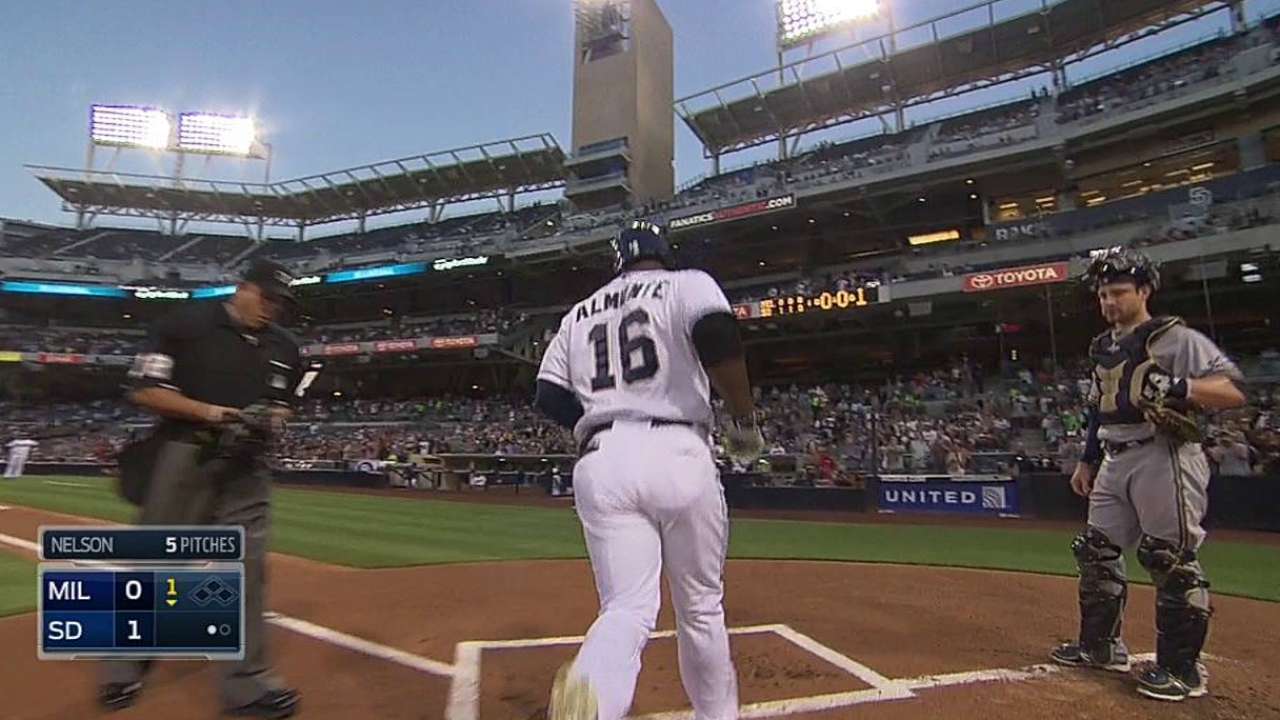 SAN DIEGO -- No matter how much offensive support Tyson Ross has received this season, his mantra in postgame interviews has always been the same.
"The only thing I can really control is going out there every fifth day and giving us a chance to win," Ross said. "It's just focusing on executing on the things you can control."
It's a cliché that many Major League pitchers recycle over and over again, even though run support certainly can affect how they approach hitters and their state of mind on the mound.
But one gets the feeling that with Ross, he truly has not gotten frustrated with the offense -- or rather, lack thereof -- that the Padres have often provided him with this season. Because no matter what, he just keeps on chugging along.
Ross (12-12) extended his franchise-record streak of quality starts to 13 on Tuesday and even added a double that sparked a three-run third inning to lead the Padres past Milwaukee, 4-1, in front of a crowd of 21,786 at Petco Park.
Ross' streak, which dates back to June 21, ties him with Clayton Kershaw and Jon Lester for the most consecutive quality starts in the Majors. During that span, he's recorded a 1.96 ERA with 86 strikeouts in 87 1/3 innings against 24 walks.
"He's growing into one of those pitchers in baseball where other players, managers and coaches are talking about Tyson Ross as a guy that is becoming a force in the National League," said Padres manager Bud Black. "You have to do it [pitch well] over a period of time to get that chatter about you, and he's gotten that this season."
Ross allowed four hits and one run in 6 1/3 innings with two walks and six strikeouts, helping the Padres (61-70) bounce back from an ugly loss to the Brewers (73-59) on Monday night.
He's not doing too shabby at the dish, either. The decisive third inning all started with Ross, who ripped a screaming liner down the right-field line for a leadoff double. In his five August starts, Ross is 4-for-10 with two walks, two runs scored and an RBI.
"I got lucky. I always get lucky with hitting," Ross said. "Just close my eyes and sometimes hit the ball."
Abraham Almonte plated Ross with a single for his second RBI of the night after initially giving him some early wiggle room with a solo homer in the opening frame, his second since joining the Padres on July 31.
"We'll continue to watch Abraham and really get to know this fella," Black said. "But he's got a nice set of skills that plays in the Major Leagues. We'll continue to run him out there."
Almonte then ran into a little bit of luck when Jean Segura simply whiffed on grabbing the exchange on a potential double-play ball from Seth Smith. Instead, both runners were safe, and Yasmani Grandal followed with a long RBI single off the wall in right-center. Jedd Gyorko, making his first start in four games after nursing a sore hamstring, added an RBI groundout before the end of the frame.
With Ross dominating on the mound, that four-run advantage would be enough.
"He was filthy. The fastball was right on the corner. The slider was good. He was aggressive," said Padres catcher Rene Rivera. "From last year to this year, his fastball command is really good. The hitters don't want to get to two strikes. They don't want to face him."
The Brewers didn't get a runner in scoring position until the fourth, when Jonathan Lucroy led off with a double down the line in right. Rymer Liriano fumbled it for an error, letting Lucroy advance to third with no outs.
Ross buckled down, however, retiring Ryan Braun on a seven-pitch strikeout before fanning Aramis Ramirez with a seemingly unhittable 0-2 slider in the dirt. He then allowed an RBI ground-rule double to Scooter Gennett, but still went on to escape the inning with a 4-1 advantage.
"The key was just keeping it there with that one run," Ross said. "Anytime you get a runner on third base with no outs, it's all about minimizing."
From there, Ross and the Padres bullpen combined to face just one batter over the minimum, as the Brewers never advanced another runner past first base.
Jimmy Nelson (2-5) set a career high with seven strikeouts, but lasted only five innings and gave up four runs (two earned) off five hits and two walks.
Liriano had an all-around poor night, striking out three times in four at-bats to go along with his first career error in the fourth. He's now 1 for his last 17 with no walks and six strikeouts.
That was just about the only bad news to crop up, though. Joaquin Benoit, who's been nursing a cranky shoulder, hurled a 1-2-3 ninth for his ninth save in 10 chances to follow scoreless holds by Nick Vincent and Kevin Quackenbush.
Will Laws is an associate reporter for MLB.com. This story was not subject to the approval of Major League Baseball or its clubs.