Bullpen falters as Cardinals fall in Pittsburgh
Maness gives up go-ahead homer; Lynn continues strong stretch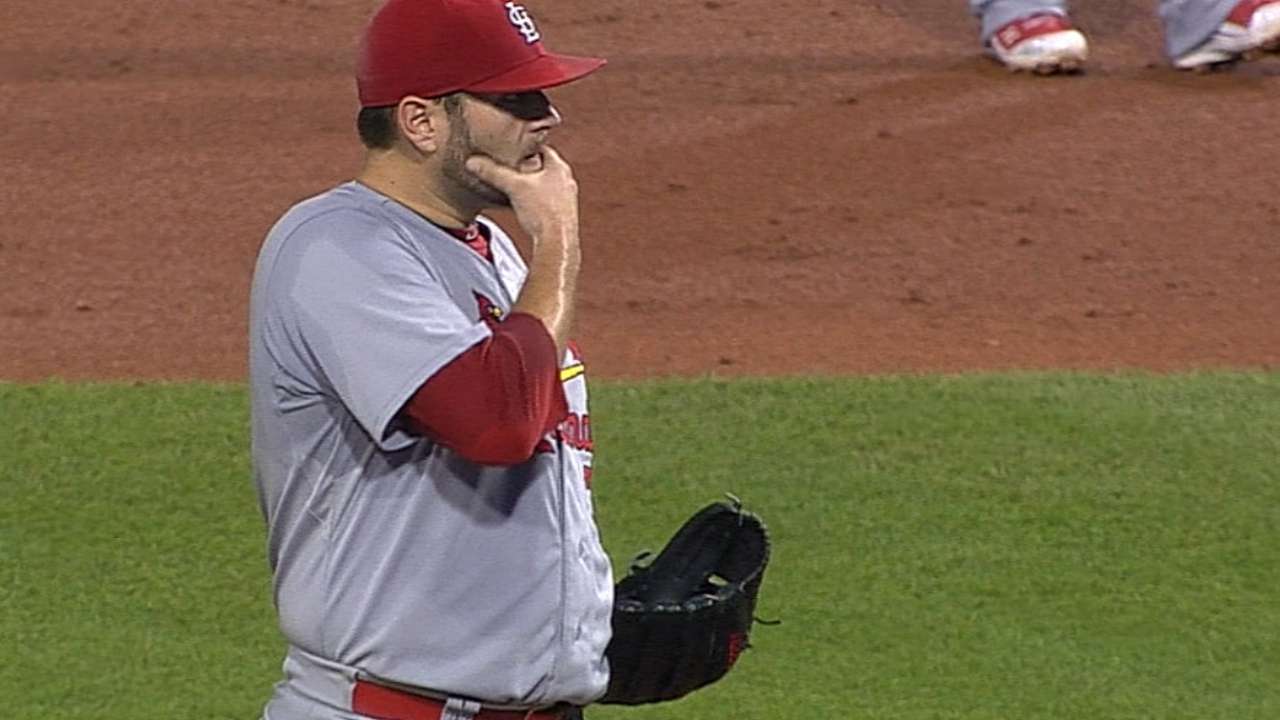 PITTSBURGH -- Cardinals manager Mike Matheny selected what he believed to be the more favorable matchup, but it would be the Pirates who celebrated the result.
Matheny's decision to allow Seth Maness to face pinch-hitter Ike Davis in the eighth inning of a tie game vs. the Pirates backfired on Tuesday when Maness misplaced a changeup that Davis tattooed for a go-ahead three-run homer. The blast, Davis' ninth of the season, kept the Cardinals from a chance at another come-from-behind win and provided a 5-2 win to a Pittsburgh club trying to keep pace in the National League Central and NL Wild Card race.
It was Davis' third pinch-hit homer of the season, which is three more than the Cardinals have as a team.
"You just can't give up a home run right there," said Maness, who had allowed five in his 58 previous appearances. "[You have to] try to keep it in the ballpark. Three runs are big."
The outcome naturally drew questions about the matchup, as Davis was hitting .251 against right-handers this season -- compared to .100 (3-for-30) with no homers against lefties. Lefty specialist Randy Choate was ready to face him, but Matheny felt certain that if he summoned Choate, Pirates manager Clint Hurdle would make the quick switcheroo and send up one of the two right-handed bats off his bench to face him.
Those options -- Chris Stewart (.444/.500/.556) and Jordy Mercer (.316/.353/.453) -- have feasted against left-handed pitching all season.
In the end, the decision boiled down to a preference of having Maness face Davis or Choate face a right-handed batter. Matheny opted to stick with Maness, who had gotten into the eighth-inning mess by allowing a pair of one-out singles.
"I trust Seth to get an out right there moreso than have Randy out there with a right-hander come in to face him," Matheny said. "Any time we bring Randy in, we have to be, in my opinion, in a game-changing situation and extremely confident that that lefty is going to stay in there. And I've watched Clint too many times. I know exactly what he's going to do in those situations.
"Both Stewart and Mercer are weapons, and he's not going to hold onto them normally. He would tell you now that he would, but overall, that's usually the deciding factor. That's putting Randy in a real tough spot."
Of the other lefty options in the 'pen, Sam Freeman had already pitched an inning, Nick Greenwood was still recovering from a three-inning outing on Sunday and Tyler Lyons was being held back in case the Cardinals needed a multiple-inning appearance later. Matheny was also looking to stay away from dominant setup man Pat Neshek unless the Cardinals had entered the eighth with a lead.
Davis' blast came an inning after the Cardinals had scraped together a game-tying, two-run rally while chasing starter Gerrit Cole. Though he had thrown 104 pitches, Cole took the mound in the seventh having allowed only one hit -- a Kolten Wong double with two outs in the sixth. The Cardinals quickly knocked him out with consecutive hits to open the frame.
"I just wish I was more efficient," Cole said. "I kind of ran out of bullets there toward the end. I made good, quality pitches late. But it goes to show why it's imperative to make quality pitches early."
Left-hander Tony Watson inherited the trouble, allowing one run to score on Jon Jay's sacrifice fly and another when pinch-hitter Randal Grichuk delivered a two-out game-tying single. That hit was set up by Jhonny Peralta going first to third on Oscar Taveras' eighth career hit off a lefty.
"That aggressiveness that we didn't see in Philly, we're watching these guys do now," Matheny said. "We're going to keep doing that, keep the throttle down and be aggressive on the basepaths."
The hit was Grichuk's first for the Cardinals since June, as he had just been recalled from the Minors earlier in the day after Shane Robinson was placed on the disabled list. The hit also continued a recent spurt of success from St. Louis pinch-hitters, who are a combined 7-for-14 with five RBIs over their last 16 plate appearances.
"I'm just trying to go up there and be confident and aggressive," said Grichuk, who arrived having hit lefties at a .325 clip in Triple-A. "It got the job done. It's good for the confidence, and hopefully I can roll into tomorrow and get another one."
The pair of runs took Lance Lynn off the hook for a loss after the right-hander contributed another strong starting effort. With his 19th start of at least six innings, Lynn dueled Cole well by minimizing the damage during a pair of bases-loaded jams early. He got out of one unscathed and the other with one run allowed after the Pirates executed a hit-and-run and then foiled a double-play attempt.
Josh Harrison poked a leadoff homer over the left-field wall in the next inning to push the Pirates' lead to 2-0. The homer was the first allowed by Lynn since his July 9 start against the Pirates.
"When you get into those situations, it's you versus him and you have to do everything you can to make it where we have a chance, no matter what," Lynn said of relishing the matchup. "I did everything I could to keep it close."
Jenifer Langosch is a reporter for MLB.com. Read her blog, By Gosh, It's Langosch, and follow her on Twitter @LangoschMLB. This story was not subject to the approval of Major League Baseball or its clubs.